Die BORGWARD B511 Uhrenserie verdankt ihren Namen dem Transporter aus dem Jahr 1954 bis 1960 mit einer Nutzlast von 1,6 Tonnen.
Die B511 ist der Klassiker unter den BORGWARD Uhren: traditionell, schlicht, elegant, Understatement.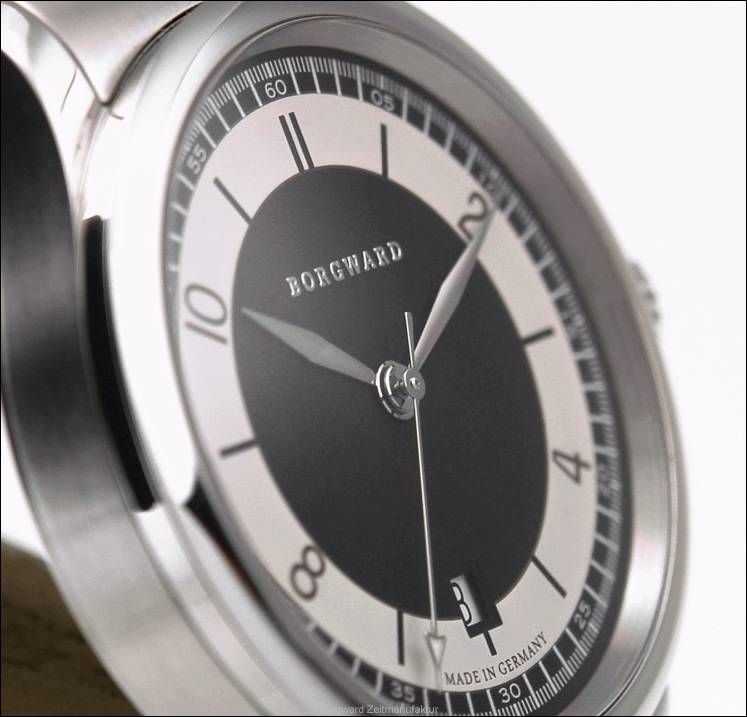 Limitiert auf 511 Exemplare ist diese Uhr ein treuer Wegbegleiter für Menschen mit Selbstbewusstsein und Sinn für Tradition. Drei exklusive Farben und verschiedene Armbänder schmeicheln sowohl dem puristischen Ziffernblatt als auch dem Handgelenk, auf dem die Uhr getragen wird.
BORGWARD B511 Automatik 40 mm
Eine feinmechanische Automatik-Uhr mit Datum und Zentralsekunde, limitiert auf 511 Stück.
Das Kaliber ist das Automatikwerk, ETA 2824-2 (Schweiz), aufwändig veredelt mit Perlage und galvanoschwarzer Schwungmasse (Rotor).
Als Funktionen bietet diese edle Uhr Sekunden-, Minuten-, Stunden-Anzeige, Datum, sowie Datumschnellschaltung.
25 Lagersteine und eine Gangreserve von 38 Stunden runden das Bild ab.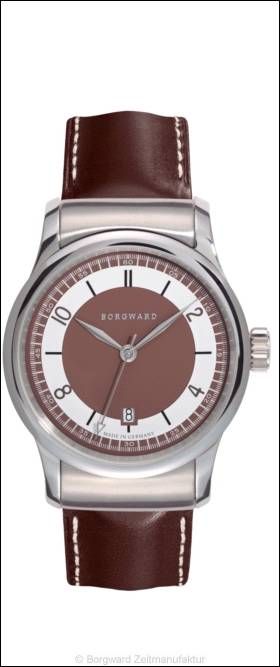 Das Gehäuse ist ein dreiteiliges Edelstahlgehäuse poliert mit verschraubtem Boden und Werksichtfenster.
Als Glas wird ein gewölbtes Saphirglas verwendet, für das Werksichtfenster wird ebenfalls Saphirglas verwendet.
Der Durchmesser des Gehäuses (ohne Krone) beträgt 40,5 mm bei einer Höhe von 12,0 mm.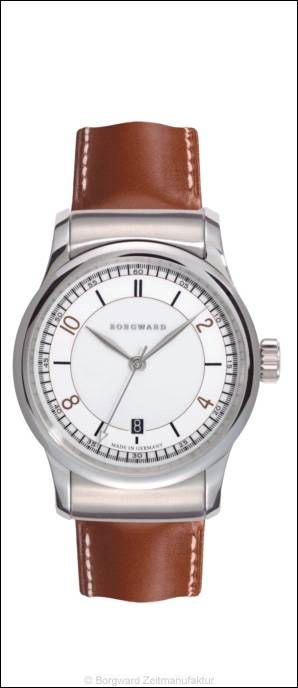 Das Zifferblatt ist wahlweise emaille, mattschwarz oder tabakbraun, die Ziffern (arabische Ziffern) sind in Echtstahl-Applik.
Das Datum liegt auf 6 h. Zudem findet sich auf dem Zifferblatt noch der Logo-Schriftzug in Echtmetall.
Die Uhr ist wasserdicht bis 5 ATM.
Zu jeder Zifferblattvariante gibt es vier mögliche Armbänder in Kalbleder, echt Alligator oder das Edelstahl-Milanaiseband, Bandanstoßbreite 22 mm.
Links:
*****************************************************************************************************
The classic BORGWARD Watch: BORGWARD B511 Automatic
The BORGWARD B511 watch series owes its name to the transporter from 1954 to 1960 with a payload of 1.6 tons. The B511 is a classic type among the BORGWARD watches: understatement, traditional, and elegant.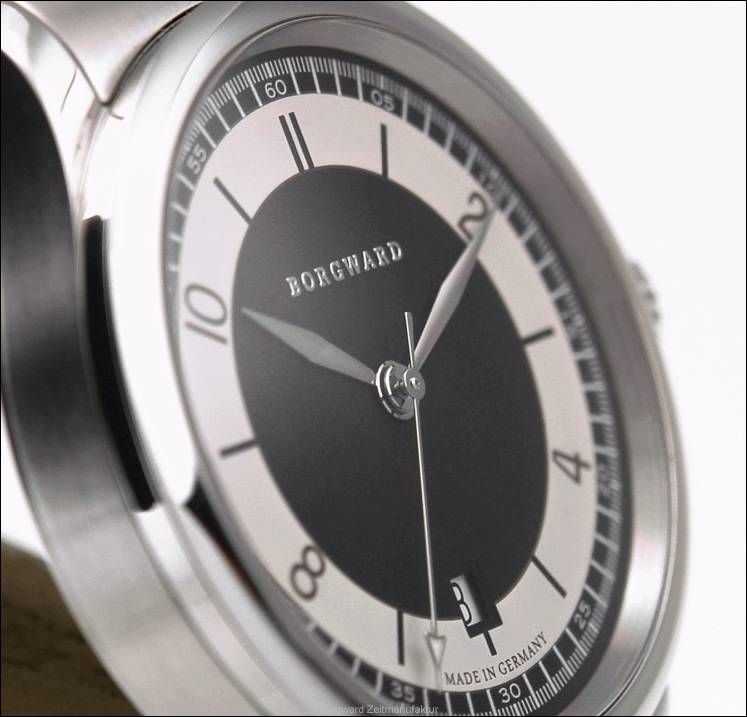 Limited to 511 pieces, this watch is a loyal companion for people with a high level of self-confidence and a good appreciation for tradition. Three exclusive colors and different bracelets follow the purist dial and the wrist of the owner who wears and uses the watch.
BORGWARD B511 Automatic 40 mm
An automatic mechanical watch with date and sweeping seconds hand, limited to 511 pieces.
The automatic winding movement 2824-2 comes from ETA (Switzerland), is lavishly finished with beadings and is supplied with a special coted black rotor.
The summarized features of the presented watch are seconds, minutes, hours, date, and date quickset. The movement is armed with 25 jewels and provides a power reserve of 38 hours.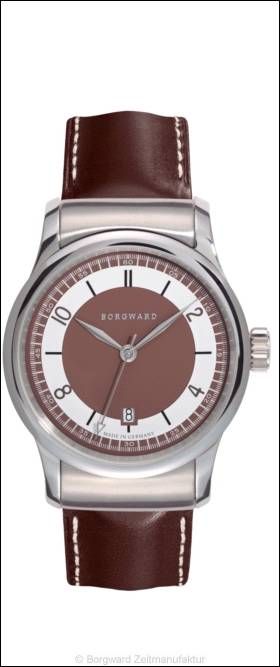 The watch case is a three-piece polished stainless steel case with a screwed glass back to give your eyes visible access to the beautiful decorated high tech movement.
The top glass is made from sapphire crystal to provide a maximum of rigidity.
The diameter of the case (except the crown) is 40.5 mm with a height of 12.0 mm.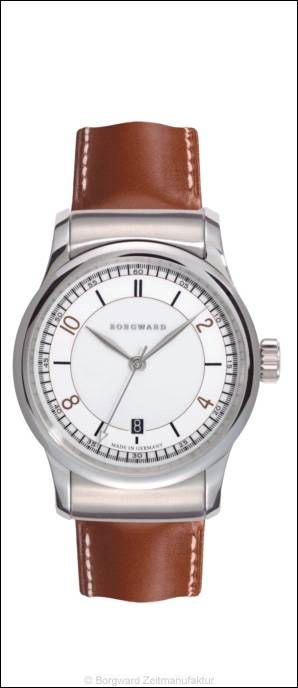 The dial is either enamel, black or tobacco-brown, the numbers (Arabic numerals) are a stainless steel applique.
The position of the date is nearby 6 o´clock on the dial. The BORGWARD logo is also made from stainless steel and gives the watch a very significant appearance.
The water resistant is approved against 5 ATM.
For each dial version, there are four possible bracelets available, calf leather, genuine alligator or stainless steel Milanaise. The Lug width is 22 mm.
Weblinks: