Mit überarbeiteten Dimensionen und einem neuen Innenleben zeigt
die GROSSE LANGE 1 wahre Größe.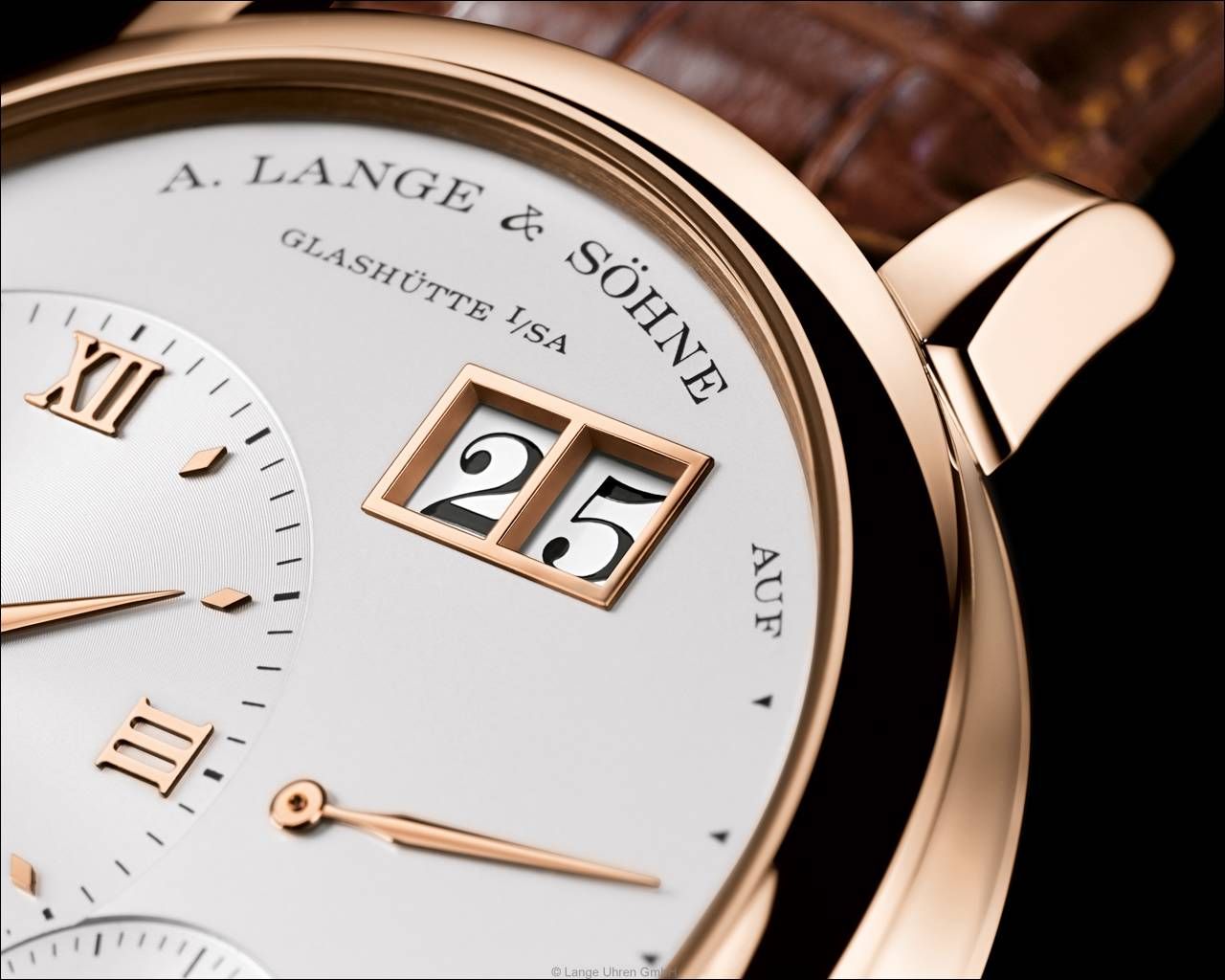 Ein von Grund auf neu entwickeltes Uhrwerk erlaubt es, die harmonische Zifferblatt-Anordnung der LANGE 1 auf das größere Modell zu über­tra­gen und ermöglicht zugleich eine flachere Bauweise.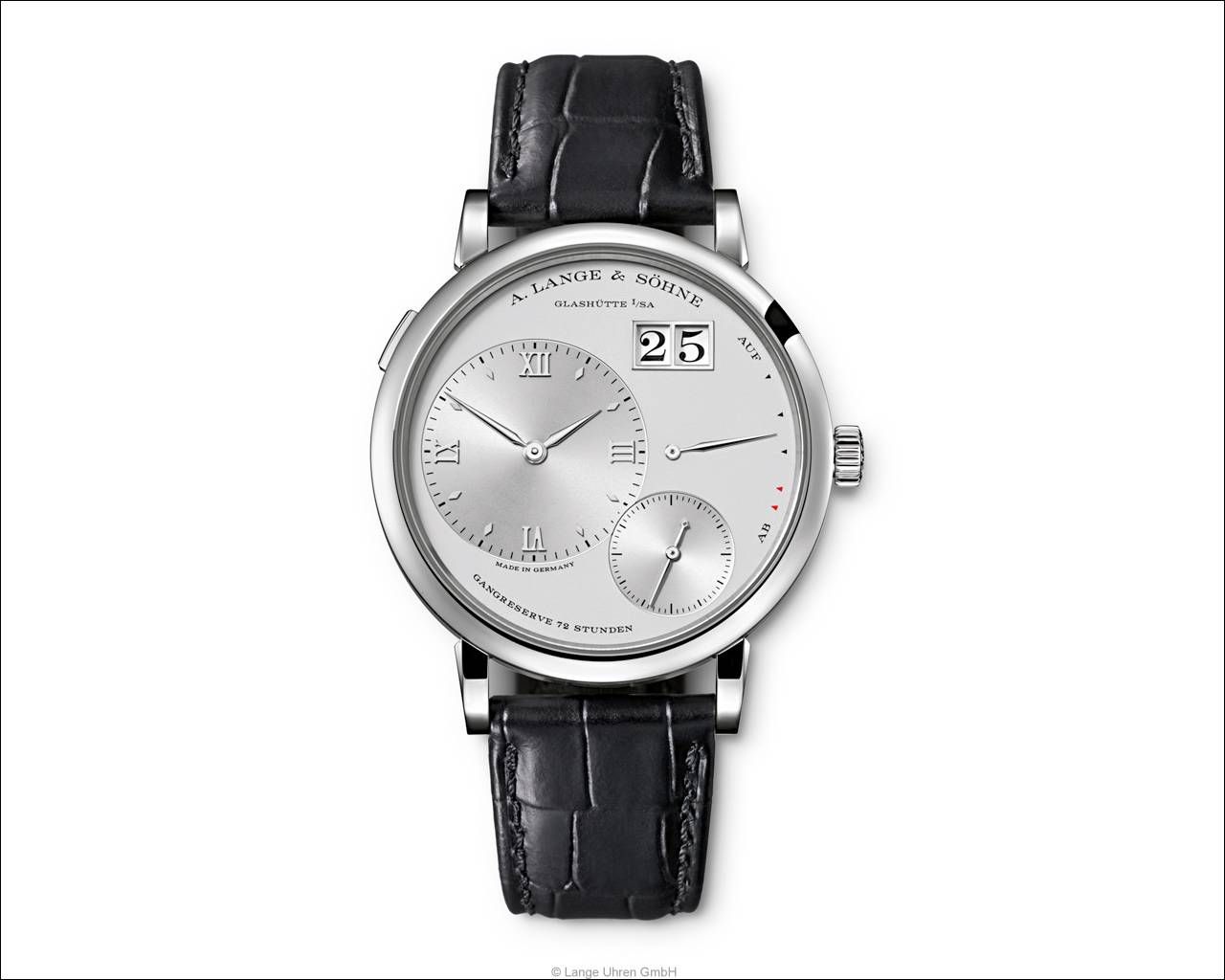 Seit ihrer Premiere im Jahr 1994 ist die LANGE 1 das Gesicht von A. Lange & Söhne. Mit der besonde­ren Verbindung aus traditio­nellen Elementen sächsischer Uhrma­cher­kunst wie der Dreiviertelplatine, den ver­schraubten Goldchatons oder der Schrauben­unruh und wegweisenden Innovationen wie dem dezentralen Zifferblattdesign und dem genia­len Lange-Großdatum sorgt ihr Erschei­nen für weltweites Aufsehen.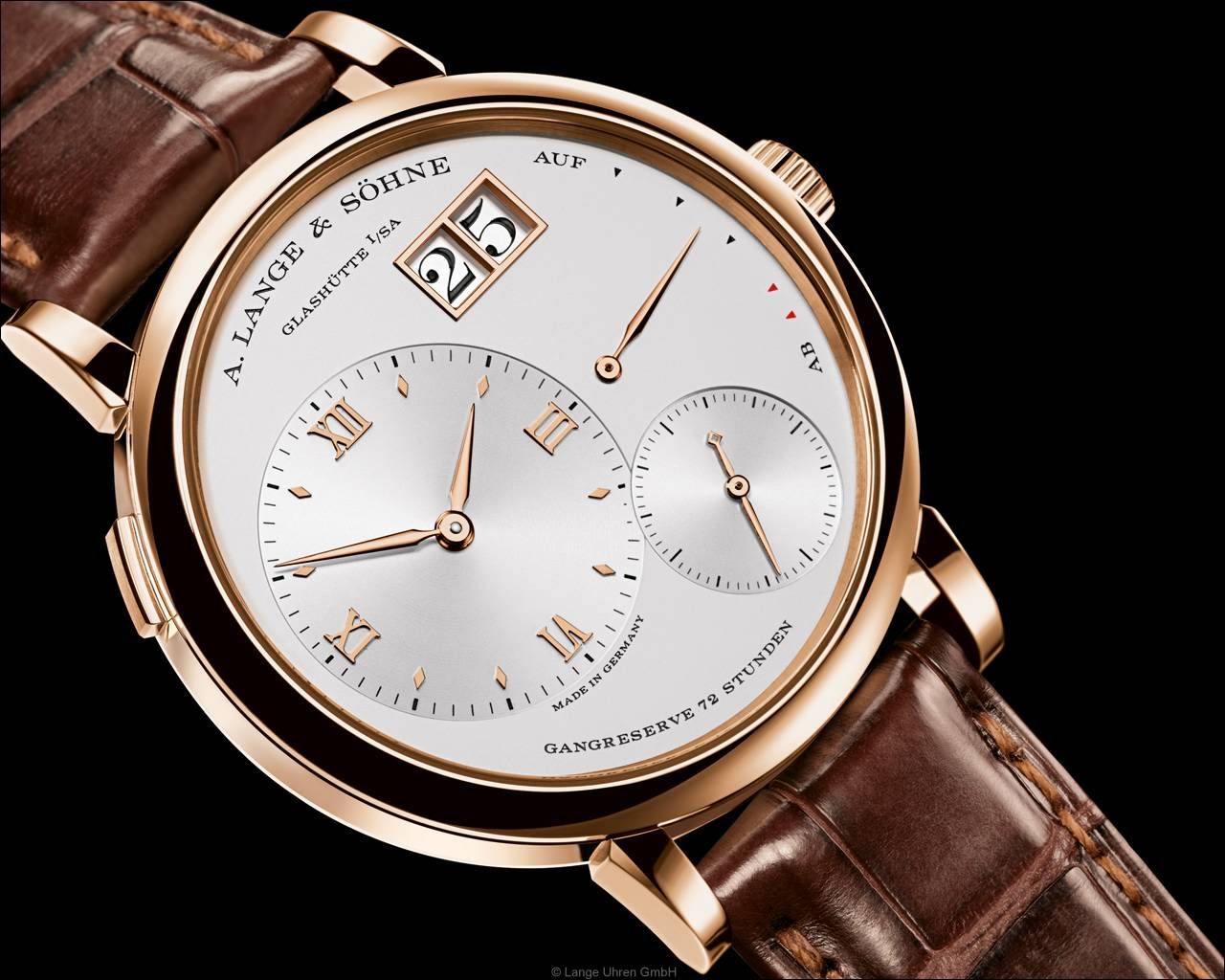 Schon bald wird die LANGE 1 zur vielfach preisgekrönten Iko­ne in der Welt feinster mechanischer Zeitmes­ser und schreibt selbst Uhrenge­schichte. Da­rüber hinaus steht sie für die Leistungsfähig­keit der Lange'schen Meisteruhrmacher und für ihr unaufhörliches Streben nach der voll­kommenen Uhr. 18 Jahre nach ihrer Premiere ist die LANGE 1 nicht nur die starke Basis einer er­folgreichen Uhrenfamilie. Sie ist auch der Maßstab für viele weitere Entwicklungen der Manufaktur.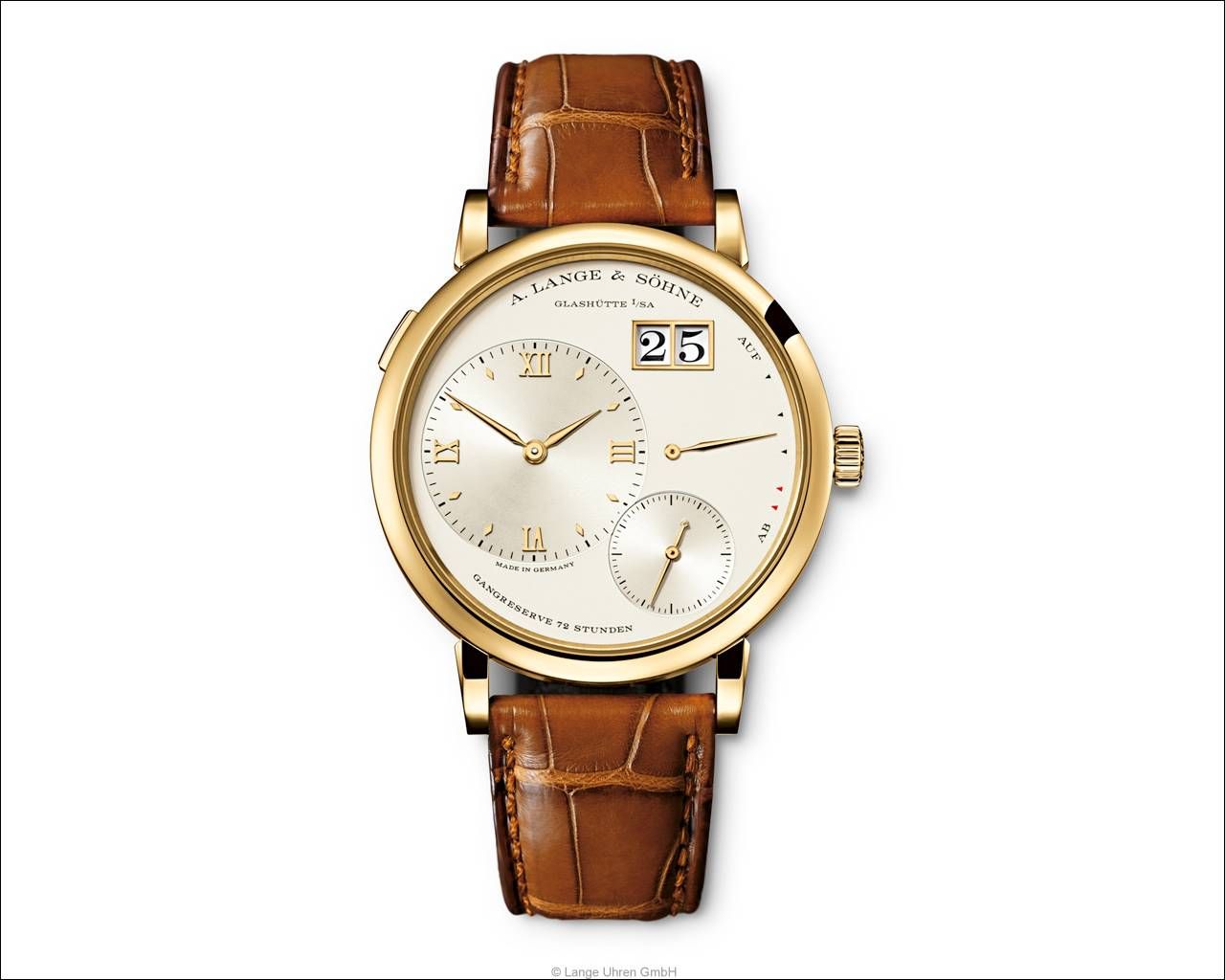 Das gilt vor allem dann, wenn die Neuheit der eigenen Modellfamilie angehört, wie die neue GROSSE LANGE 1. Sie ist geprägt von deut­lich überarbeiteten Proportionen und einem minutiös darauf abgestimmten Innenleben. Das von Grund auf neu entwickelte Handaufzugs­kaliber L095.1 macht es durch eine entsprechende Anordnung der Bauteile möglich, die ausgewogene Zifferblatt-Architektur der LANGE 1 auf das größer dimensionierte Modell zu übertragen. Die Anzeigen für Stunde, Minute, Sekunde, Großdatum und Gangreserve sind auf dem massiv silbernen Zifferblatt ohne Über­schneidungen platziert. Um die harmonischen Proportionen bis ins letzte Detail zu wah­ren, wuchs das Lange-Großdatum in genau dem gleichen Maße wie das Zifferblatt.
Der größere Werkdurch­messer erlaubte es außer­dem, mehr Teile auf einer Ebene unterzubringen und dadurch eine Werkhöhe von nur 4,7 Millimetern zu reali­sieren. Die beachtliche Gangdauer von 72 Stunden wurde platzsparend mit ei­nem Federhaus erreicht. Das hat Auswirkungen auf die Abmessungen des Ge­häuses aus Gelbgold, Rot­gold oder Platin: Bei einem Durchmesser von 40,9 Mil­limetern ist es nur 8,8 Milli­me­ter hoch und bietet damit ein perfekt ausgewogenes Verhältnis von Breite und Höhe.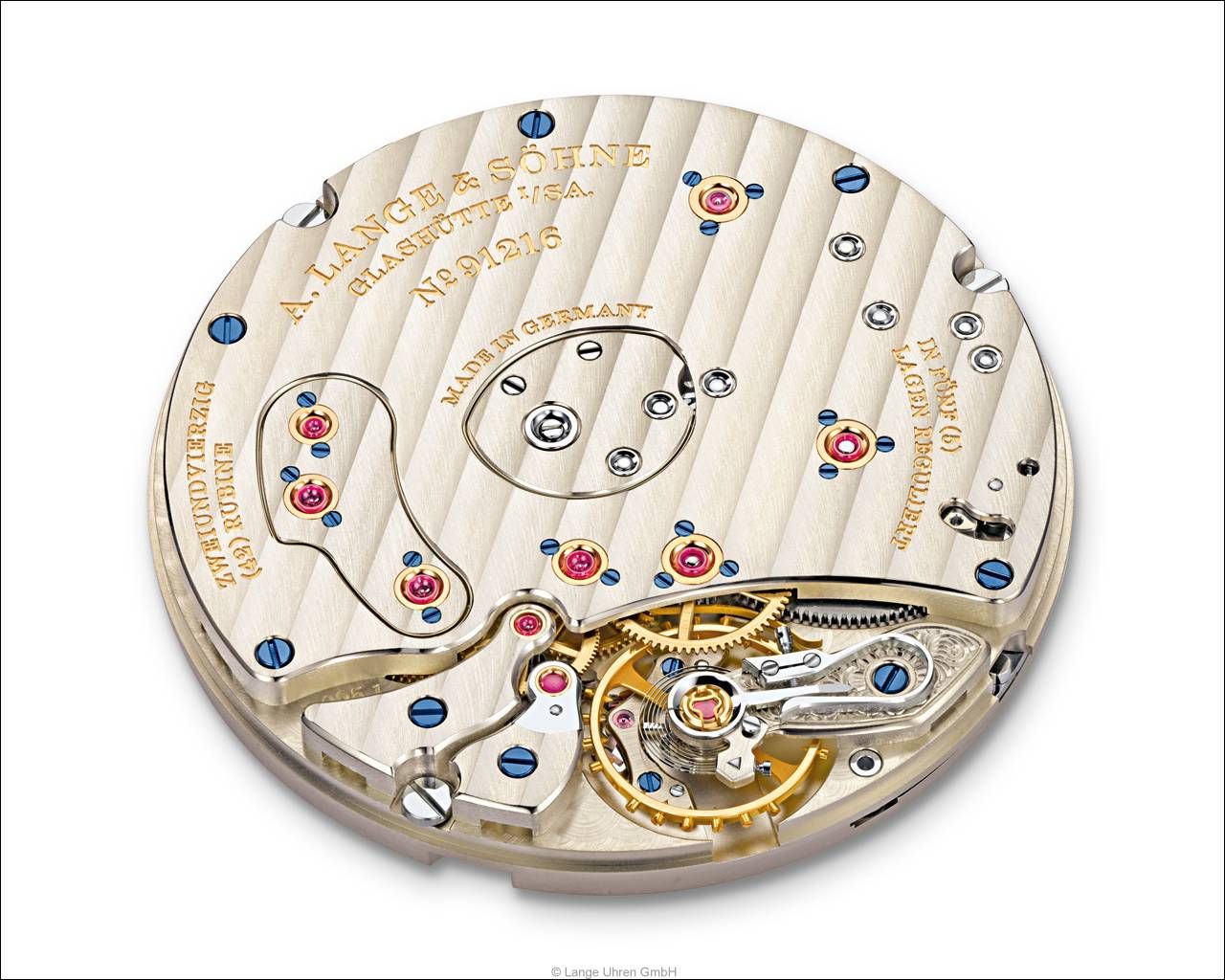 Durch den Saphirglasboden zeigt sich das aufwendig von Hand dekorierte und zwei­fach montierte Werk in seiner ganzen Vollendung. Die mit einem Glashütter Bandschliff versehene Dreiviertelplatine aus naturbelassenem Neusilber verleiht dem Werk opti­ma­le Stabilität. Ihre geschwungene Form gibt den Blick frei auf die mit 21.600 Halb­schwin­gungen pro Stunde oszillierende Unruh, die von einem handgravierten Unruh­kloben gehalten wird. Für größtmögliche Präzision sorgt eine Unruhspirale aus eigener Fertigung. Sieben verschraubte Goldchatons halten die Lagersteine aus Rubin und runden das harmonische Erscheinungsbild werkseitig ab.
Quelle:
Text und Bilder mit freundlicher Genehmigung von A. LANGE & SÖHNE
*******************************************************************************************************
ENGLISH – VERSION
With altered dimensions and a new inner life, the GRAND LANGE 1 exhibits true
grandeur. A new movement developed entirely from scratch makes it possible to
transpose the subtly balanced dial layout of the LANGE 1 to its larger sibling and at
the same time to slim down the silhouette.
Since it premiered in 1994, the LANGE 1 has been the icon of A. Lange & Söhne.
With its particular combination of traditional elements that are unique to Saxony's
watchmaking heritage – including the three-quarter plate, screwed gold chatons, or
the screw balance – as well as groundbreaking innovations such as the off-centre dial
design and the ingenious Lange outsize date, it earned global acclaim. The LANGE 1
soon became a multiple award winner in the realm of high-end mechanical
timepieces and wrote horological history in its own right. Additionally, it stands for the
competence of Lange's master watchmakers and symbolises their untiring quest for
the perfect watch. Eighteen years after its debut, the LANGE 1 is not only the strong
foundation of a successful watch family. It is also a benchmark for many of the
manufactory's other developments.
This applies all the more to a debut within its own family, as is the case with the
GRAND LANGE 1. It manifests clearly rebalanced proportions and an inner life meticulously
crafted to match them. With a deliberate rearrangement of watch components,
the totally new manually wound calibre L095.1 made it possible to transpose
the graceful dial architecture of the LANGE 1 to the perceptibly larger model. The
hours, minutes, and seconds as well as the outsize date and power-reserve
indication are configured on the solid-silver dial without any overlap points. To
faithfully preserve the harmonious proportions down to the last detail, the Lange
outsize date was also enlarged by the same factor as the dial itself.
Furthermore, the larger movement diameter made it feasible to arrange more parts
on one level. The result is a movement height of merely 4.7 millimetres. The
impressive 72-hour power reserve was achieved in a space-saving manner with only
one mainspring barrel. This had a positive impact on the dimensions of the
yellow-gold, pink-gold, and platinum cases: With a diameter of 40.9 millimetres, they
are only 8.8 millimetres high, a very elegant ratio of width to height.
The sapphire-crystal caseback reveals the splendid manufacture movement, painstakingly
decorated by hand and assembled twice. Embellished with Glashütte ribbing,
the three-quarter plate made of untreated German silver assures optimised stability.
Its gracefully curved cutout exposes the balance that beats with a frequency of
21,600 semi-oscillations per hour and is carried by the hand-engraved balance cock.
A proprietary Lange-made balance spring assures exceptionally high rate accuracy.
Seven screwed gold chatons secure the ruby jewels, accentuating the visual appeal
of the movement on the plate side.
Quelle:
Text und Bilder mit freundlicher Genehmigung von A. LANGE & SÖHNE