Ein moderner Klassiker: der PanoGraph
Die Weiterentwicklung eines zeitgenössischen Chronographen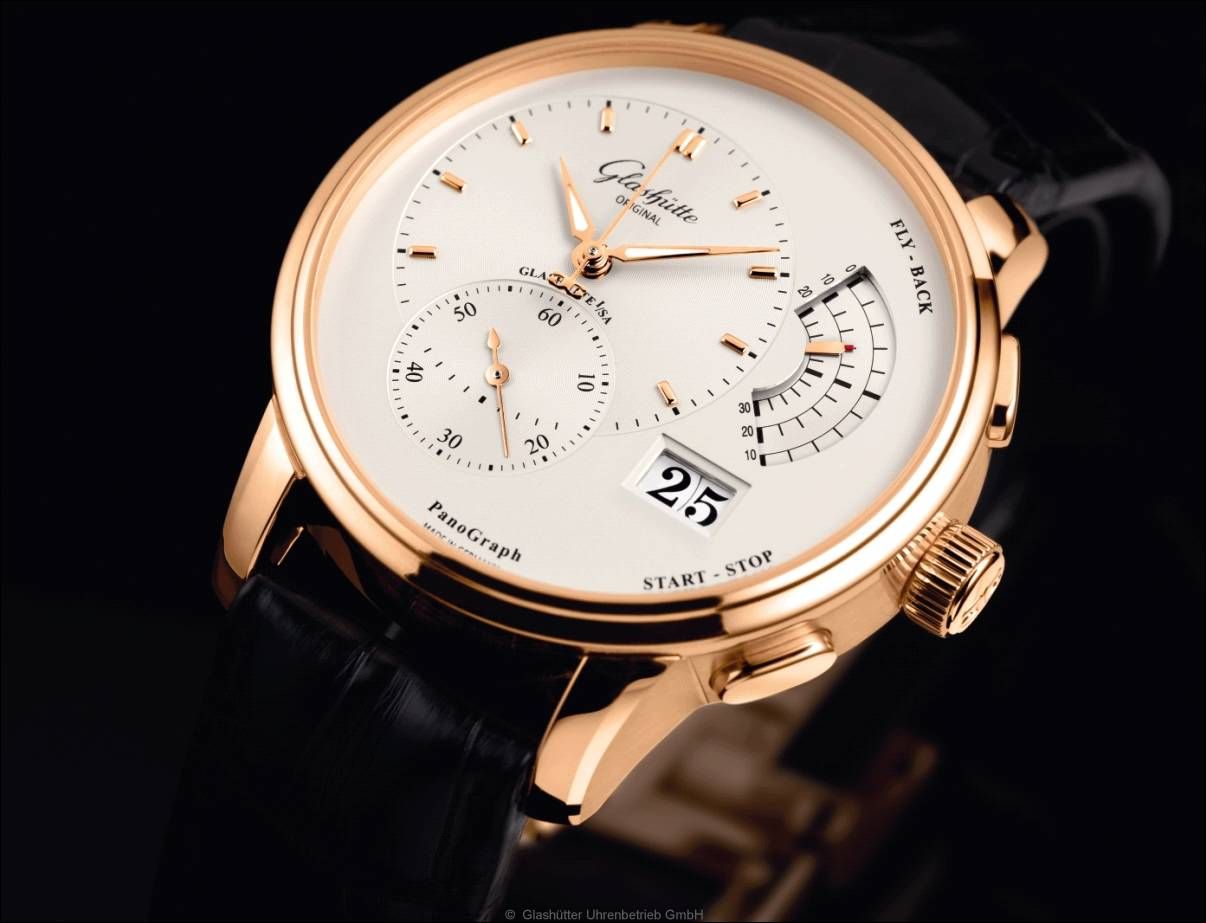 Der PanoGraph signalisiert die Rückkehr und die zeitgemäße Weiterentwicklung eines bemerkenswerten Zeitmessers. Vor zwölf Jahren präsentierte Glashütte Original zur Basler Uhrenmesse den PanoRetroGraph: ein Beispiel der Quintessenz der hohen Uhrmacherkunst in Deutschland. Sein asymmetrisches Zifferblattdesign und sein rückwärts zählender 30-Minuten-Chronograph mit akustischem Tonsignal überzeugten sofort. Die limitierte Edition in Platin von 50 Stück war schnell ausverkauft. Es war das Modell, das die gesamte Pano-Linie mit seinen handwerklichen mechanischen Zeitmessern begründete, darunter sein direkter Nachfolger, der PanoGraph, der erstmals im Jahr 2002 in Basel präsentiert wurde.
Heute präsentiert Glashütte Original den PanoGraph, eine moderne Weiterentwicklung seines berühmten Vorgängers. In einem größeren und zylindrischen Gehäuse präsentiert das neue Design die dezentrale Stunden- und Minutenanzeige über der kleinen Sekunde auf der linken Seite, während das beeindruckende Panoramadatum seine gewohnte Position auf 4-Uhr einnimmt. Der außergewöhnliche 30-Minuten-Zähler des Chronographen basiert auf dem ursprünglichen Design des Jahres 2000 und ist eine moderne Interpretation mit drei kumulativen 10-Minuten-Segmenten und einem Dreizack-Zeiger mit drei verschieden langen Anzeigeelementen. Zwei Drücker auf 4 und 2 Uhr sind mit START-STOP und FLY-BACK markiert. Der erste Drücker aktiviert den Stoppvorgang des Chronographen und hält ihn an. Der zweite Drücker setzt den Chronographen- und Minutenzählzeiger augenblicklich auf null zurück, ohne damit die Chronographenfunktion anzuhalten.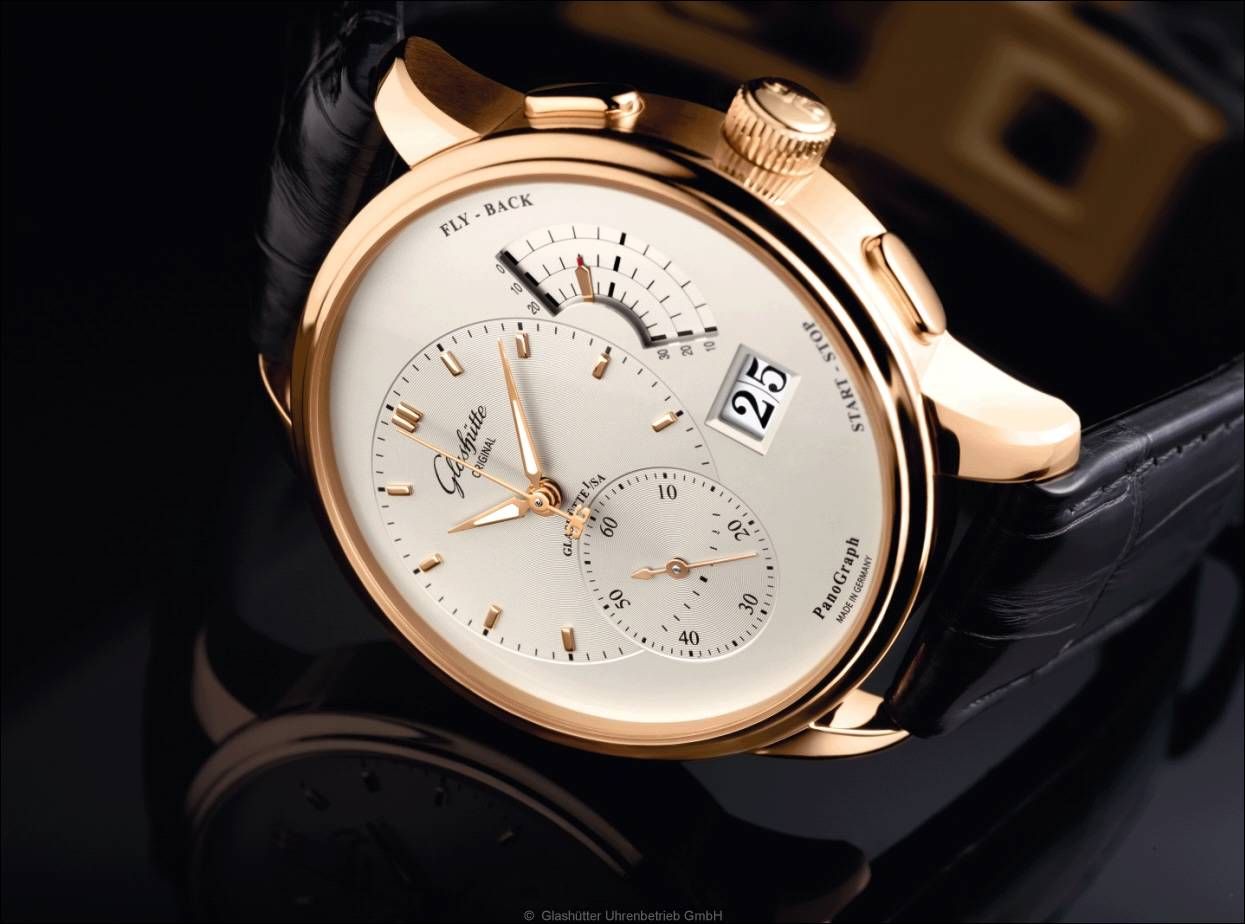 In einem Gehäuse aus Rotgold und ausgestattet mit Stundenindizes sowie Zeigern aus Roségold für die Darstellung der kleinen Sekunde und der Stoppsekunde auf dem Hauptzifferblatt, repräsentiert der PanoGraph den Inbegriff von Einfachheit und ästhetischer Harmonie. Wie bei allen Pano-Zifferblättern wurde das Design entsprechend den Regeln der Göttlichen Proportion – dem faszinierenden Goldenen Schnitt – entwickelt, welcher sich seit der Antike bis zur heutigen Zeit in außergewöhnlichen Werken der Kunst, Musik und der Architektur entfaltet.
Das Herzstück dieses hervorragenden mechanischen Zeitmessers bildet das Kaliber 61-03, welches in der Manufaktur Glashütte Original entwickelt wurde und in aufwändiger Handarbeit gefertigt wird. Der Handaufzug-Säulenrad-Chronograph ist mit einem klassischen Schaltrad ausgestattet, welches die verschiedenen Chronographen-Funktionen ausführt, einschließlich Start, Stopp, Nullstellen sowie den Flyback-Mechanismus, der das Nullstellen und Neustarten des Stoppvorgangs mit nur einem Tastendruck ermöglicht. Alle Funktionen werden mit den beiden Drückern auf der rechten Seite des Gehäuses ausgeführt.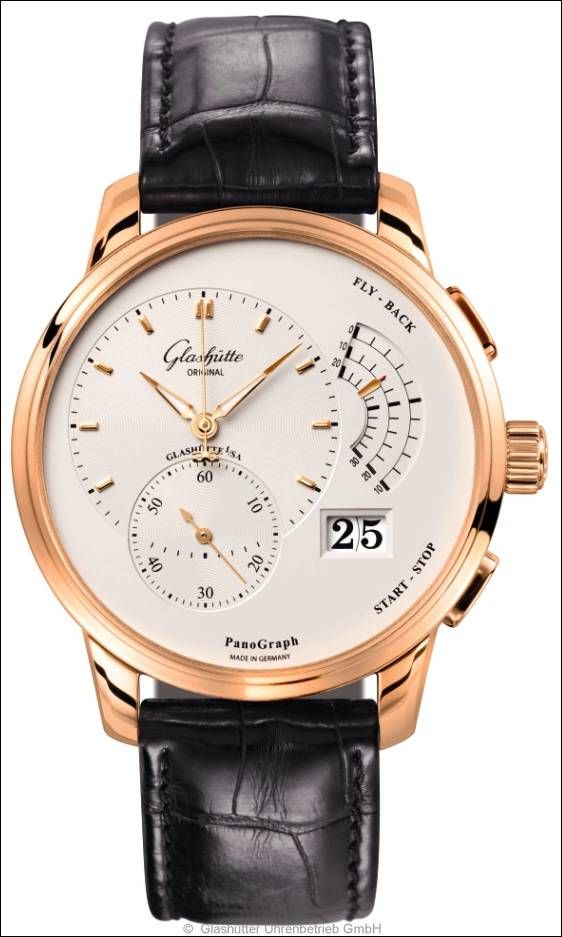 Klar erkennbar durch den Saphirglasboden sind die charakteristischen Merkmale und Dekorationen der Uhrwerke von Glashütte Original wie die traditionelle Dreiviertelplatine mit Glashütter Streifenschliff, verschraubte Goldchatons, Schraubenunruh und die Schwanenhals-Feinregulierung. Der PanoGraph ist mit einem Armband aus schwarzem Louisiana-Alligatorleder oder braunem Nubuk-Alligatorleder erhältlich.
Details:
Referenz:
Gehäusematerial:
Rotgold 750/000
Gehäusedurchmesser: 40 mm
Gehäusehöhe: 13,7 mm
Wasserdicht bis 5 atm
Armband:
Louisiana-Alligatorleder/Nubuk Armband
Glas:
beidseitig entspiegeltes Saphirglas
Boden Saphirglas
Kaliber:
Handaufzugwerk, Kaliber 61-03
Abmessungen:
Durchmesser 32,2 mm
Höhe 7,2 mm
Schlagzahl:
28.800 A/h, 4 Hz entsprechend
Gangreserve:
Lagersteine:
Unruh:
Schraubenunruh mit 18 Gewichtsschrauben
Besonderheiten:
Stunden und Minuten (dezentral)
kleine Sekunde (dezentral)
Chronograph
Stoppsekunde
Fly-Back
Additionsstopper bis 30 Minuten
Sekundenstopp
Panoramadatum
Werk hochfein vollendet
Kanten angliert
Stahlteile poliert und geschliffen
verschraubte Goldchatons
gebläute Schrauben
Schwanenhals-Feinregulierung
Unruhkloben von Hand graviert
Quelle:
Text und Bildmaterial mit freundlicher Genehmigung von GLASHÜTTE ORGINAL 
*****************************************************************************************************
Glashütte Original: A modern classic – the PanoGraph
The PanoGraph signals the return and contemporary evolution of a most remarkable timepiece. Twelve years ago at the Basel watch fair, Glashütte Original presented the PanoRetroGraph. A quintessential illustration of the art of fine watchmaking in Germany, its startling asymmetrical dial design, its unprecedented "retro" chronograph mechanism and 30-minute chronograph totalizer earned immediate acclaim from critics and customers alike. The limited edition of 50 pieces in platinum soon sold out. This was the timepiece that launched the entire Pano line of hand-crafted mechanical timepieces, among them its immediate successor, the PanoGraph, first presented at Basel in 2002.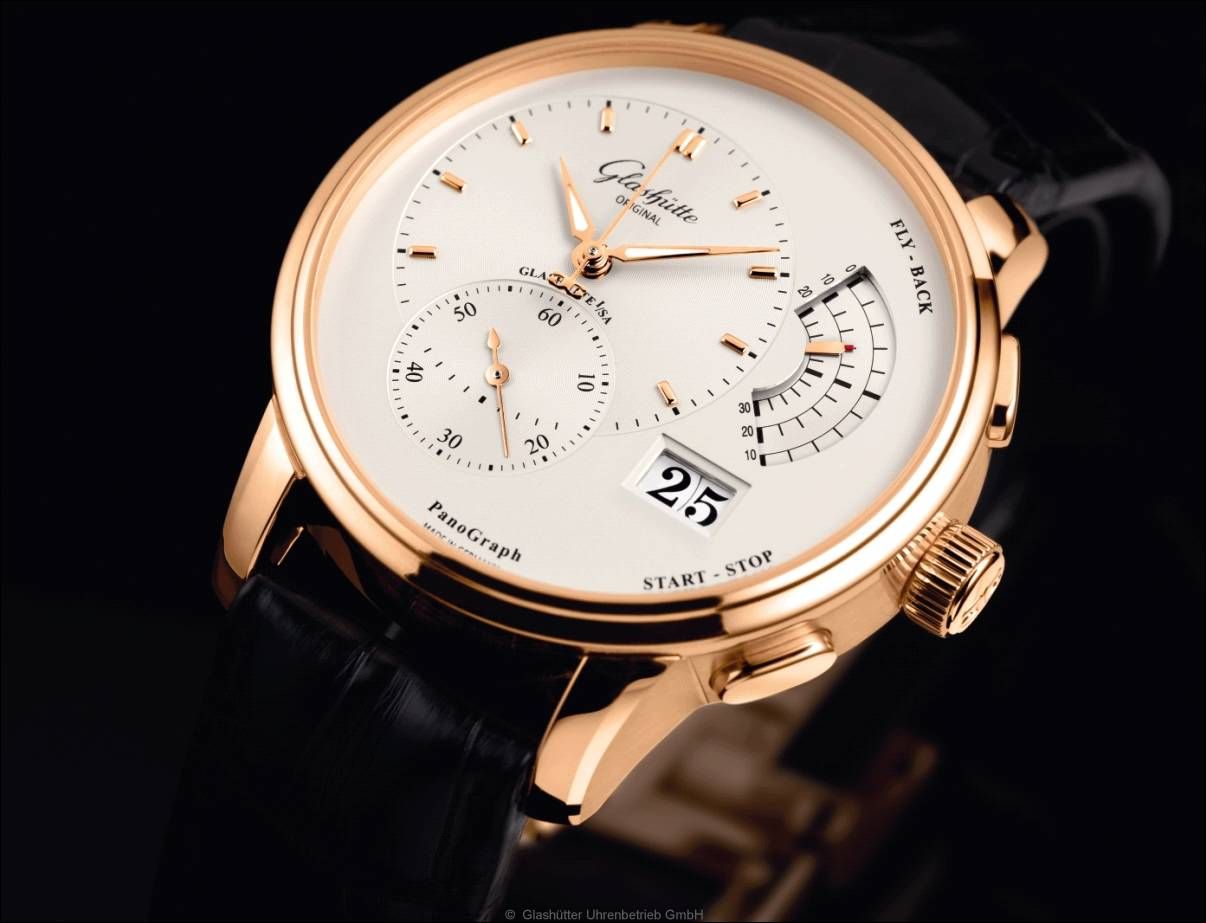 Today, Glashütte Original presents the PanoGraph, a contemporary heir to its illustrious predecessors. The PanoGraph takes advantage of a larger case (diameter 40.0 mm) and expansive dial to represent the Pano line's characteristic asymmetric visuals in a distinctly modern and contemporary manner. Favoured by the larger and cylindrical case, the new design distributes the elegant interlocking hour/minute and subsidiary seconds dials to the left, while Glashütte Original's compelling big date display, the Panorama Date, takes up its usual position at 4 o'clock. The chronograph's remarkable 30-minute totalizer represents the original design in a contemporary look with a supremely elegant set of three cumulative ten-minute scales with three separate pointers. Two chronograph pushers at 4 and 2 o'clock are labelled in black, START-STOP and FLY-BACK, respectively, the latter indicating the chronograph reset mechanism, the former the standard chronograph timing operations.
Presented in a red gold case with rose gold hour indexes and hands and rose gold stop/seconds hand on the main dial and a rose gold subsidiary seconds hand, the PanoGraph visuals represent the epitome of simplicity and aesthetic harmony: like all Pano dials, the design was developed in accordance with divine proportion, the fascinating golden ratio deployed by artists in extraordinary works of art, music and architecture from antiquity to the present day.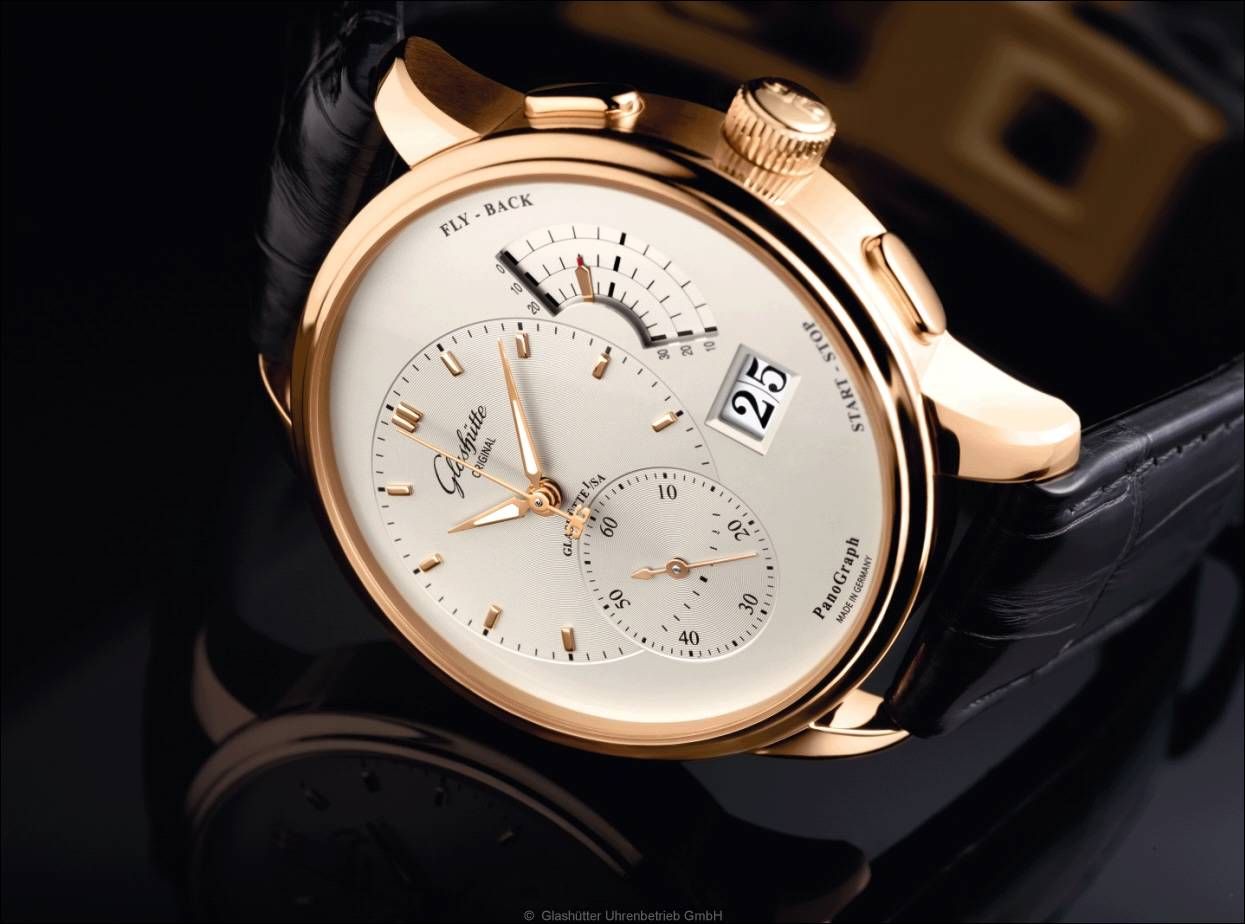 At the heart of this superb mechanical wonder is the Calibre 61-03, designed and hand-crafted in the Glashütte Original manufactory. The manually wound column wheel chronograph is outfitted with a classic switching wheel that operates the various chronograph functions, including start, stop, reset and a satisfying flyback mechanism allowing one to reset the chronograph without first having to stop it: all functions are accessible through the two chronograph pushers on the right side of the case. Easily visible through the sapphire crystal case back are the characteristic features and finishings of Glashütte Original movements, including the traditional three-quarter plate with Glashütte ribbing, screw-mounted gold chatons, screw balance, and swan-neck fine adjustment. The PanoGraph is available with a black Louisiana alligator or brown nubuck alligator leather strap, slightly broader than prior versions.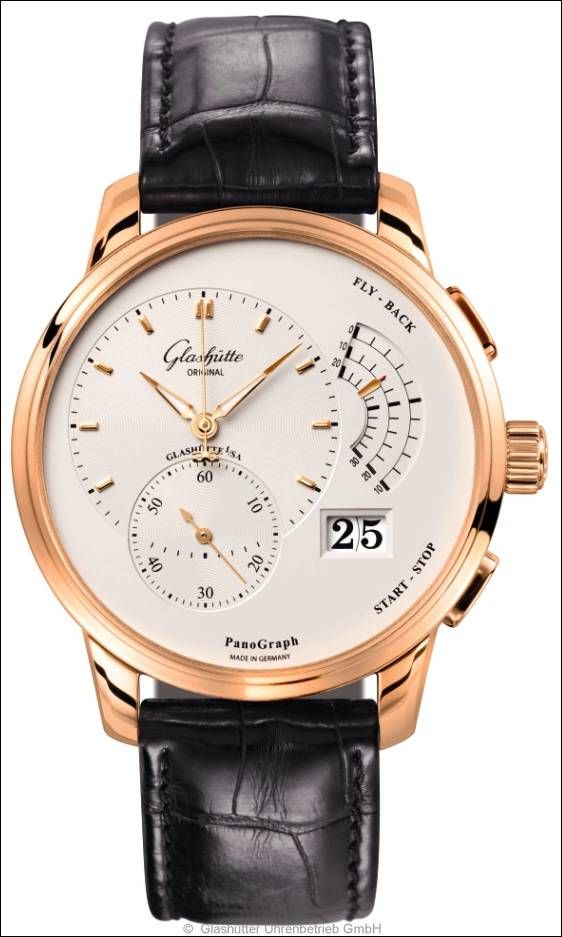 Details:
Reference:
Case material:
Strap:
Louisiana Alligator Leather/Nubuk strap
Case diameter:
Height
Waterproof up to:
Glass:
Sapphire crystal, anti-reflective both sides
Bottom:
Caliber:
Manual winding movement, Caliber 61-03
Dimensions:
Diameter 32.2 mm, Height 7.2 mm
Oscillating frequency:
28.800 A/h, equivalent to 4 Hz
Power Reserve:
Jewels:
Balance:
screw balance with 18 weighted screws
Besonderheiten:
Hours and minutes (off-centre), small second (off centre), Chronograph, Second stop, Flyback, 30-minute counter, stop second, Panorama Date; exquisitely finished movement, bevelled edges, polished and brushed steel parts, screwed godl chatons, blued screws, swan-neck fine adjustment, balance cock engraved by hand.
Quelle:
Text und Bildmaterial mit freundlicher Genehmigung von GLASHÜTTE ORGINAL