Der Glashütter Strahlenschliff veredelt auch das elegante Blatt von
Zürich braungold der Manufaktur NOMOS Glashütte.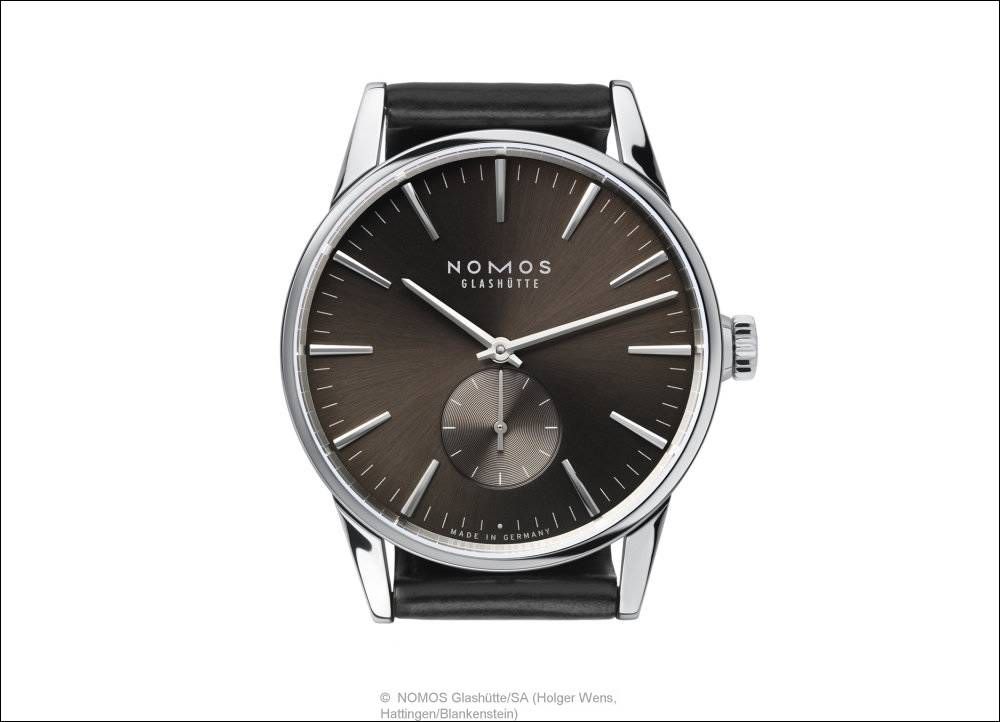 Die optischen Eigenschaften von Gold kombiniert mit viel
Eleganz und dem Vertrauen, welches uns Holz und Erde vermitteln:
Zürich braungold heißt eine neue Variante der männlichsten NOMOS-Uhr, Zürich.
Auch an Wärme, Kraft und einen guten Whisky denkt man bei dieser sympathisch
soliden Farbe, die nicht so hart ist wie Schwarz, dabei gar eleganter. Und
dass Braun seit einigen Jahren prima zu Schwarz passt, modisch gesehen:
umso schöner.
Zeitlos sind beide neuen Zürich-Versionen von NOMOS Glashütte. Der Glashütter
Strahlenschliff ist ein Schliff, den Uhrmacher im Erzgebirge traditionell
verwenden – wie nun für die Zifferblätter dieser besonderen Herrenuhren. Ihr
elegantes Edelstahlgehäuse mit all seinen logischen Drehungen wurde vom
Zürcher Ausnahmegestalter Hannes Wettstein gezeichnet. Durch seine schmale
Lünette fällt der Blick auf das klare, leicht lesbare Zifferblatt mit facettierten
Zeigern und aufgesetzten Indexen. Noch ein neues Lieblingsstück! NOMOSKaliber
Epsilon, das Automatikwerk mit exzellenten Gangeigenschaften und
großer Aufzugsleistung aus Glashütter Manufaktur, lässt es ticken. Ab Frühjahr
im NOMOS-Fachhandel.
Details:
Zürich braungold
Uhrwerk: ξ (Epsilon) – Manufakturkaliber mit Automatikaufzug,
schwarz vergoldet
 Gehäuse: Edelstahl, achtteilig; Durchmesser 39,7 mm; gewölbtes
Saphirglas; Saphirglasboden, Höhe 9,65 mm; sechsfach verschraubt
Zifferblatt: galvanisiert, braungold, mit Glashütter Strahlenschliff;
Indexe aufgesetzt, rhodiniert
Zeiger: rhodiniert, facettiert
Wasserdicht bis 3 atm
Armband: Horween Shell Cordovan
 Referenznummer 823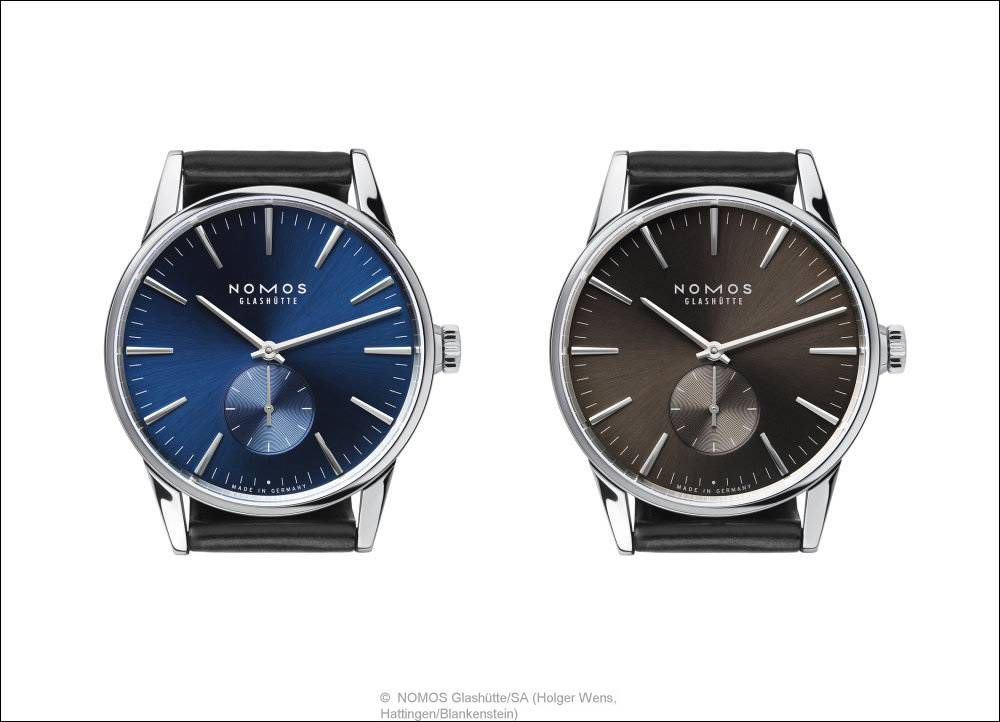 Text und Bilder mit freundlicher Genehmigung von NOMOS Glashütte/SA 
(Foto: Holger Wens, Hattingen/Blankenstein)
********************************************************************************************************
The Glashütte sunray decoration also ennobles the elegant dial of the Zürich
braungold from the manufactory NOMOS Glashütte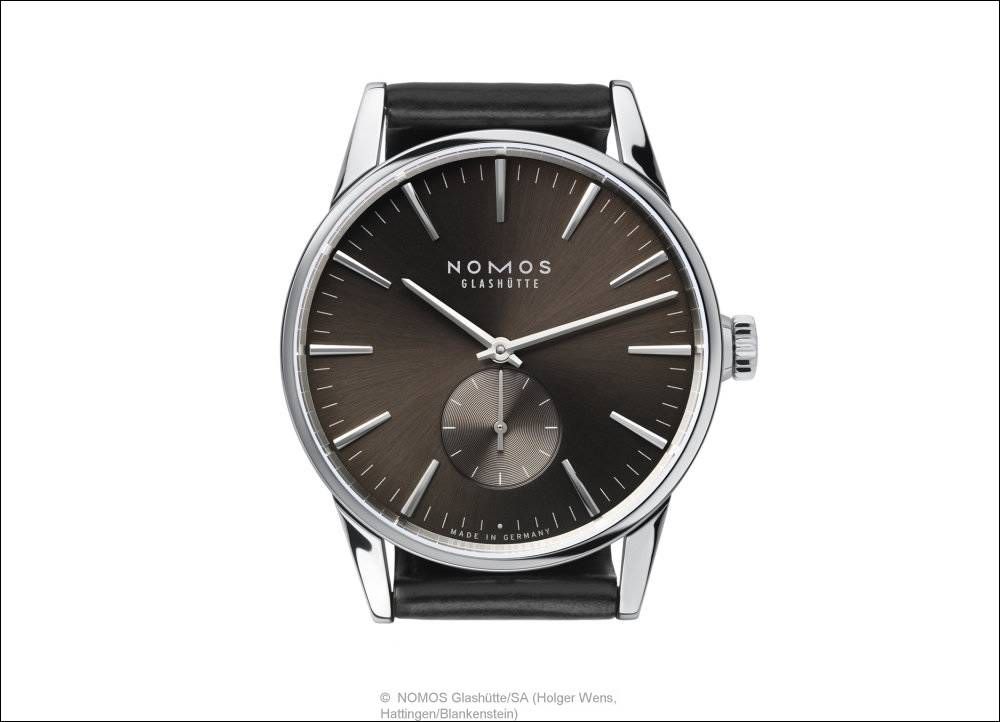 The optical qualities of gold combined with great elegance and the trust that wood and earth convey to us: Zürich braungold is the name of a new variant of the manliest NOMOS watch, the Zürich. This likeably solid color also sets one thinking of warmth, power, and an good whiskey; it isn't as hard as black, and at the same time it's even more elegant. And that, for several years now in fashion, brown has gone well with black is all the better.
The two new Zürich variants from NOMOS Glashütte are timeless. The Glashütte
sunray decoration is one traditionally used by the watchmakers in the Ore
Mountains—and now for the dial of this special men's watch. Its elegant
stainless steel case with all its logical twists was drawn by the exceptional
Zurich designer Hannes Wettstein. The gaze falls through its slender bezel onto
the clear, easily readable dial with faceted hands and rhodium-plated applique.
Another new favorite piece. NOMOS self-winding caliber Epsilon, the movement
with excellent rate accuracy and great power reserve from the Glashütte
manufactory makes it tick.
Coming this spring at NOMOS specialized dealers.
Movement: ξ (epsilon)—manufactory caliber with manually wound movement, black gold-plated
Case: stainless steel, octopartite; diameter 39.7 mm; domed
sapphire crystal glass; sapphire crystal glass back, height 9.65 mm; fixed with six screws
Dial: galvanized, brown gold, with Glashütte sunray decoration;
rhodium-plated applique
Hands: rhodium-plated, faceted
Water resistant to 3 atm
Strap: Horween Shell Cordovan
Reference number 823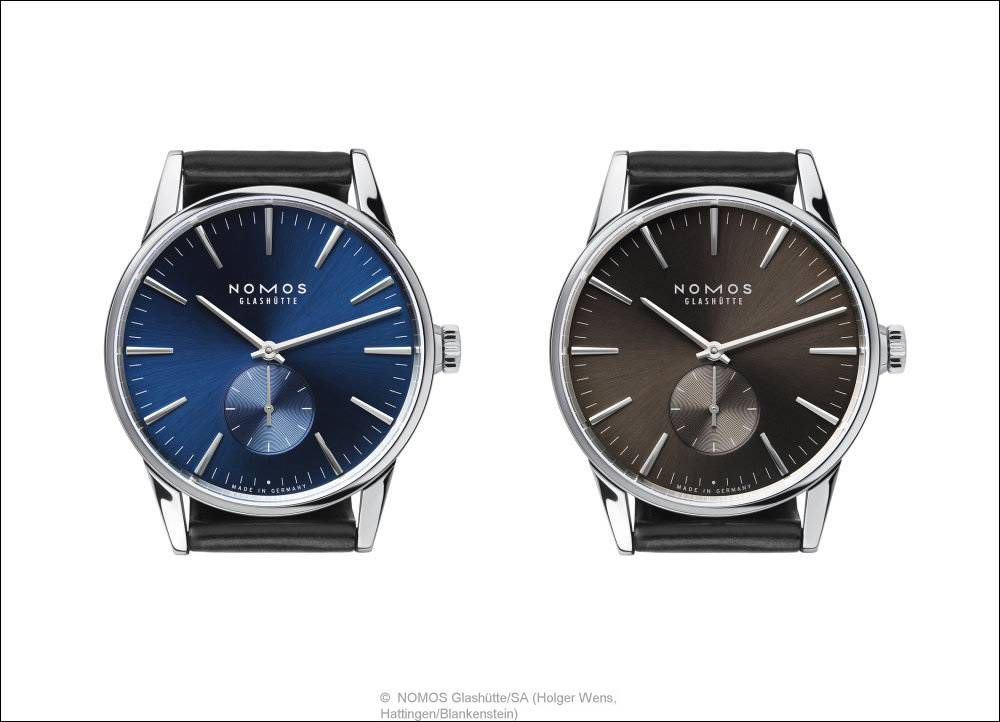 Text und Bilder mit freundlicher Genehmigung von NOMOS Glashütte/SA 
(Foto: Holger Wens, Hattingen/Blankenstein)