Anlässlich der Neuauflage des technisch weiterentwickelten Weltraumchronographen 140 entstand das auf 200 Stück limitierte Modell 140 A mit galvanisch versilberten Zählerkreisen und satiniertem Edelstahlgehäuse mit polierten Flanken.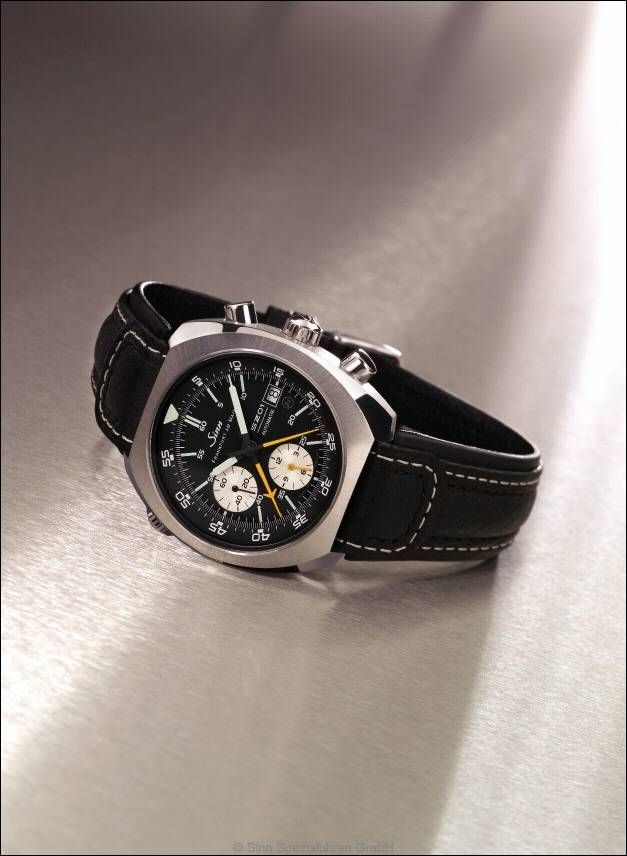 Die Chronographen der Modellreihen 140 und 142 gehören zu den traditionsreichsten Uhren, welche im Unternehmen der Firma SINN hergestellt werden.
Mit ihnen wurde sowohl Uhren- als auch Raumfahrtgeschichte geschrieben.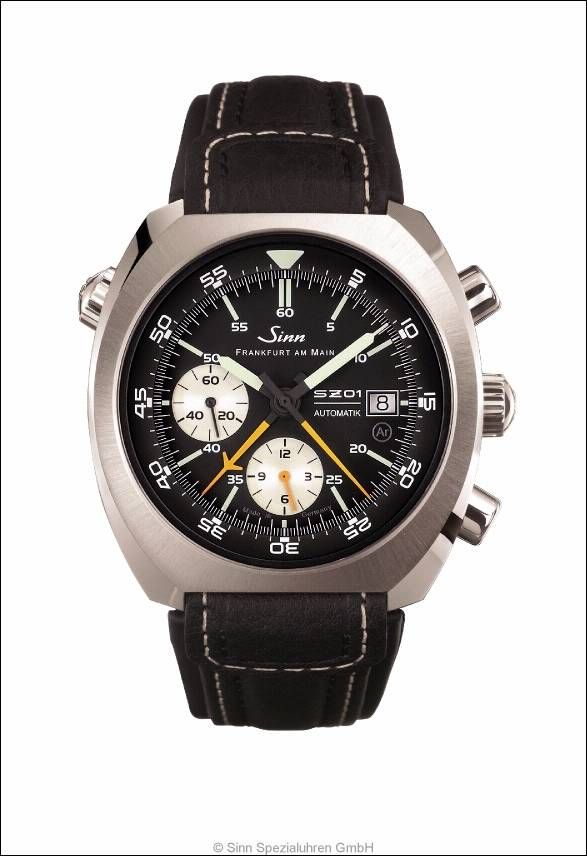 Während der Spacelab-Mission D1 trug 1985 der deutsche Physiker und Astronaut Reinhard Furrer die 140 S mit Lemania-Uhrwerk 5100 am Handgelenk. Reinhard Furrer bewies damit, dass eine Armbanduhr mit automatischem Aufzug auch in der Schwere-losigkeit funktioniert. 1992 begleitete die 142 S den Astronauten Klaus-Dietrich Flade bei der Mir-92-Mission.
Die legendäre Modellreihe 140 wurde technisch weiterentwickelt.
Sie verfügt über das SINN‑Chronographen‑Uhrwerk SZ01. Auffälligstes Merkmal dieser  Neukonstruktion ist der springende 60-Minutenstoppzeiger aus dem Zentrum für eine verbesserte Ablesbarkeit.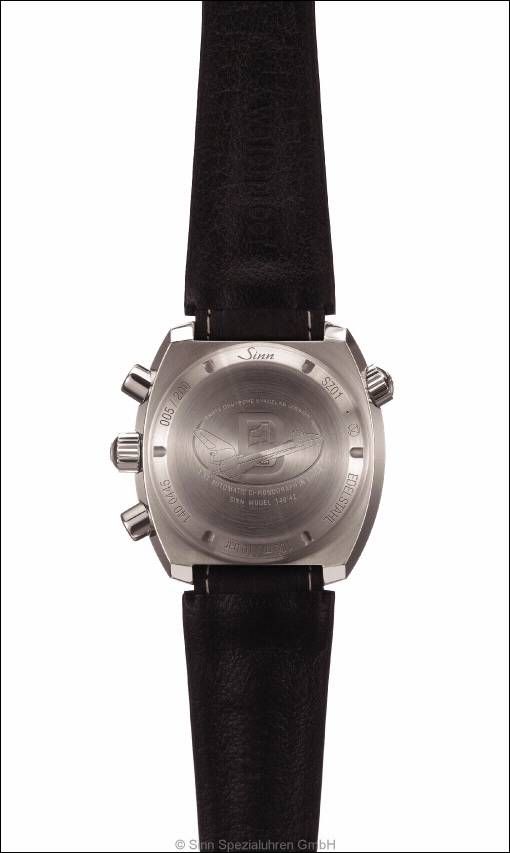 Das Edelstahlgehäuse ist mit der TEGIMENT-Technologie oberflächen-gehärtet und ist damit besonders kratzfest. Und um die Funktions- und Beschlagsicherheit zu erhöhen, verfügen alle Uhren der Modellreihe 140 über die Ar-Trockenhaltetechnik.
Technische Daten:
Mechanisches Ankerwerk
SINN Uhrwerk SZ01
Automatikaufzug
33 Rubinlagersteine
28.800 Halbschwingungen pro Stunde
Sekundenstopp
Stoßsicher nach DIN 8308
Antimagnetisch nach DIN 8309
Gehäuse
 Gehäuse aus Edelstahl, poliert /satiniert
 Deckglas aus Saphirkristall, beidseitig entspiegelt
 Boden verschraubt, nickelfrei
 Wasserdicht nach DIN 8310
 Druckfest bis 10 bar (= 100 Meter Wassertiefe)
 Unterdrucksicher
Funktionen
 Stunde, Minute, kleine Sekunde
 Datumsanzeige
 Chronograph mit 60-Minutenstoppzeiger aus dem Zentrum
 Innenliegender Fliegerdrehring mit nachleuchtender Hauptmarkierung
SINN Technologien/Besonderheiten
 SINN Uhrwerk SZ01
 TEGIMENT-Technologie, damit besonders kratzfest
 Ar-Trockenhaltetechnik, dadurch erhöhte Funktions- und Beschlagsicherheit
 Drücker mit D3-System
 Krone mit D3-System
Maße & Gewicht
 Gehäusedurchmesser: 44 mm
 Bandanstossbreite: 22 mm
 Gesamthöhe in Mitte der Uhr: 15 mm
 Gewicht ohne Band: 118 Gramm
Zifferblatt & Zeiger
Mattschwarzes Zifferblatt mit galvanisch versilberten Zählerkreisen
 Indizes mit Leuchtfarbe belegt
 Stunden- und Minutenzeiger mit Leuchtfarbe belegt
 Chronographenanzeige mit Tagesleuchtfarbe belegt
Garantiezeit
Quelle: Text und Bilder mit freundlicher Genehmigung von Sinn Spezialuhren GmbH
*******************************************************************************************************
SINN: Model 140 A – The Aerospace Chronograph
On the occasion of the recently launched new edition of the technically advanced aerospace chronograph 140 the limited edition (only 200 pieces) Model 140 A was created. It comes along with silver plated counter dials and satin stainless steel case with polished edges.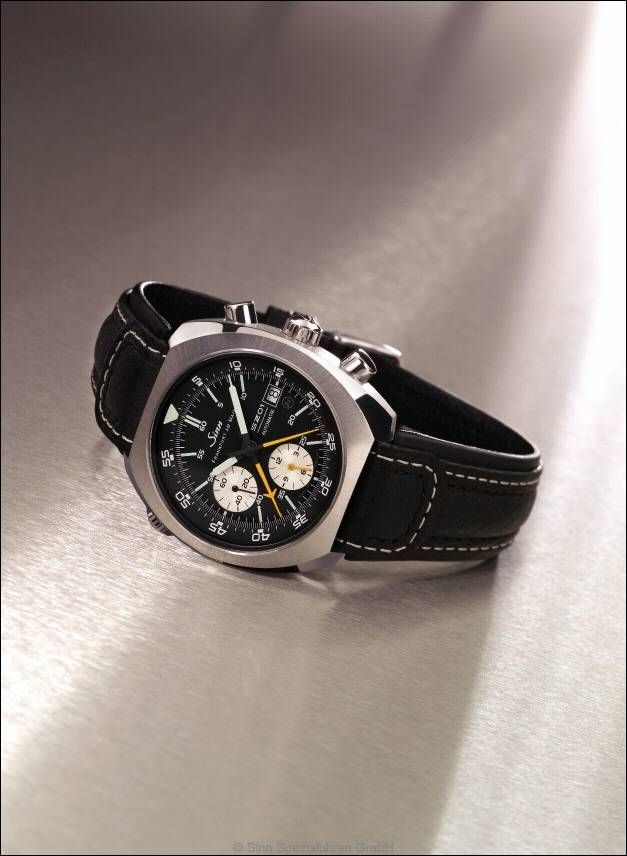 The model series 140 and 142 are one of the most traditional watches, which are manufactured by the SINN watch manufacturing company.
Both watches have been part of space and aerospace history.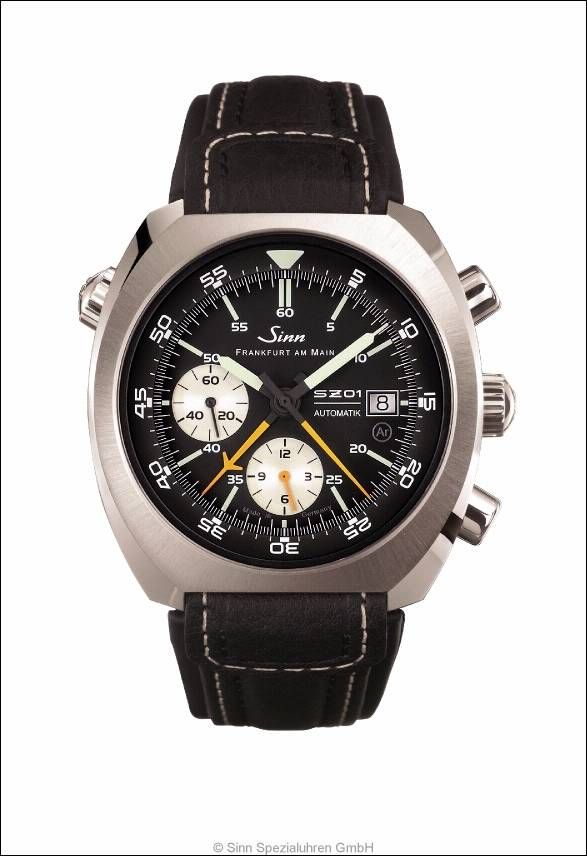 During the Spacelab D1 mission in 1985 the German physicist and astronaut Reinhard Furrer, was wearing the 140-S with Lemania 5100 movement on the wrist. Reinhard Furrer, proving that a watch with automatic winding in the weightlessness works. In 1992 the model 142 S accompanied the astronaut Klaus-Dietrich Flade at the Mir-92 mission.
Then the legendary Model 140 has been improved.
It uses now the SINN SZ01 chronograph movement. The most striking feature of this new design is the crucial 60-minute stop hands from the center for improved readability.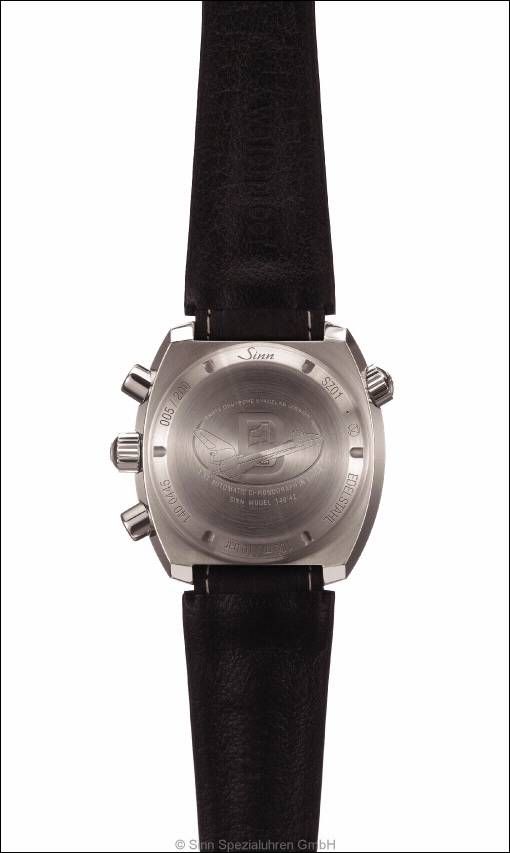 The stainless steel case is surface-hardened with the TEGIMENT technology and is therefore particularly scratchproof. And to increase the functionality and safety fittings, all watches of the model 140 collection provide the dehumidifying technique.
Specifications:
     SINN movement SZ01
     automatic winding
     33 jewels
     28,800 vibrations per hour
     second stop
     Shockproof according to DIN 8308
     Anti-magnetic according to DIN 8309
Case:
      Housing made of stainless steel polished / satin
      Cover glass made ​​of sapphire crystal, antireflective coating
      Screwed, nickel-free
      Water resistant to DIN 8310
      Pressure rated to 10 bar (= 100 m water depth)
Functions:
      Hour, minute, small second
      date display
      Chronograph with 60-minute stop hands from center
      Inlying pilot's bezel with luminous main marker
SINN technology / features:
      SINN movement SZ01
      TEGIMENT technology to enable superior scratch resistance
      Dehumidifying technology for increased functionality and hardware
security
      Handle with D3 system
      Crown with D3 system
Dimensions & Weight:
      Case diameter: 44 mm
      Lug width: 22 mm
      Overall height in the mid-Clock: 15 mm
      Weight without strap: 118 grams
Dial & Hands:
     Matt finished black dial with silver-plated counter portion
     Indices covered with fluorescent paint
     Hour and minute hands coated with luminous paint
     Chronograph display covered with fluorescent paint
Warranty:
Source: Text and images courtesy of SINN Watches
Translated by Deutsches Uhrenportal a subsidiary of CONIUX Germany Ltd.