Zwei Auszeichnungen beim Genfer Grand Prix für die 1815 Rattrapante Ewiger Kalender, sechs erste Preise in München und Wien und ein Ehrenpreis für Walter Lange.
Beim "Grand Prix d'Horlogerie de Genève" am 15. November wurde die 1815 Rattrapante Ewiger Kalender von A. Lange & Söhne bei einer Galaveranstaltung im Genfer Grand Théâtre gleich zweimal ausgezeichnet: In der Kategorie "Große Komplikation" kürte die internationale 23-köpfige Expertenjury sie zum Sieger. Zum ersten Mal wurde in dieser Disziplin des seit 2001 verliehenen Preises eine Uhrenmarke geehrt, die nicht aus der Schweiz stammt. Darüber hinaus erhielt die erst zu Beginn des Jahres vorgestellte Uhr auch den Publikumspreis des Wettbewerbs. Die 1815 Rattrapante Ewiger Kalender verbindet die technische Faszination eines Schleppzeiger-Chronographen mit der dauerhaften Präzision eines ewigen Kalenders, der erst im Jahr 2100 um einen Tag korrigiert werden muss.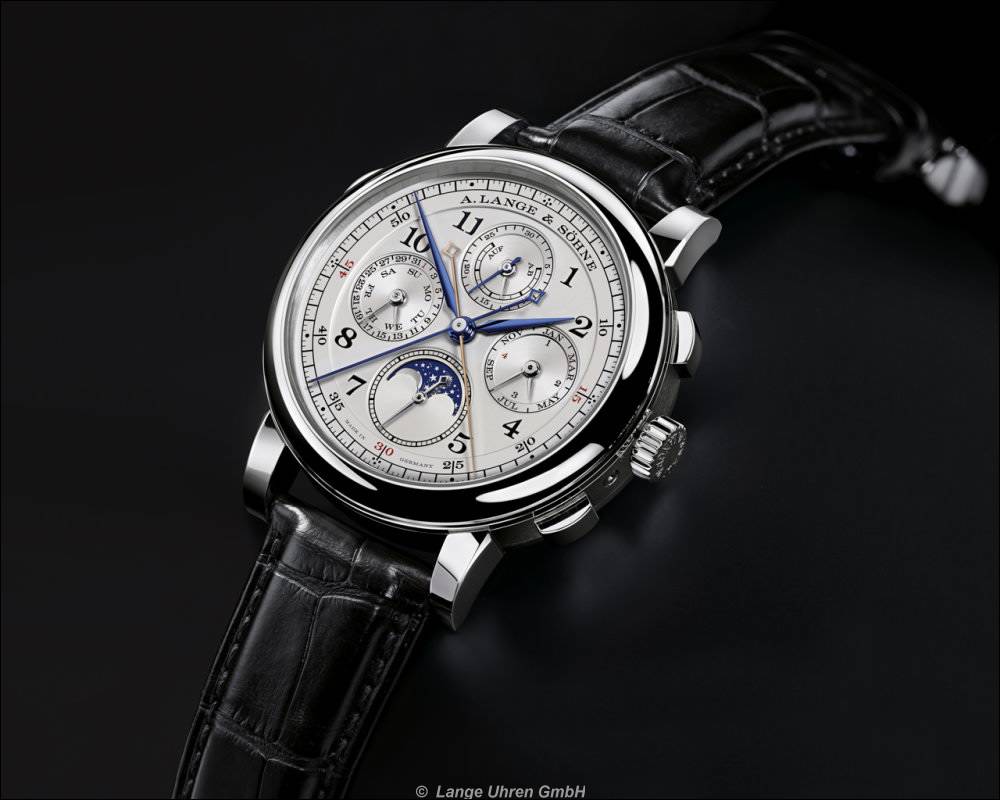 Bild: 1815 RATTRAPANTE EWIGER KALENDER
Bereits wenige Tage zuvor hatte der außergewöhnliche Zeitmesser bei der Uhrenausstellung Munichtime den Publikumspreis in der Kategorie "Uhren über 40.000 Euro" erhalten. Sowohl bei der Munichtime als auch bei ihrer Schwesterveranstaltung Viennatime wählten Uhrenfans ihn darüber hinaus zur besten Uhr in der Gruppe "Komplizierte Mechanik". Auch die Saxonia Automatik war gleich doppelt erfolgreich: Bei beiden Events war sie die erste Wahl im Bereich "Feminine Ästhetik". In München schließlich wurde die Grosse Lange 1 "Lumen" zur Siegerin unter den klassisch-eleganten Uhren gekürt.
Am 13. November ehrte die "Fondation de la Haute Horlogerie" (FHH – Stiftung zur Förderung der hohen Uhrmacherkunst) Walter Lange in Lausanne mit dem Preis "Hommage à la Passion" für sein Lebenswerk. Die aus 18 internationalen Uhrenexperten bestehende Jury würdigte damit "den Mann, ohne den die großartige Wiedergeburt von A. Lange & Söhne nicht möglich gewesen wäre".
Weitere Preise erhielt A. Lange & Söhne im Herbst in Mexiko und in Polen. Beim Salón Internacional Alta Relojería (SIAR) in Mexiko-Stadt ging der erste Preis in der Kategorie "Große Komplikation" an die in diesem Jahr vorgestellte Grand Complication. Auch bei einem Uhrenwettbewerb des Uhrenportals Chronos24.pl in Warschau wurde die komplexeste Lange-Armbanduhr aller Zeiten sowohl zur Siegerin in der Disziplin "Komplizierte Uhren" als auch zur "Uhr des Jahres 2013" erklärt.
Mit insgesamt 19 Auszeichnungen geht für A. Lange & Söhne eines der erfolgreichsten Jahre in der Geschichte der Manufaktur zu Ende. Seit 1994, dem Jahr, in dem die Marke ihre erste Kollektion nach ihrer Neugründung präsentierte, kann A. Lange & Söhne auf die stolze Bilanz von rund 200 Auszeichnungen zurückblicken.
Über A. Lange & Söhne
Der Dresdner Uhrmacher Ferdinand A. Lange legte mit der Gründung seiner Uhrenmanufaktur 1845 den Grundstein für die sächsische Feinuhrmacherei. Seine hochwertigen Taschenuhren sind bei Sammlern in aller Welt noch immer heiß begehrt. Nach dem Zweiten Weltkrieg wurde das Unternehmen enteignet, und der Name A. Lange & Söhne geriet beinahe in Vergessenheit. Im Jahr 1990 wagte Walter Lange, der Urenkel von Ferdinand A. Lange, den Neubeginn. Heute werden bei Lange pro Jahr nur wenige Tausend Armbanduhren aus Gold oder Platin hergestellt. In ihnen arbeiten ausschließlich selbst entwickelte und aufwendig von Hand dekorierte und montierte Uhrwerke. Mit mehr als 40 Manufakturkalibern konnte sich A. Lange & Söhne innerhalb von gut 20 Jahren eine Spitzenposition unter den besten Uhrenmarken der Welt sichern. Zu den größten Erfolgen zählen innovative Zeitmesser wie die LANGE 1 mit dem ersten Großdatum in einer Serienarmbanduhr und die LANGE ZEITWERK mit einer exakt springenden Ziffernanzeige von beispielhafter Klarheit. Beide Modelle sind mittlerweile zu Ikonen der traditionsreichen Marke geworden.
Links:
*******************************************************************************************
A. Lange & Söhne: Avalanche of awards at the end of the year
Double success at the Grand Prix de Genève for 1815 Rattrapante Perpetual Calendar, six first prizes in Munich and Vienna, and honorary award for Walter Lange.
At the "Grand Prix d'Horlogerie de Genève" the 1815 Rattrapante Perpetual Calendar by A. Lange & Söhne received not one but two awards during a gala event held at the Grand Théâtre in Geneva on 15  November. The international 23-member expert jury selected it as winner in the category "Grand Complication". For the first time in the history of the competition, a non-Swiss watch brand was honoured in this category. In addition, the watch, introduced at the beginning of this year, also received the competetion's "Public Prize". The 1815 Rattrapante Perpetual Calendar combines the technical fascination of a split-seconds chronograph with the enduring precision of a perpetual calendar that does not need to be corrected until the year 2100, and then by only one day.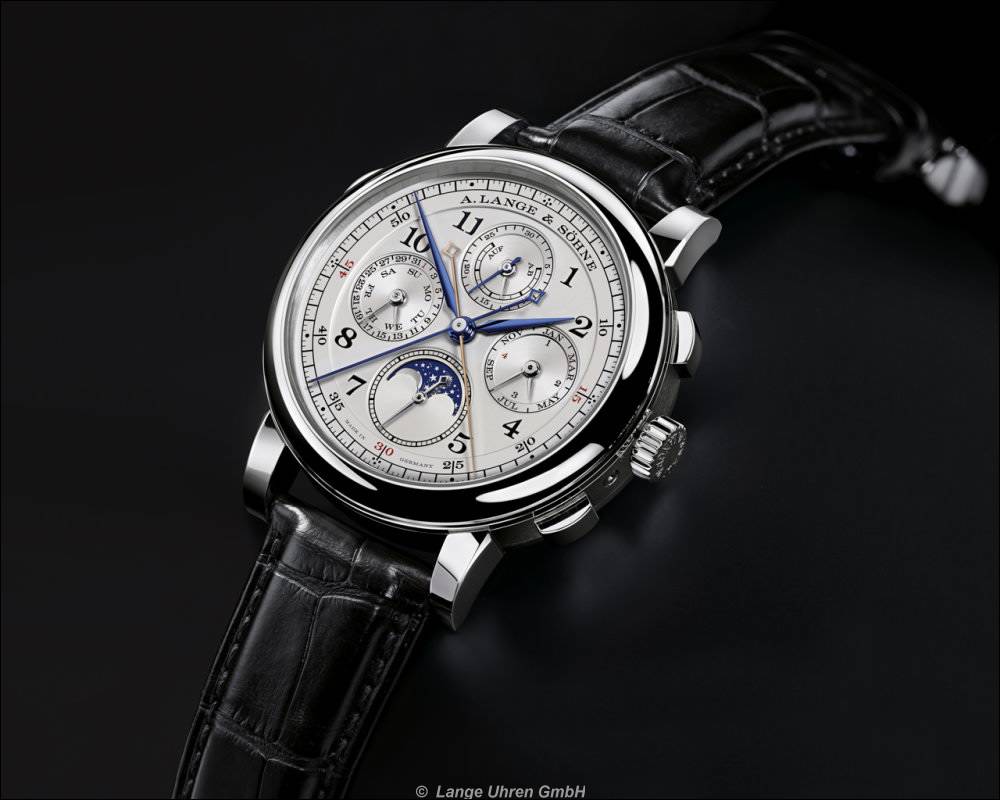 Bild: 1815 RATTRAPANTE EWIGER KALENDER
Just a few days before, this exceptional timepiece had received the audience award in the highest category at the Munichtime watch exhibition. At both Munichtime and its sister event Viennatime, watch enthusiasts voted it the best watch in the group "Complicated Mechanics". The Saxonia Automatic also garnered two accolades: at both events it was the first choice in the category "Feminine Aesthetics". And finally in Munich, the Grand Lange 1 "Lumen" was chosen as the contest-winner among classically elegant watches.
On 13 November, the "Fondation de la Haute Horlogerie" (FHH – Foundation for the Promotion of Fine Watchmaking) honoured Walter Lange in Lausanne with the "Hommage à la Passion" for his lifetime achievement. The jury comprising of 18 international watch experts praised him as "the man who engineered the fabulous reawakening of A. Lange & Söhne".
In autumn, A. Lange & Söhne received further prizes in Mexico and Poland. At the Salón Internacional Alta Relojería (SIAR) in Mexico City, the first prize in the category "Grand Complication" was awarded to Lange's Grand Complication, presented earlier this year. The brand's most complex wristwatch of all times was declared winner, both in the disciplines "Complicated Watches" and "Watch of the Year 2013" at a competition organised by the watch portal Chronos24.pl in Warsaw.
With a total of 19 awards in 2013, A. Lange & Söhne can look back on one of the most successful years in the history of the manufactory. Since presentation of the first collection of the new era in 1994, the brand has reaped an impressive number of some 200 awards.
About A. Lange & Söhne
When Ferdinand A. Lange, a Dresden watchmaker, established his watch manufactory in 1845, he laid the cornerstone of Saxony's precision watchmaking. His precious pocket watches remain highly coveted among collectors all over the world. The company was expropriated after World War II, and the name A. Lange & Söhne nearly fell into oblivion. In 1990, Ferdinand A. Lange's great-grandson Walter Lange had the courage to relaunch the brand. Today, Lange crafts only a few thousand wristwatches in gold or platinum per year. They are endowed exclusively with proprietary movements that are lavishly decorated and assembled by hand. In a period of little more than 20 years, A. Lange & Söhne developed over 40 manufacture calibres and secured a top-tier position among the world's finest watch brands. Its greatest successes include innovative time-keeping instruments such as the LANGE 1 with the first outsize date in a series produced wristwatch as well as the LANGE ZEITWERK with its supremely legible, precisely jumping numerals. Meanwhile, both models have become icons of a brand rich in tradition.
Links: