Der Glashütter Strahlenschliff ziert neue Varianten der männlichsten NOMOS-Uhr:
Nun kommt Zürich blaugold in den Handel.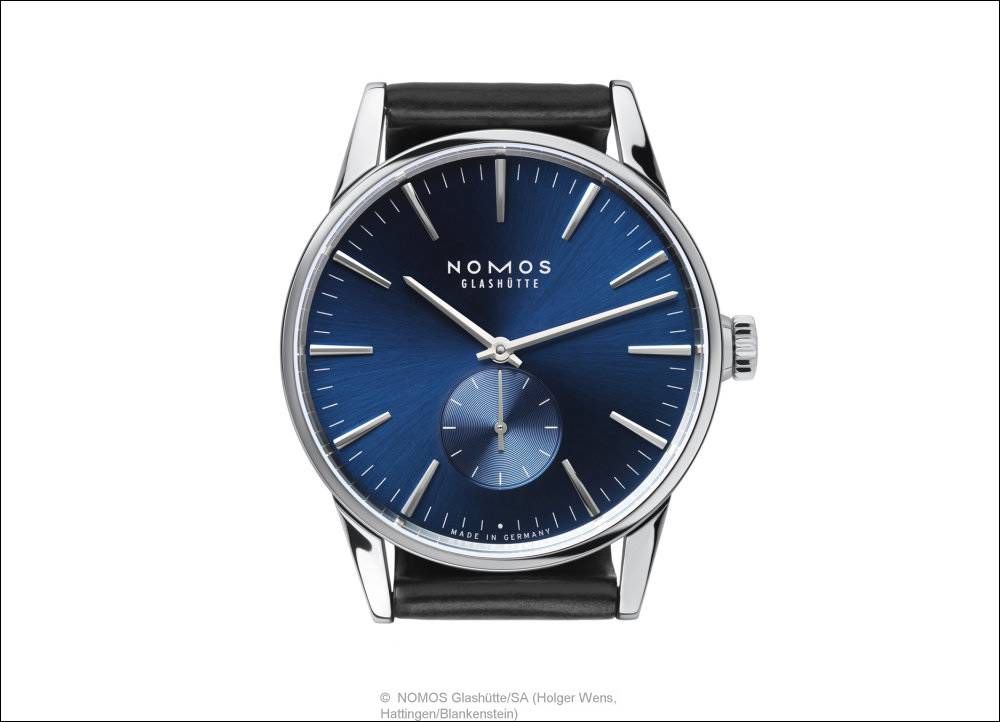 "Blau ist die typische himmlische Farbe", fand der berühmte Künstler Yves Klein.
Blau macht kreativ, hilft beim Nachdenken.
Und Blaugold?
Macht dies alles ebenda: ein lichtechtes, tiefblaues Blau, das man auch Königsblau, Pariser Blau, Französischblau, Preußischblau oder Tintenblau nennen könnte.
Zürich blaugold also heißt das erste von zwei neuen Modellen aus der Glashütter Manufaktur; die optischen Eigenschaften von Gold wurden hier auf die (fast komplementäre Farbe) Blau übertragen. Eine Farbe, die aus der Herrenmode 2012 nicht wegzudenken ist.
Zugleich ist die neue Zürich-Version von NOMOS Glashütte zeitlos.
Der Glashütter Strahlenschliff – ein Schliff, den Uhrmacher im Erzgebirge traditionell verwenden – schmückt nun das blaugoldene Zifferblatt dieser besonderen Herrenuhr.
Ihr elegantes Edelstahlgehäuse mit all seinen logischen Drehungen wurde vom Zürcher Ausnahmegestalter Hannes Wettstein gezeichnet. Durch seine schmale Lünette fällt der Blick auf das klare, leicht lesbare Zifferblatt mit facettierten Zeigern und aufgesetzten Indexen. Ein neues Lieblingsstück.
NOMOS-Automatikkaliber Epsilon, das Werk mit exzellenten Gangeigenschaften und großer Aufzugsleistung aus Glashütter Manufaktur, lässt es ticken.
Ab Frühjahr im NOMOS-Fachhandel.
Neben dem braungoldenen Schwester-Modell.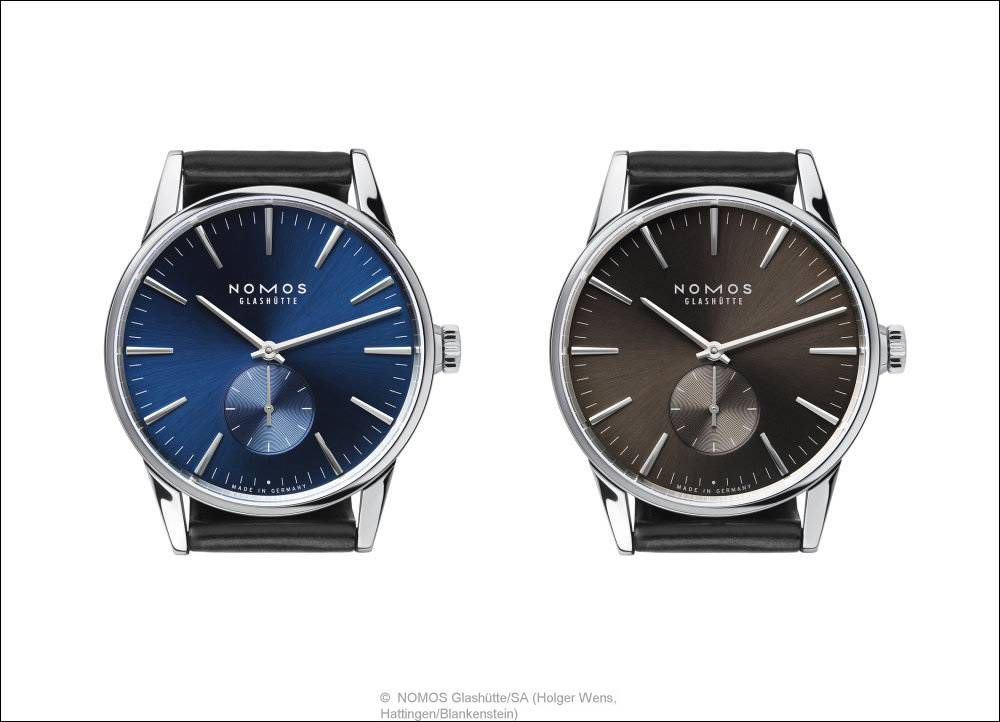 Details:
Zürich blaugold: 
Uhrwerk: ε (Epsilon) – Manufakturkaliber mit Automatikaufzug,
schwarz vergoldet
Gehäuse: Edelstahl, achtteilig; Durchmesser 39,7 mm; gewölbtes
Saphirglas; Saphirglasboden
 Höhe 9,65 mm; sechsfach verschraubt
Zifferblatt: galvanisiert, blaugold, mit Glashütter Strahlenschliff;
Indexe aufgesetzt, rhodiniert
Zeiger: rhodiniert, facettiert
Wasserdicht bis 3 atm
Armband: Horween Shell Cordovan
Referenznummer 822
Informationen und Bilder: Mit freundlicher Genehmigung von NOMOS Glashütte/SA
(Foto: Holger Wens, Hattingen/Blankenstein)
************************************************************************************************
The Glashütte sunray decoration graces new variants of the most manly of
NOMOS watches: Zürich blaugold is coming to the market.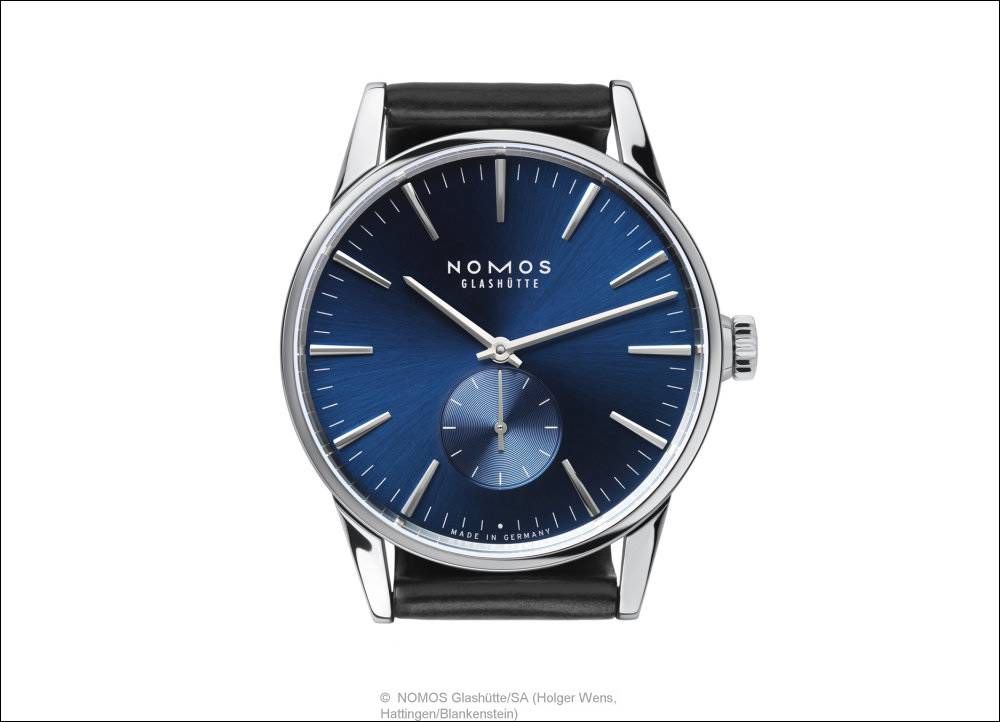 "Blue is the typical heavenly color," said the famous
artist Yves Klein. Blue stimulates creativity and contemplation. And blue gold? It
does the same: a nonfading, deep blue that can also be called royal blue, Paris
blue, French blue, Prussian blue, or ink blue. Zürich blaugold is the name of the
first of two new models from the Glashütte manufactory; the optical qualities of
gold have been transferred to the (almost complementary) color blue. A color it
would be hard to imagine doing without in men's fashions in 2012.
At the same time, NOMOS Glashütte's new Zürich variant is timeless. The
Glashütte sunray decoration—a polishing traditionally used by watchmakers in
the Ore Mountains—adorns the blue gold dial of this special men's watch. Its
elegant stainless steel case with all its logical twists was drawn by the
exceptional Zurich designer Hannes Wettstein. The gaze falls through its slender
bezel onto the clear, easily readable dial with faceted hands and applique. A
new favorite piece. NOMOS self-winding caliber Epsilon, the movement with
excellent rate accuracy and great power reserve from the Glashütte manufactory
makes it tick. Coming this spring at NOMOS specialized dealers along with its
brown gold sibling.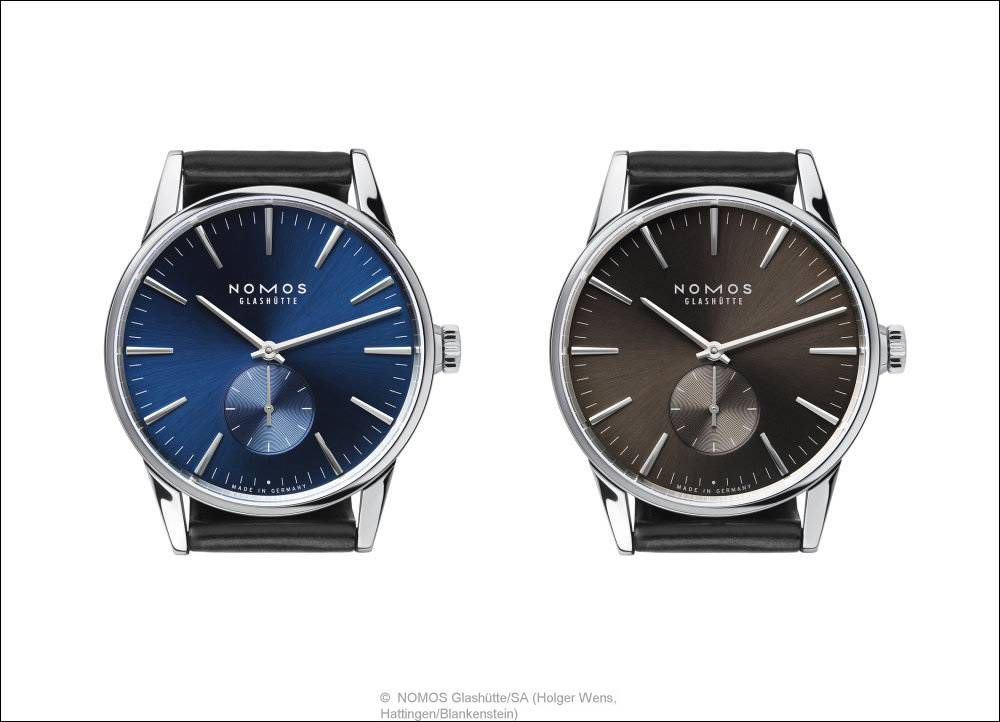 Zürich blaugold
Movement: ξ (epsilon)—manufactory caliber with manually wound
movement, black gold-plated
Case: stainless steel, octopartite; diameter 39.7 mm; domed
sapphire crystal glass; sapphire crystal glass back, height
9.65 mm; fixed with six screws
Dial: galvanized, blue gold, with Glashütte sunray decoration;
rhodium-plated applique
Hands: rhodium-plated, faceted
Water resistant to 3 atm
Strap: Horween Shell Cordovan
Reference number 822
Informationen und Bilder: Mit freundlicher Genehmigung von NOMOS Glashütte/SA
(Foto: Holger Wens, Hattingen/Blankenstein)