Modelle mit springender Zentralsekunde haben sich seit 2005 in der kleinen, aber feinen Kollektion von Habring² einen festen Platz erkämpft. Steht doch diese eher ungewöhnliche kleine Komplikation wie kaum eine andere für die eigentlichen Kernwerte von Habring²: zuverlässige Alltagstechnik mit dem gewissen Etwas. Während am Beginn im Jahr 2005 noch Chezard-Kaliber aus den 1950er-Jahren zum Einsatz kamen, bildete seit 2007 das eigenentwickelte Kaliber A07 auf Basis des ETA-Valgranges das eigentliche Rückgrat der Baureihe mit der atypischen Bewegung des Sekundenzeigers.
Was in der Einstiegslinie von Habring², der sog. "Time", seit 2009 Standard ist, soll der Springenden Sekunde nicht weiter vorenthalten bleiben. Nämlich: die Fertigung eigener Brücken und Platinen. So wird aus den bisherigen A07- und A07M-Kalibern das A09S und A09MS, erkennbar auch am neuen Werkfinish.
Unverändert bleibt die Modularität des A09S und A09MS. Neben Hand- und automatischem Aufzug beinhaltet diese eine klassische Datumsanzeige wie auch Gangreserveanzeige, zweite Zeitzone, Mondphasenanzeige oder sogar ein Kalendarium.
Alle Anzeigen können auf Wunsch für bestehende Habring²-Uhren nachgerüstet werden, selbst die Aufnahme eines rückseitig sichtbaren Tourbillons ist hierbei bereits vorgesehen. Gänzlich neu ist die Mondphasenanzeige mit dem vergrößerten Mond bei 6 Uhr.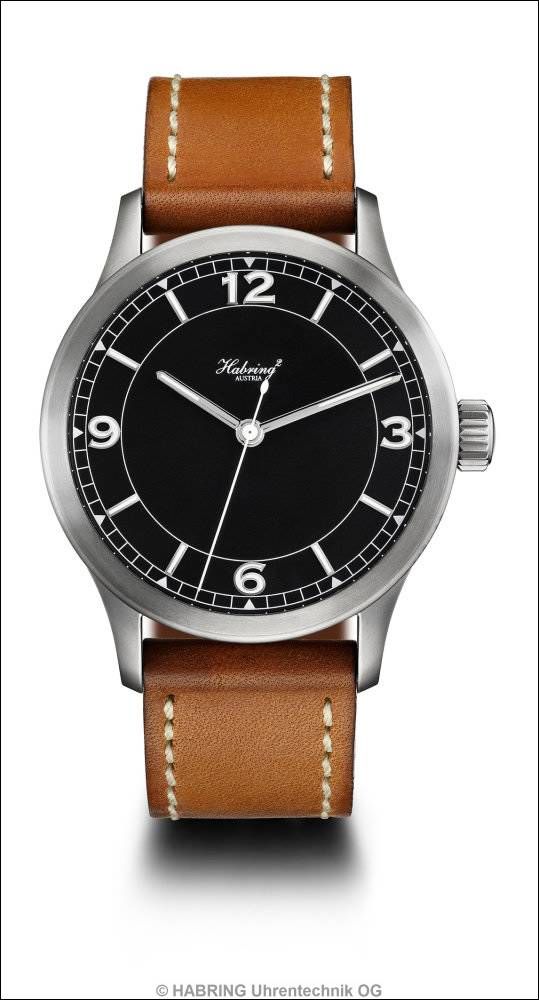 Auch an der Optik hat sich etwas getan: Das neue schwarze Zifferblatt mit seinen charakteristischen mit Leuchtmasse gefüllten Zahlen, gepaart mit dem vollständig satinierten Edelstahlgehäuse erinnert an die Fliegeruhren der 40er- und 50er-Jahre. Wenngleich der damals notwendige Magnetfeldschutz heute glücklicherweise nicht mehr zum Standard gehören muss, wird dieser auf Wunsch gerne mitgeliefert. Möglich macht es eine Entwicklung, die auf das in 2014 kommende Habring²-Manufakturwerk zugreift. Die Bauteile der antimagnetischen Hemmung nach Bauart der Schweizer Ankerhemmung sind aus Nichteisenmetallen gefertigt. Diese erübrigen eine Magnetfeldabschirmung herkömmlicher Bauart und gestatten so den jederzeit ungetrübten Einblick durch den serienmäßigen Saphirglasboden ins Uhrwerk.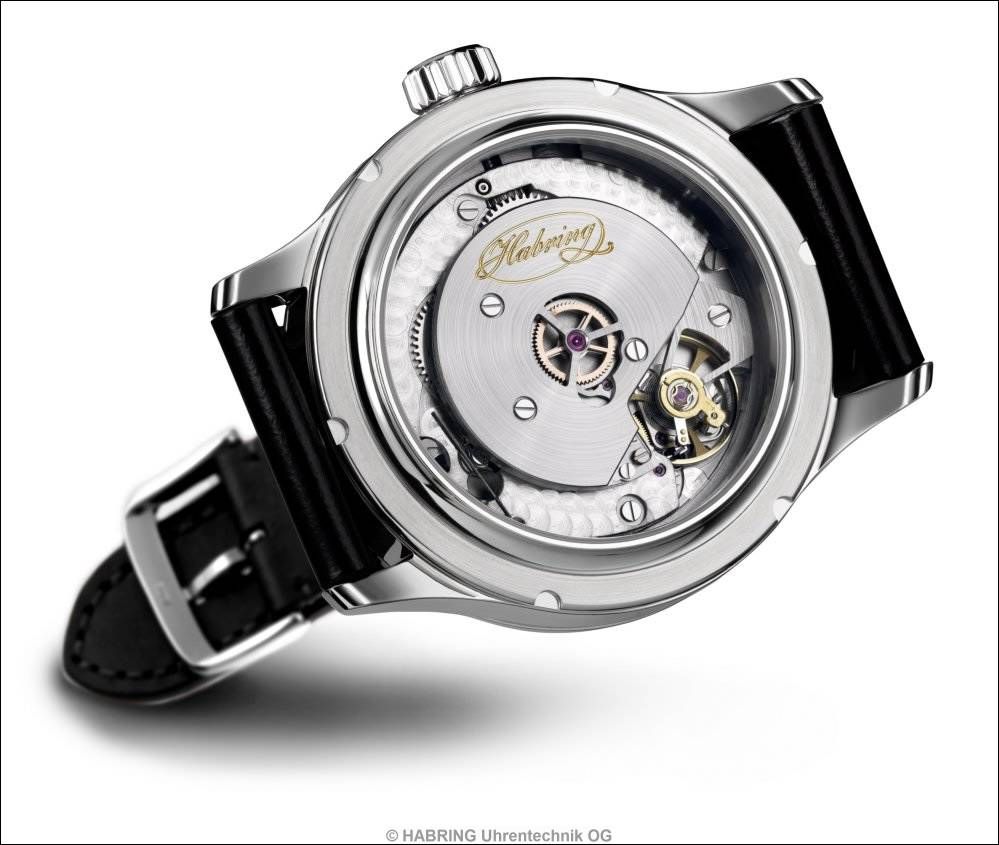 Einige technische Daten der Springenden Sekunde vonHabring²:

Uhrwerke Habring² A09S bzw. A09MS:
Basis: Räderwerk ETA/Valjoux 7750
Stunden-, Minutenanzeige, patentierte exakt springende Zentralsekunde
Handaufzug oder automatischer Aufzug
Triovis-Feinregulierung
Stoßsicher nach DIN und NIHS
20 Rubine (A09MS) bzw. 24 Rubine (A09S)
48 Stunden Gangreserve nach Vollaufzug
70 (A09S) bzw. 81 (A09S) servicerelevante Einzelteile
Auf Wunsch ergänzbar mit: Datumsanzeige (A09SD), Gangreserveanzeige (A09SG), Weltzeitanzeige (A09SW), Mondphasenanzeige (A09SL) oder Kalendarium (A09SK)
Gehäuse:
Edelstahl, dreiteilig verschraubt
Wasserdicht äquivalent 50 Meter Wassertiefe
Hochgewölbtes und beidseitig entspiegeltes Saphirglas
Doppelt gedichtete Krone, Saphirglasboden
Gravierte selektive Seriennummer 01 – 2013 (Jahr der Herstellung) bis 12 – 2013 zwischen den Hörnern bei 6 Uhr.
Zifferblatt/Zeiger:
Verschieden galvanisierte Metallzifferblätter mit applizierten Zahlen und Stundenindizes (auf Wunsch mit Superluminova-Beschichtung)
Polierte, galvanisierte Zeiger in Fadenform (auf Wunsch mit Superluminova-Beschichtung)
Links: 
***************************************************************************************************
Habring² : Dead beat seconds: small complication – big impression
Models with a jumping seconds device have fought hard since 2005 to gain a fixed place in the small but exclusive Habring² collection. The rather unusual small complication does, after all, stand more than any other for the real core values of Habring²: reliable everyday technology but with that certain something. Whilst Chezard calibres from the 1950s were used back in 2005, the in-house development of the calibre A07 based on the predecessor ETA-Valgranges formed the backbone of the range with the atypical movement of the seconds hand from 2007 on.
The standard of the Habring² introduction line since 2009, the so-called "Time", will in future apply to the jump seconds hand. Namely: the in-house manufacture of mainplate and bridges. The previous calibres A07 and A07M will become the A09S and A09MS, recognisable by – among others – the new finish.
The modularity of the A09S and A09MS will remain unchanged. Alongside manual and automatic winding the calibres also offer a classic date display, power reserve display, second time zone, moon phase display or even a calendar. All of these displays are available for retrofitting to existing Habring² watches. Even the inclusion of a tourbillon visible on the rear is possible. The moon phase display with an enlarged moon at 6 o'clock is completely new.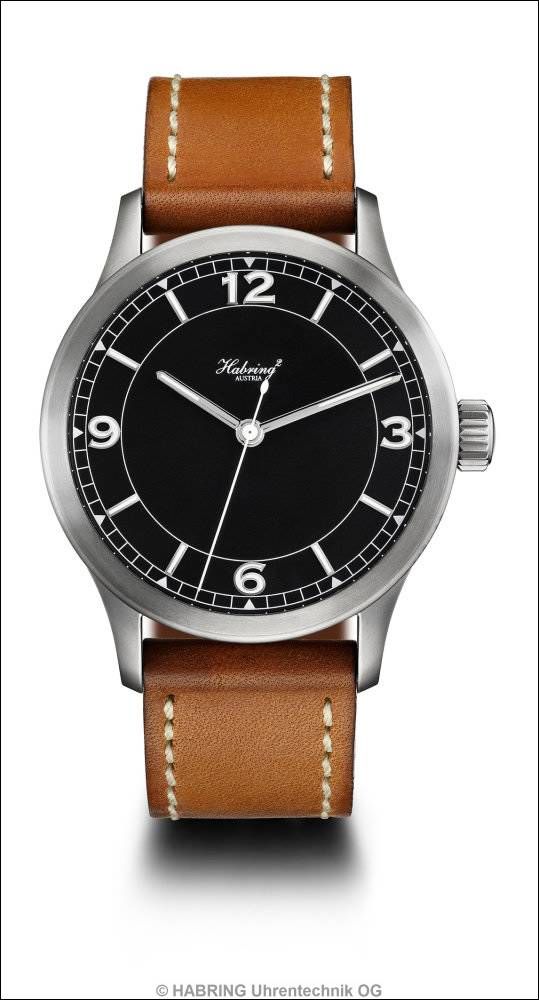 The visual appearance has also changed: the new black dial with its characteristic illuminated numbers coupled with a fully satinised stainless steel case is reminiscent of the pilots' watches of the 40s and 50s. Although today's standard fortunately no longer needs to include the magnetic field protection required in those days, it is nonetheless available on request. This is made possible by a development that will be incorporated in the Habring² manufacture movement coming in 2014. The components of the anti-magnetic escapement designed in accordance with the Swiss anchor escapement will be made of non-ferrous metals. They render conventional magnetic field screening unnecessary and therefore allow an untarnished view of the movement through the standard sapphire crystal back.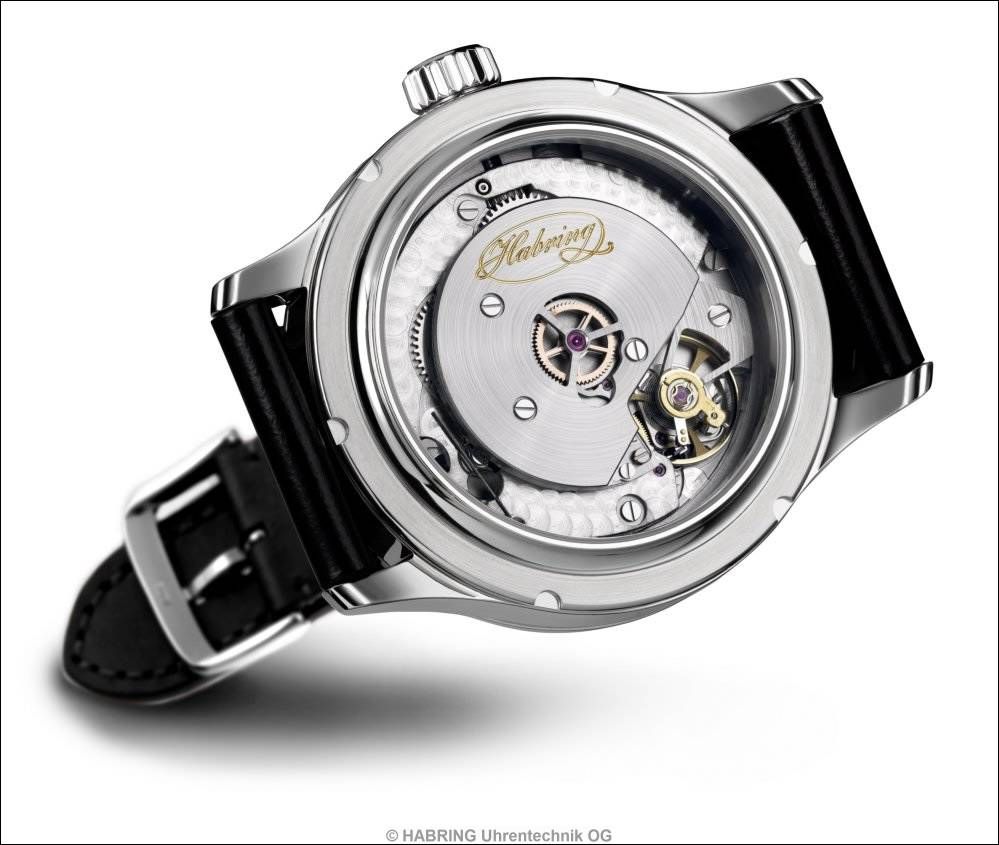 A few technical details of the Habring² Jumping Seconds:
Habring² A09S and A09MS movements:
 Base ETA/Valjoux 7750 train gear
 Hour hand, minute hand, patented exact jumping second hand at centre
 Hand-wound or automatic
 Triovis fine regulation
 Shock-proof pursuant to DIN and NIHS
 20 rubies (A09MS) or 24 rubies (A09S)
 48-hour power reserve when fully wound
 70 (A09S) or 81 (A09S) service-relevant components
 Optional supplements: date display (A09SD), power reserve display (A09SG), world time display (A09SW); moon phase display (A09SL) or calendar (A09SK)
Case:
 Stainless steel, 3 screwed sections
 Waterproof to the depth equivalent of 50 metres
 Concave sapphire glass, non-reflective coating on both sides
 Double-sealed crown, sapphire glass base
 Engraved selective serial number 01 – 2013 (year of manufacture) to 12 – 2013 between the lugs at 6 o'clock.
Dial/hands:
 Various galvanised metal dials with appliquéd numbers and hour indices (Superluminova coating on request)
 Polished, galvanised thread hands (with Superluminova coating on request)
Links: