Bei A. Lange & Söhne beginnt das neue Ausbildungsjahr
Am 19. August 2013 begann bei A. Lange & Söhne das neue Ausbildungsjahr. 17 junge Männer und Frauen aus verschiedenen Regionen Deutschlands haben sich dafür qualifiziert und werden nun drei Jahre lang in die Geheimnisse der Lange'schen Uhrmacherkunst eingeweiht, außerdem werden zwei Werkzeugmechaniker ausgebildet. Damit hat das Unternehmen insgesamt 41 Auszubildende für die Berufe Uhrmacher und Werkzeugmechaniker.
Doch warum wollen junge Menschen heute noch Uhrmacher werden? Manche haben Spaß an Technik. Andere haben Verwandte oder Freunde, die in dem Beruf arbeiten. Und wieder andere wollen Schauspieler werden und entdecken zufällig, dass sie ihr Talent am besten auf einer Bühne mit einem Durchmesser von 30 Millimetern entfalten können. So wie Laura Schreiber. Sie besuchte eine Ausbildungsmesse, versuchte sich auf dem Stand von A. Lange & Söhne an einem Werkstück aus Metall und wollte von da an nichts anderes mehr machen. Für sie hat gerade das dritte Ausbildungsjahr bei A. Lange & Söhne begonnen – ein guter Zeitpunkt, um sie über ihre bisherigen Erfahrungen und Erwartungen an die Zukunft sprechen zu lassen.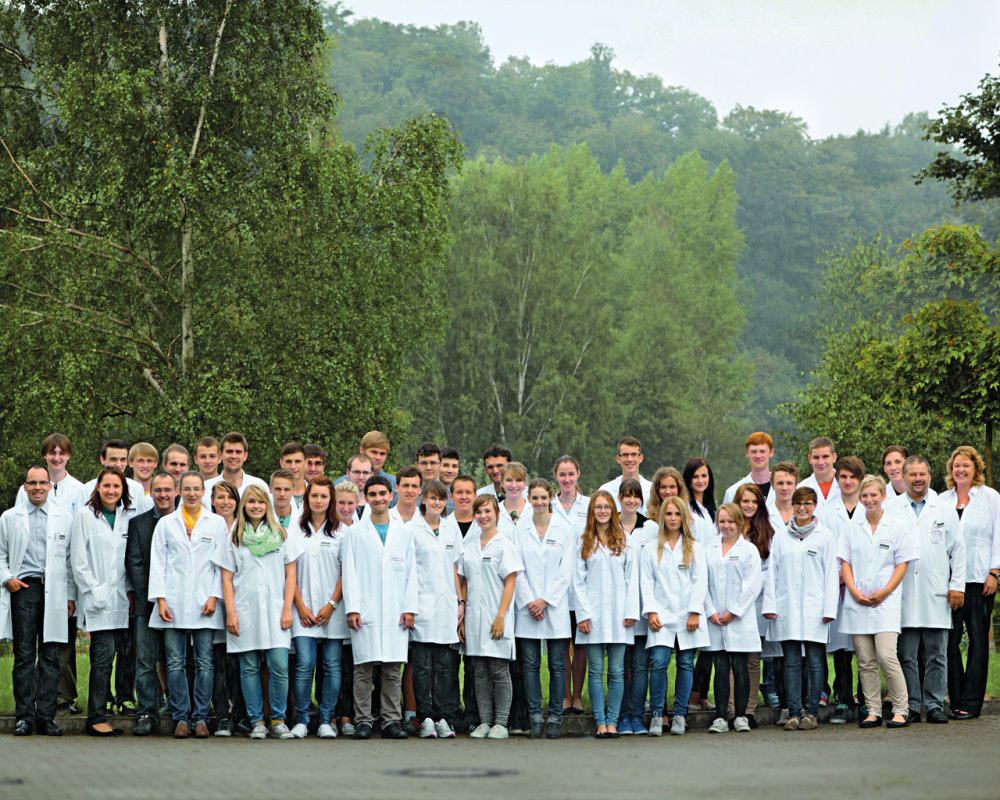 41 junge Männer und Frauen absolvieren eine Ausbildung bei A. Lange & Söhne.
"Ein mechanisches Uhrwerk muss man sich wie ein kompliziertes, dreidimensionales Puzzle vorstellen – ein drei Zentimeter großes Puzzle mit bis zu fünfhundert Teilen. Manche dieser Puzzleteile wiegen wenige Milligramm und sind nur mit einer Lupe erkennbar. Aber es ist ein Wahnsinnsgefühl, wenn man das Puzzle fertiggestellt und damit einem komplizierten Mechanismus Leben eingehaucht hat. Das ist mit das Beste an der Uhrmacherei: Man sieht, was man mit den eigenen Händen geschaffen hat, und kann stolz darauf sein.
Doch bis ich tatsächlich Uhren zum Leben erwecken darf, muss ich ein gutes Stück Weg zurücklegen. Er beginnt in der A. Lange & Söhne Uhrmacherschule. Als die Fachbereichsleiterin der Ausbildung, Katja König, uns vor zwei Jahren an unserem ersten Tag den Lehrplan vorstellte, konnte ich kaum glauben, was wir in drei Jahren alles lernen werden. Die ersten Wochen vergingen wie im Flug. In den verschiedenen Abteilungen lernte ich meine zukünftigen Kollegen kennen. In der Lehrwerkstatt startete ich mit den ersten praktischen Arbeiten, also den Grundlagen der Metallbearbeitung: Feilen, Sägen, Drehen und Bohren. Parallel dazu fand theoretischer Unterricht in der Berufsschule in Glashütte statt.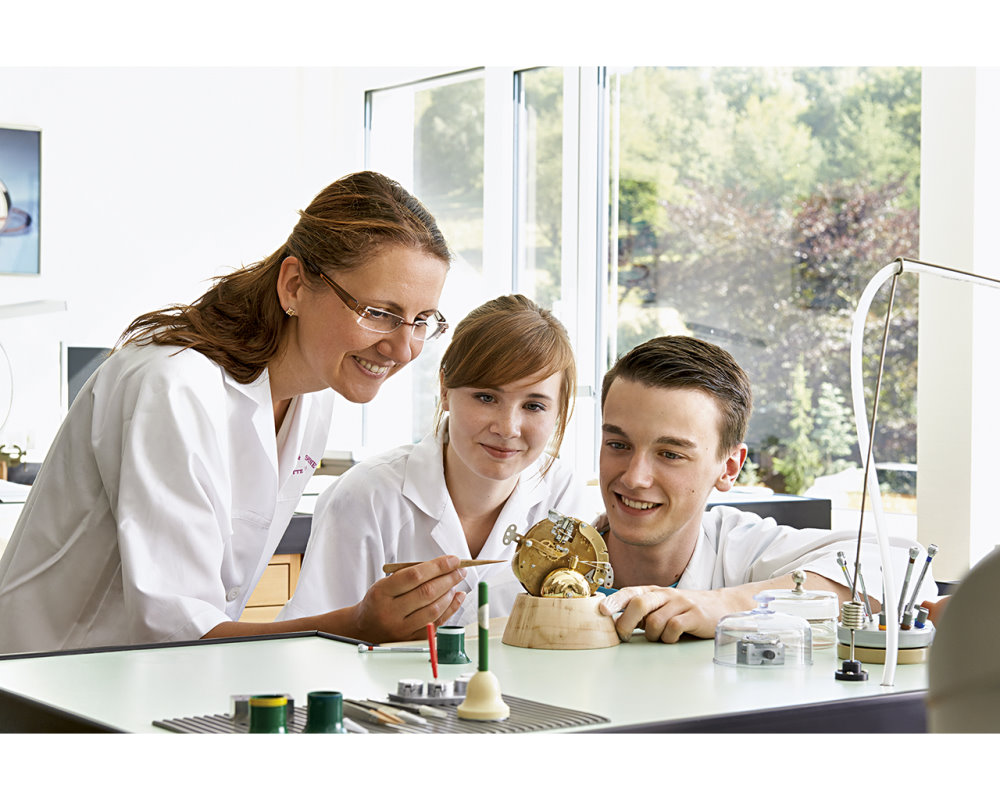 Laura Schreiber (Mitte) mit Ausbildungsleiterin Katja König und Azubi Stefan Schulze.
Nachdem ein halbes Jahr vergangen war, widmeten wir uns endlich dem eigentlichen Objekt der Begierde: der Uhr. Los ging es mit dem Uhrwerk einer Großuhr, deren Mechanik und Funktionen erklärt wurden. Am Ende des ersten Lehrjahrs durfte ich den Mitarbeitern in der Manufaktur über die Schultern schauen. Drei Wochen arbeitete ich in unterschiedlichen Produktionsabteilungen, sammelte Erfahrungen und knüpfte Kontakte. Da fühlte ich mich zum ersten Mal wie eine richtige Uhrmacherin.
Im zweiten Lehrjahr näherten wir uns langsam dem Thema Armbanduhr. Zuerst lernten wir den Aufbau, die Funktionen und die Reparatur von Taschenuhren kennen – mit diesen fing vor mehr als 165 Jahren alles bei Lange an. Das absolute Highlight ist für mich aber die Anfertigung meiner ersten eigenen und ganz individuellen Armbanduhr.
Nach der Hälfte der Ausbildungszeit habe ich in der Zwischenprüfung gezeigt, was ich bis dahin gelernt hatte – bei der Anfertigung einer perfekt funktionierenden Baugruppe. Und ich war erfolgreich!
Jetzt bin ich schon im dritten Lehrjahr. Endspurt! Jede Menge Lehrstoff liegt noch vor mir: Automatikuhren, Großdatum, Chronographen und andere Zusatzfunktionen einer Armbanduhr. Außerdem nehme ich an einem Austauschprogramm mit der Uhrmacherschule Ringsted in Dänemark teil. Gemeinsam mit meinen dänischen Kollegen finissiere ich dort eine Uhr. Das bedeutet, dass ich die Oberflächen aller Teile von Hand veredle und dekoriere. Darüber hinaus reguliere ich diese Uhr selbst, das heißt, ich stelle sie so ein, dass sie die Zeit sekundengenau anzeigt – ohne größere Abweichungen. Neben uhrmacherischem Wissen sind beim Besuch in Ringsted also auch gute Englischkenntnisse gefragt. Dank der Sprachkurse, die Lange während der gesamten Ausbildung anbietet, werde ich sicher gut zurechtkommen.
Eine besondere Herausforderung im dritten Lehrjahr wird für uns Azubis die Teilnahme an einem internationalen Wettbewerb für angehende Uhrmacher. Hier sind wir kreativ und handwerklich gefordert. Außerdem haben unsere Vorgänger bei A. Lange & Söhne den Wettbewerb schon zweimal gewonnen.
Die Abschlussprüfung rückt langsam näher. Wenn das Ergebnis gut ist, fange ich fest bei A. Lange & Söhne an, so wie es zu Beginn der Ausbildung vereinbart wurde. Ich kann es kaum erwarten."
Über A. Lange & Söhne
Der Dresdner Uhrmacher Ferdinand A. Lange legte mit der Gründung seiner Uhrenmanufaktur 1845 den Grundstein für die sächsische Feinuhrmacherei. Seine hochwertigen Taschenuhren sind bei Sammlern in aller Welt noch immer heiß begehrt. Nach dem Zweiten Weltkrieg wurde das Unternehmen enteignet und der Name A. Lange & Söhne geriet beinahe in Vergessenheit. Im Jahr 1990 wagte Walter Lange, der Urenkel von Ferdinand A. Lange, den Neubeginn. Heute werden bei Lange pro Jahr nur wenige Tausend Armbanduhren aus Gold oder Platin hergestellt. In ihnen arbeiten ausschließlich selbstentwickelte und aufwendig von Hand dekorierte und montierte Uhrwerke. Mit über 40 Manufakturkalibern konnte A. Lange & Söhne sich in wenig mehr als 20 Jahren eine Spitzenposition unter den besten Uhrenmarken der Welt sichern. Zu den größten Erfolgen zählen innovative Zeitmesser wie die LANGE 1 mit dem ersten Großdatum in einer Serienarmbanduhr und die ZEITWERK mit einer exakt springenden Ziffernanzeige von beispielhafter Klarheit. Beide Modelle sind mittlerweile zu Ikonen der traditionsreichen Marke geworden.
Links: 
*************************************************************************************************
A. Lange & Söhne: Talent Bench for Future Watchmakers
The new training year begins at A. Lange & Söhne
At A. Lange & Söhne, the new training year began on 19 August 2013. Seventeen young women and men from various regions in German were prequalified and will now be acquainted with the secrets of Lange watchmaking artistry during a period of three years. Additionally, two toolmakers will be trained. With them, the company now has 41 students for the watchmaking and toolmaker professions.
But why do youngsters still want to become watchmakers in this day and age? Many of them are technology enthusiasts. Others have relatives or friends in this profession. Some wanted to become actors and discovered by chance that they can best unfold their talents on a stage with a diameter of 30 millimetres. Laura Schreiber is one of them. She attended an occupational career exhibition and, at the stand of A. Lange & Söhne, started working on a piece of metal. From then on, she never wanted to do anything else. Her third apprenticeship year with A. Lange & Söhne has just started – a good point in time to ask her about her training experience so far and her expectations for the future.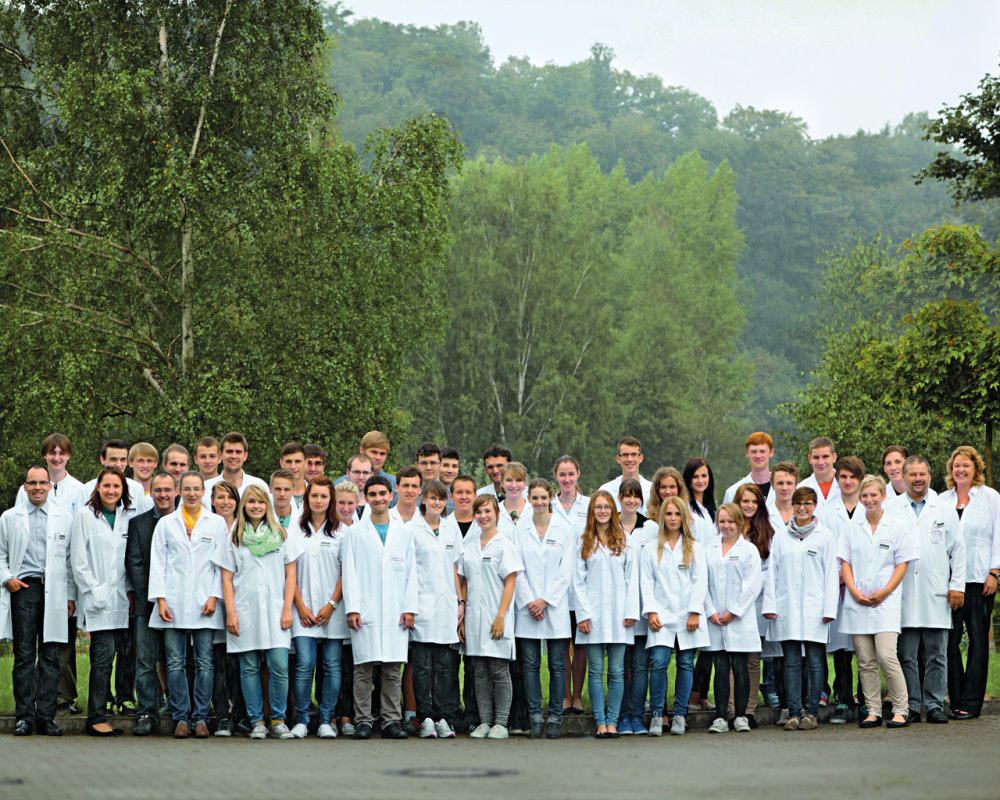 A. Lange & Söhne is training 41 young women and men
"A mechanical movement can be thought of as a complicated three-dimensional puzzle – one that is three centimetres in diameter and has up to five hundred parts. Many of these parts weigh just a few milligrams and can be seen only with a magnifying glass. But it is an amazing feeling when you've completed the puzzle and breathed life into a complicated mechanism. That's one of the best aspects of watchmaking: You can see what you've created with your own hands, and be proud of it.
But I've got quite a way to go before I can actually make watches come alive. It begins with the A. Lange & Söhne Watchmaking School. On our first day two years ago, when Chief Instructor Katja König familiarised us with the curriculum, I could hardly believe all the things we would be learning in three years. The first weeks passed in a breeze. I met my future colleagues in various departments. In the teaching workshop, I started with the hands-on activities focused on metalworking fundamentals – filing, sawing, turning, and drilling. Concurrently, theory classes took place at the vocational school in Glashütte.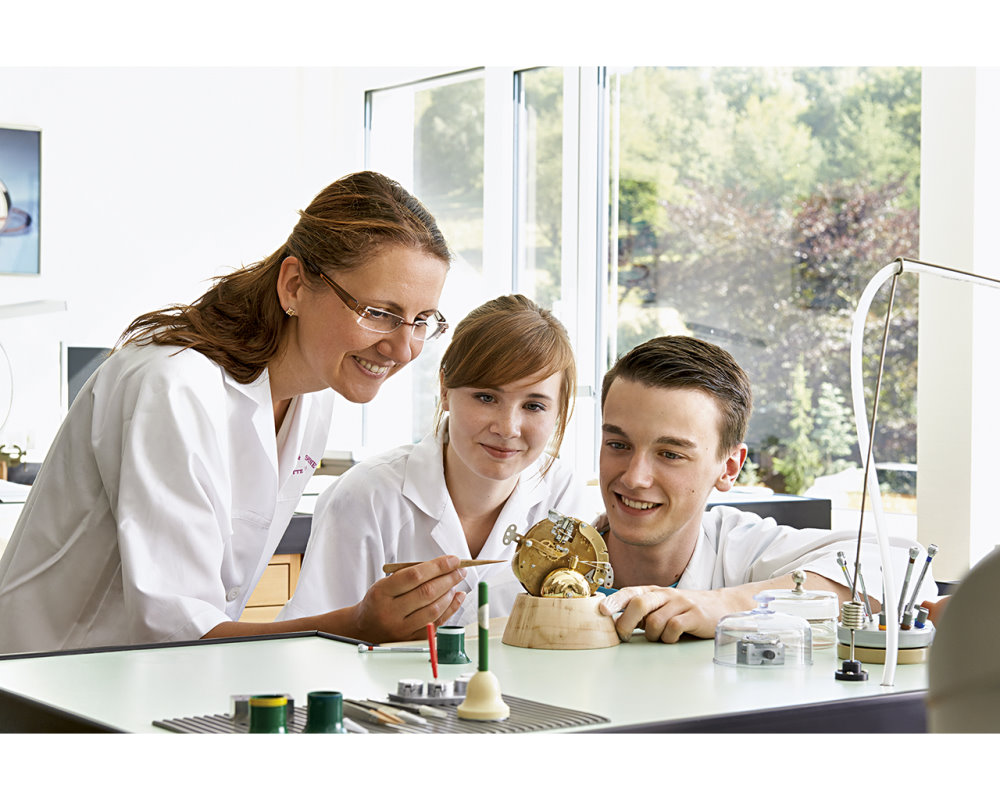 Laura Schreiber (centre) with Chief Instructor Katja König and apprentice Stefan Schulze
Half a year later, we finally turned our attention to the object of desire: the timekeeping instrument. Initially, the movement of a clock was used to show us the mechanical components and explain their functions. At the end of the first year of apprenticeship, I was allowed to glance over the shoulders of watchmakers in the manufactory. I worked in different production departments for three weeks to gain experience and make new acquaintances. For the first time, I felt like a real watchmaker.
In the second apprenticeship year, we gradually began to deal with wristwatches. First, we learned about the design, function, and repair of pocket watches – they were the point of departure for everything at Lange 165 years ago. But the absolute highlight for me is the opportunity to craft my first and very own wristwatch.
At a mid-term exam halfway through the apprenticeship, I was able to demonstrate what I had learned by then – with a perfectly functioning subassembly. And I was successful!
Now, I'm in my third year already. The last lap! There's plenty more that I need to learn: self-winding watches, the outsize date, chronographs, and other extra functions of a wristwatch. Additionally, I have been selected to participate in an exchange programme with the Danish School of Watchmaking in Ringsted. I will finish a watch there together with my Danish colleagues. Finishing means polishing and decorating the surfaces of all parts by hand. I will also personally adjust the watch by regulating its beat such that it displays the time to the second, without undue deviations. Apart from horological know-how, fluency in English is important for those who undergo training in Ringsted. Thanks to the language courses offered by Lange throughout an apprenticeship, I feel confident that things will go well.
For us apprentices, one of the particular third-year challenges is taking part in an international competition for aspiring watchmakers. It's a chance to demonstrate our creativity and craftsmanship. Our predecessors at A. Lange & Söhne have already won the competition twice.
The final exam is gradually nearing. If my grades are good, I will be able to work full-time for A. Lange & Söhne, as agreed at the outset of my apprenticeship. I can hardly wait."
About A. Lange & Söhne
When Ferdinand A. Lange, a Dresden watchmaker, established his watch manufactory in 1845, he laid the cornerstone of Saxony's precision watchmaking. His precious pocket watches remain highly coveted among collectors all over the world. The company was expropriated after World War II, and the name A. Lange & Söhne nearly fell into oblivion. In 1990, Ferdinand A. Lange's great-grandson Walter Lange had the courage to relaunch the brand. Today, Lange crafts only a few thousand wristwatches in gold or platinum per year. They are endowed exclusively with proprietary movements that are lavishly decorated and assembled by hand. In a period of little more than 20 years, A. Lange & Söhne developed over 40 manufacture calibres and secured a top-tier position among the world's finest watch brands. Its greatest successes include innovative timekeeping instruments such as the LANGE 1 with the first outsize date in a series produced wristwatch as well as the ZEITWERK with its supremely legible, precisely jumping numerals. Meanwhile, both models have become icons of a brand rich in tradition.
Links: