Mit der begehrten Auszeichnung "Red Dot: Best of the Best" in der Kategorie "Corporate Website" hat der neue Internetauftritt von A. Lange & Söhne die Anerkennung für höchste Gestaltungsqualität erhalten.
Eine digitale Bühne für das Streben nach Perfektion im Analogen – das war die Anforderung an die neue Website der sächsischen Uhrenmarke A. Lange & Söhne. Ihre Zeitmesser, die zu den besten der Welt gehören, sollten im Zentrum der Inszenierung stehen. Diese Leitlinie definierte den gestalterischen Ansatz und die Tonalität.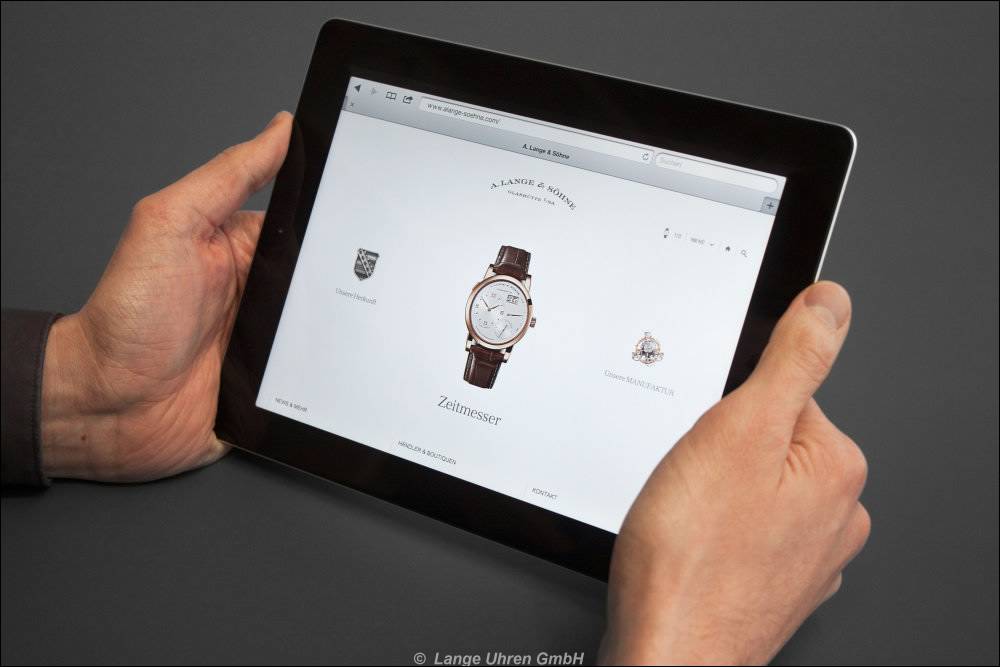 Die Website von A. Lange & Söhne ist je nach Endgerät in verschiedenen Formaten verfügbar.
Der minimalistische Eindruck der Startseite ist beispielhaft für das ästhetische Konzept des gesamten Webauftritts. Viel Raum und wohldosierte Interaktionen lenken den Blick auf das Produkt. Ausgehend von der Uhr im Mittelpunkt entfaltet sich das Universum der Marke mit ihren vielfältigen Facetten. Vom Eintauchen in das Innere der Uhrwerke bis hin zu den Geschichten hinter ihrer Entstehung füllen die Themen stets das gesamte Browserfenster aus. Und das auf sämtlichen Endgeräten – vom Desktop über das Tablet bis hin zum Smartphone.
Der "Red Dot Award: Communication Design" ist einer der weltgrößten Designwettbewerbe. Bereits seit 1954 zeichnet das heutige Design Zentrum Nordrhein Westfalen herausragende Gestaltungen aus. Der begehrte "Red Dot" hat sich als international anerkanntes Qualitätssiegel im Bereich Kommunikationsdesign etabliert. Unter 6800 Einreichungen aus 49 Ländern vergab die international besetzte Expertenjury lediglich 62 Mal den "Red Dot: Best of the Best", die Auszeichnung für höchste Gestaltungsqualität in einer Kategorie, das entspricht 1,06 Prozent der gesamten Einreichungen. Den Preis für die beste Unternehmenswebseite nahm Lange-Marketingleiterin Katharina Mack am 18. Oktober 2013 bei der feierlichen Verleihung im Konzerthaus Berlin entgegen.

Über A. Lange & Söhne
Der Dresdner Uhrmacher Ferdinand A. Lange legte mit der Gründung seiner Uhrenmanufaktur 1845 den Grundstein für die sächsische Feinuhrmacherei. Seine hochwertigen Taschenuhren sind bei Sammlern in aller Welt noch immer heiß begehrt. Nach dem Zweiten Weltkrieg wurde das Unternehmen enteignet, und der Name A. Lange & Söhne geriet beinahe in Vergessenheit. Im Jahr 1990 wagte Walter Lange, der Urenkel von Ferdinand A. Lange, den Neubeginn. Heute werden bei Lange pro Jahr nur wenige Tausend Armbanduhren aus Gold oder Platin hergestellt. In ihnen arbeiten ausschließlich selbst entwickelte und aufwendig von Hand dekorierte und montierte Uhrwerke. Mit mehr als 40 Manufakturkalibern konnte sich A. Lange & Söhne innerhalb von gut 20 Jahren eine Spitzenposition unter den besten Uhrenmarken der Welt sichern. Zu den größten Erfolgen zählen innovative Zeitmesser wie die LANGE 1 mit dem ersten Großdatum in einer Serienarmbanduhr und die LANGE ZEITWERK mit einer exakt springenden Ziffernanzeige von beispielhafter Klarheit. Beide Modelle sind mittlerweile zu Ikonen der traditionsreichen Marke geworden.
Links:
********************************************************************************************
Red Dot: Best of the Best 2013" for alange-soehne.com
The renowned "Red Dot: Best of the Best", the highest acknowledgement for outstanding design quality, has been awarded to the new web presence of A. Lange & Söhne in the category "Corporate Website".
A digital stage for a brand that strives for perfection in analogue timekeeping – that was the requirement placed upon the design of the new website of watch brand A. Lange & Söhne from Saxony. The focus had to be set on the timepieces, which are among the best in the world and therefore deserve full attention. This main aim defined both the design approach and the website's tonality.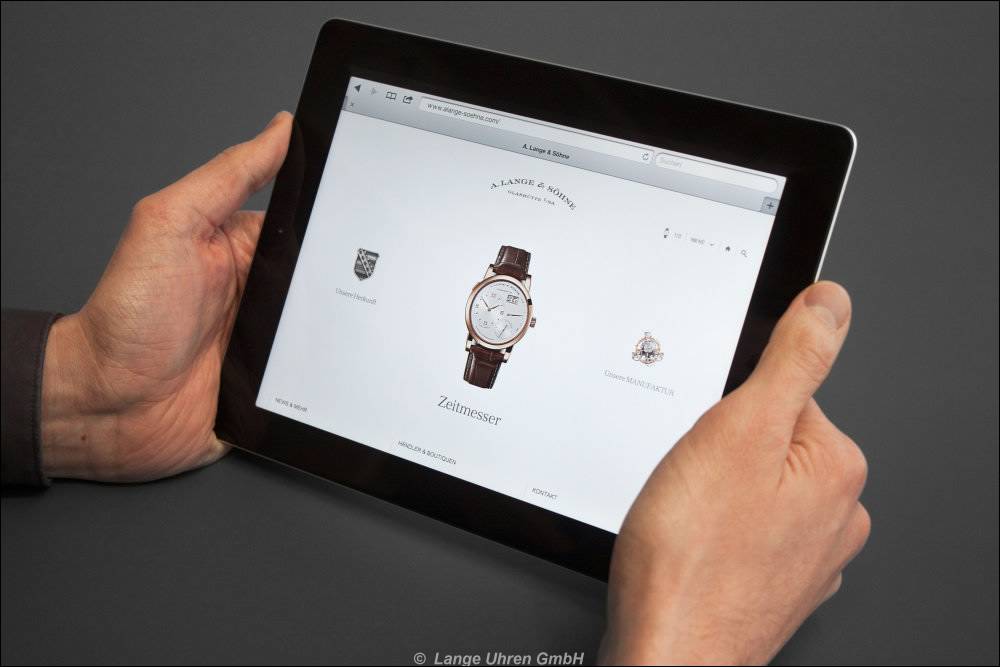 The website of A. Lange & Söhne is available in different formats, depending on the type of device.
The minimalist impression of the homepage is characteristic of the aesthetic standards of the entire website. With a lot of space and well-measured interaction, attention remains focused on the product. The watch is showcased at the centre of the multi-faceted brand universe. Ranging from the inside of the intricate mechanism to the stories about their production, every scene takes up the whole browser window – on desktop PCs, tablets or smartphones alike.
The "Red Dot Award: Communication Design" is one of the world's largest design competitions. The Design Zentrum Nordrhein Westfalen has honoured outstanding design achievements since 1954. Its award, the coveted "Red Dot", is an internationally recognised seal of quality. Of the 6,800 submissions this year from 49 countries, the international jury of experts awarded the "Red Dot: Best of the Best", the prize for highest quality in design in a category, only 62 times – that is only 1,06 per cent of all applications. Lange's head of marketing Katharina Mack accepted the prize for the best "Corporate Website" at the awards ceremony on 18 October 2013 at Konzerthaus Berlin.
About A. Lange & Söhne
When Ferdinand A. Lange, a Dresden watchmaker, established his watch manufactory in 1845, he laid the cornerstone of Saxony's precision watchmaking. His precious pocket watches remain highly coveted among collectors all over the world. The company was expropriated after World War II, and the name A. Lange & Söhne nearly fell into oblivion. In 1990, Ferdinand A. Lange's great-grandson Walter Lange had the courage to relaunch the brand. Today, Lange crafts only a few thousand wristwatches in gold or platinum per year. They are endowed exclusively with proprietary movements that are lavishly decorated and assembled by hand. In a period of little more than 20 years, A. Lange & Söhne developed over 40 manufacture calibres and secured a top-tier position among the world's finest watch brands. Its greatest successes include innovative time-keeping instruments such as the LANGE 1 with the first outsize date in a series produced wristwatch as well as the LANGE ZEITWERK with its supremely legible, precisely jumping numerals. Meanwhile, both models have become icons of a brand rich in tradition.
Links: