Extravagant. Innovativ. Frech
Alexander Shorokhoff Uhrenmanufaktur präsentiert auf der BASELWORLD die
"Miss Avantgarde"
"Miss Avantgarde" wird auch das anspruchsvolle Baseler Publikum überzeugen, dessen ist sich Alexander Shorokhov, deutscher Uhrenhersteller und Designer mit russischen Wurzeln, sicher.
Das Flaggschiff der modernen AVANTGARDE Kollektion, die einen Kontrapunkt zur klassischen HERITAGE Kollektion setzt, verlangt nach Menschen mit Mut zum eigenen Stil.
"Miss Avantgarde" ist eine Verbeugung vor Gaudi und Hundertwasser, vor Kandinsky und Malewitsch.
Das Design ist innovativ. Nicht zu vergleichen. Eigenständig. Es provoziert. Und
das absichtlich. Keine Uhr für den Mainstream.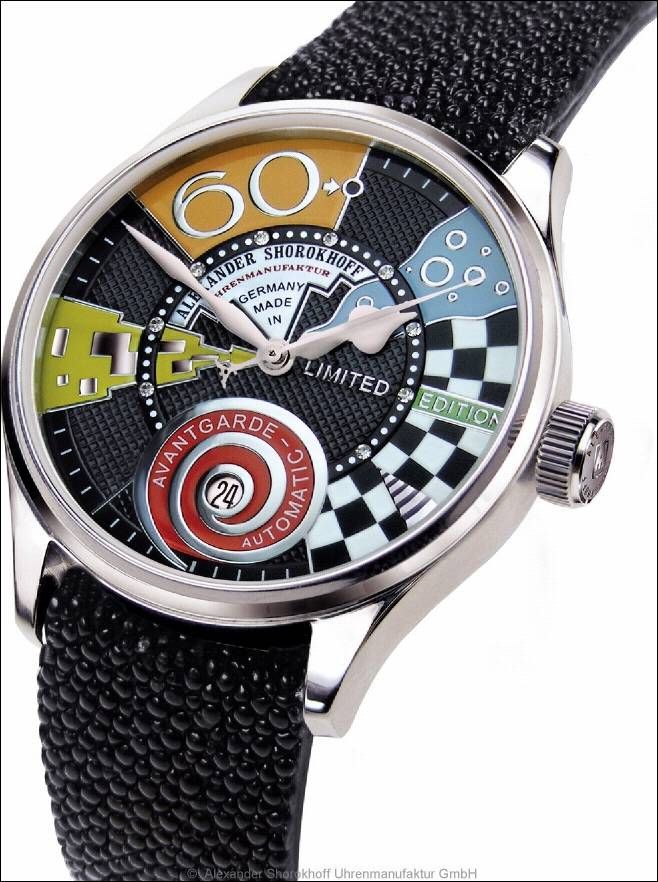 Alexander Shorokhov entwarf das Zifferblatt bei aller Hingabe an Farben und Formen übersichtlich. Die charakteristische, dominante "60" tritt auch hier als konsequentes Stilelement der AVANTGARDE in Erscheinung. Allerdings spielerisch nach links versetzt. Die Größe ist mit 39 mm Durchmesser und 9 mm Höhe einer Damenhand angepasst. Eine Uhr für mutige, selbstbewusste, kreative und unabhängige
Individualistinnen. Damit "Miss Avantgarde" etwas Besonderes bleibt, ist diese
Serie limitiert auf 500 Stück.
Auch und gerade mit der innovativen AVANTGARDE bleibt die Alexander
Shorokhoff Uhrenmanufaktur den traditionellen Werten ihrer Zunft verpflichtet.
Alle mechanischen Werke – Chronographen, Regulatoren und
Automatikwerke – sind sorgfältig überarbeitet, veredelt und teilweise
handgraviert. Die durchsichtigen Gehäuseböden mit Saphirglas geben den
Blick frei auf das komplexe Innenleben der Uhren. Das zeichnet die
AVANTGARDE Kollektion aus: eine perfekte Verbindung aus Innovation und
Handwerkskunst.
Hintergrundinformation zur Alexander Shorokhoff Uhrenmanufaktur:
"Handcrafted Obsessions".
Seit 1994 entstehen unter der Leitung des Gründers Alexander Shorokhov in der Alexander Shorokhoff Uhrenmanufaktur in Alzenau Meisterwerke der Premiumklasse: von erfahrenen Uhrmachermeistern in Handarbeit hergestellt, entsprechen sie den höchsten Anforderungen an Qualität und Handwerkskunst.
Die Alexander Shorokhoff Uhrenmanufaktur produziert und vertreibt zwei Linien: die klassische Kollektion HERITAGE sowie die moderne Kollektion AVANTGARDE, die beide regelmäßig um neue Modelle ergänzt werden. Hinzu kommen limitierte Sondereditionen und Einzelanfertigungen.
Links:
Text und Bildmaterial: mit freundlicher Genehmigung der Alexander Shorokhoff Uhrenmanufaktur
*******************************************************************************************
Extravagant. Innovative. Sassy
Alexander Shorokhoff watch manufactory presents at the BASELWORLD 2012 the
watch model "Miss Avantgarde"
"The watch Miss Avantgarde will satisfy even the ambitious public in Basle," Alexander Shorokhov, German watch producer and designer with Russian roots, is convinced of.
The flagship of the modern AVANTGARDE collection forming a contrast to the classical collection HERITAGE is asking for courageous people embodying their own style.
"Miss Avantgarde" is a homage to Gaudi and Hundertwasser, Kandinsky und Malevich.
The design is innovative. Incomparable. Independent.
It provokes. For a purpose – it should not be a mainstream watch.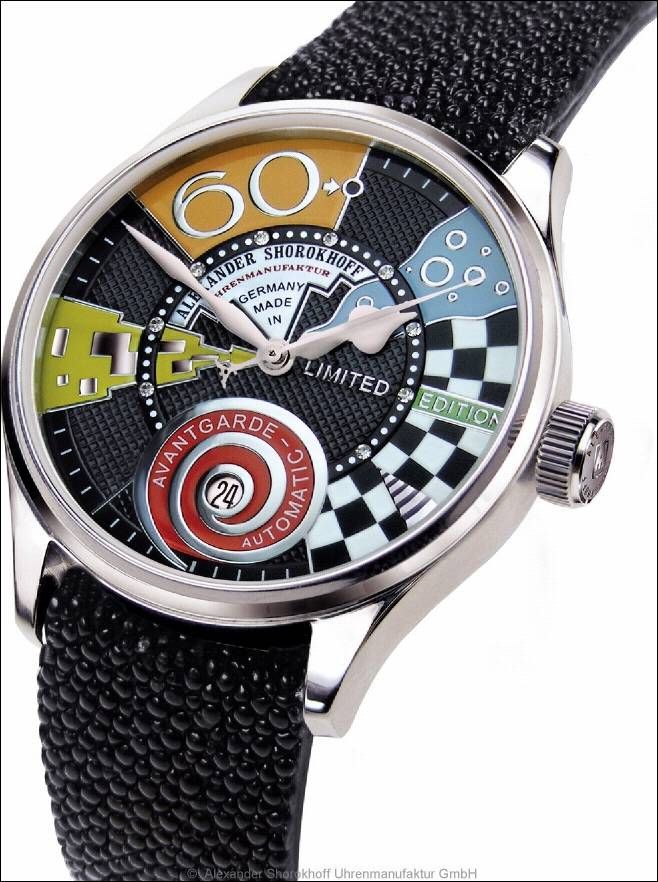 Regardless to all abundance of colours and forms Alexander Shorokhov has outlined the dial clearly.
The typical dominant figure "60" as unalterable element of style of the AVANTGARDE
line appears here, too. However, it is playfully shifted to the left. The size of 39 mm
diameter and 9 mm heights fits a ladies' wrist. It is a watch for courageous, selfconfidents,
creative and independent women-individualists. In order to rest a rare
piece the watch "Miss Avantgarde" is limited to 500 pcs.
Creating the innovative AVANTGARDE line, the Alexander Shorokhoff watch
manufactory remains yet true to it's principles of preservation of good watchmaking
traditions. All mechanical movements whether they are chronographs, regulators or
automatic movements are thoroughly and carefully re-worked, refined and partially
hand engraved. The transparent case backs of sapphire glass allow a view at the
complex "inner life" of the watches. This distinguishes the AVANTGARDE collection: a
perfect combination of innovation and craftsmanship.
Background information about the Alexander Shorokhoff watch manufactory:
"Handcrafted Obsessions".
From 1994, the Alexander Shorokhoff Watch Manufactory of Alzenau is producing under the direction of its founder, Alexander Shorokhov, high-class master pieces reworked
and assembled by expert watch makers by hand, which meet the most stringent
requirements with regard to quality and craftsmanship.
The Alexander Shorokhoff Watch Manufactory produces and sales two series of watch models: the classical collection HERITAGE and the modern collection AVANTGARDE, both ranges are frequently complemented by new models. Moreover, there are limited and custom-made pieces.
Links:
Text und Bildmaterial: mit freundlicher Genehmigung der Alexander Shorokhoff Uhrenmanufaktur