Die Lange 1 Tourbillon Ewiger Kalender Handwerkskunst verbindet zwei klassische Komplikationen mit dem typischen Design von A. Lange & Söhnes berühmtesten Zeitmesser, der Lange 1. Das intelligent um die Zeitanzeigen herum angeordnete Kalendarium mit seinem patentierten, außenliegenden Monatsring erlaubt es, eine Vielzahl von Informationen auf einen Blick zu erfassen: Datum, Wochentag, Monat, Schaltjahr und Mondphase. Eine Besonderheit dabei: Alle Anzeigen des ewigen Kalendariums schalten sprunghaft weiter. Sie sind so harmonisch in die Zifferblattarchitektur integriert, dass man erst bei genauerem Hinsehen die technische Komplexität dieses uhrmacherischen Meisterwerks erkennt. Aus Gründen der guten Ablesbarkeit ist der raffinierte Tourbillon-Mechanismus mit patentierter Stoppfunktion nur auf der Rückseite der Uhr sichtbar.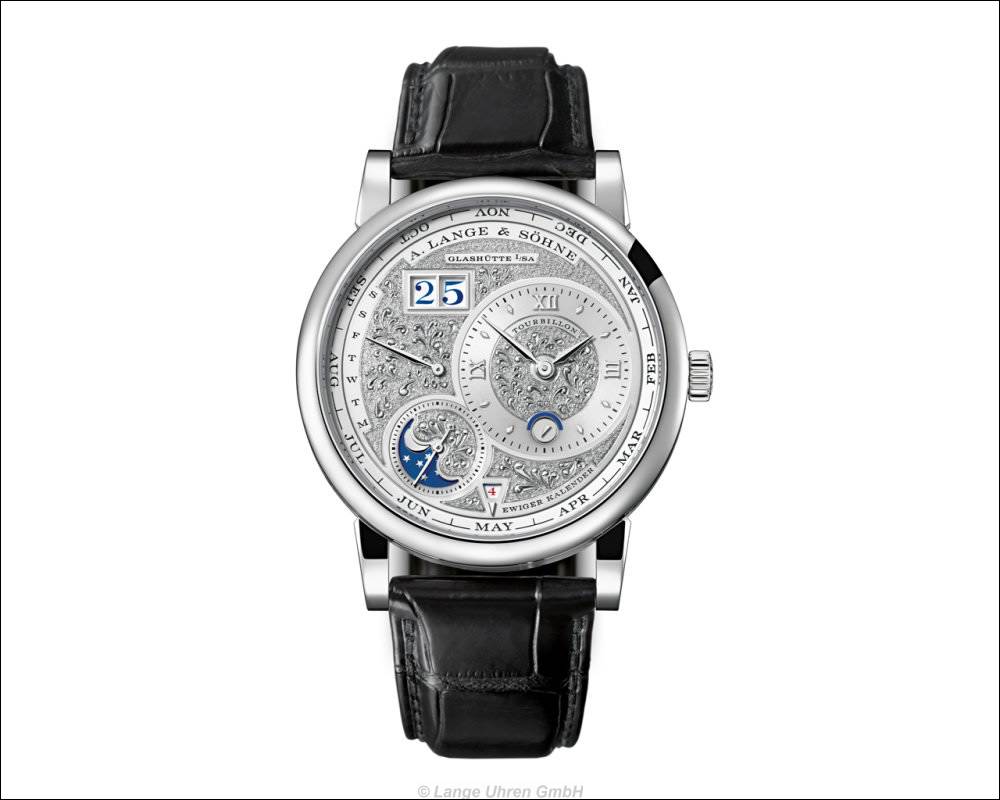 Ihr Name ist Programm: LANGE 1 TOURBILLON EWIGER KALENDER HANDWERKSKUNST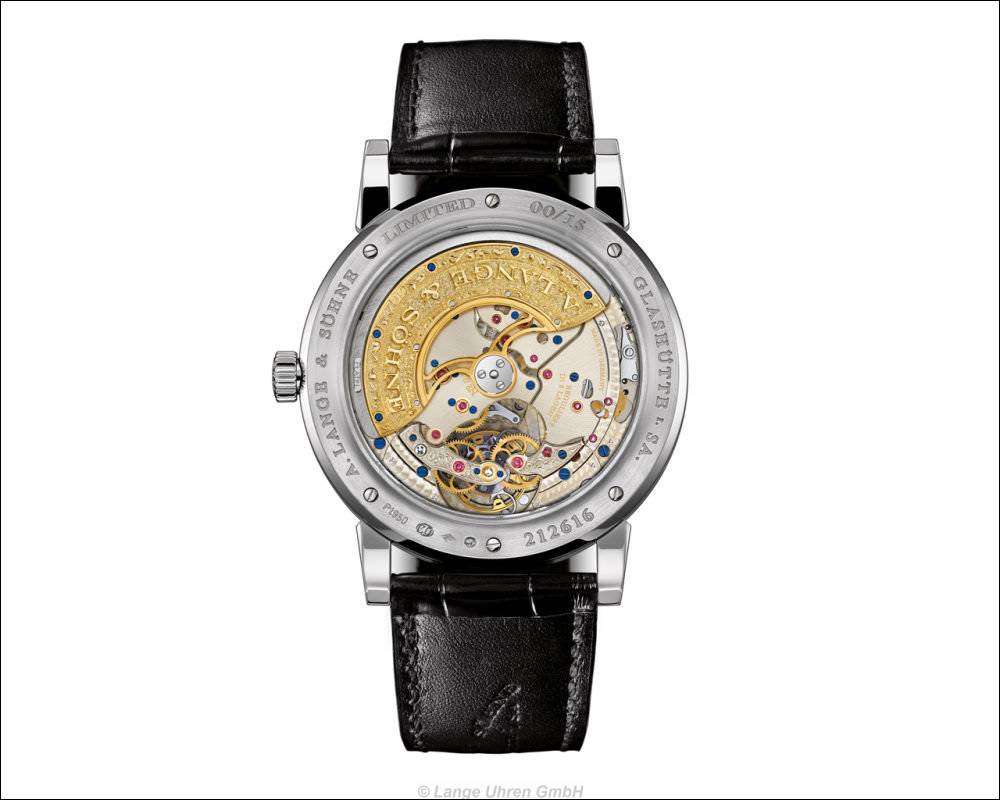 Das Zifferblatt besteht aus massivem Weißgold und wurde bei dieser Sonderedition in einem beeindruckenden Zusammenspiel aus Tremblage- und Relieftechnik graviert. Der handwerkliche Aufwand reicht bis ins kleinste Detail: Die blauen Ziffern des Lange-Großdatums sind erstmals in einer Lange-Uhr von Hand gemalt.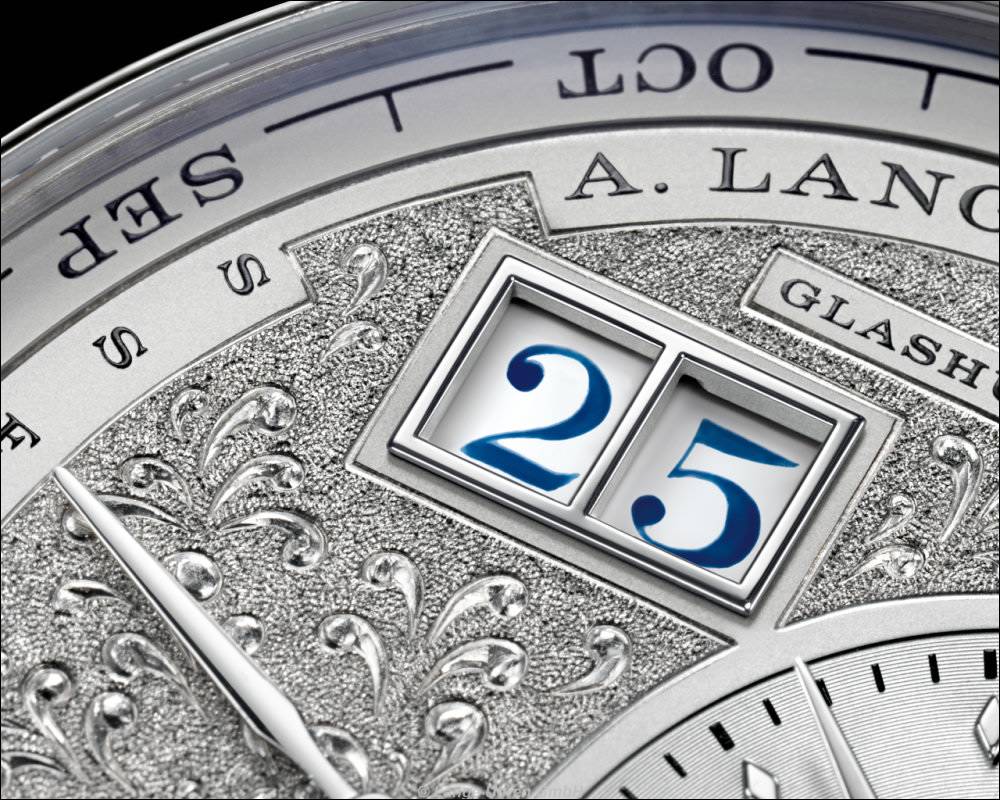 Den Namenszusatz Handwerkskunst verdienen auch die Dekorationen des Manufakturkalibers L082.1 in jeder Beziehung. Sie bilden das traditionsreiche Pendant zu den richtungweisenden konstruktiven Innovationen. Die mit einer Reliefgravur versehenen Tourbillon- und Zwischenradkloben umrahmen den aus 69 Einzelteilen bestehenden Tourbillon-Mechanismus. Der große Zentralrotor aus 21-karätigem Gold mit Platin-Schwungmasse wurde im freien Schnitt in derselben Gravurtechnik dekoriert. Auf den drei einzelnen Räderbrücken ist ein Sonnenschliff aufgebracht. Zu den Lange-typischen Qualitätsmerkmalen zählt auch die Schwarzpolitur auf der Oberseite des Tourbillonkäfigs. Den krönenden Abschluss Lange'scher Handwerkskunst bilden vier verschraubte Goldchatons und ein Diamantdeckstein, in welchem das Tourbillon gelagert ist.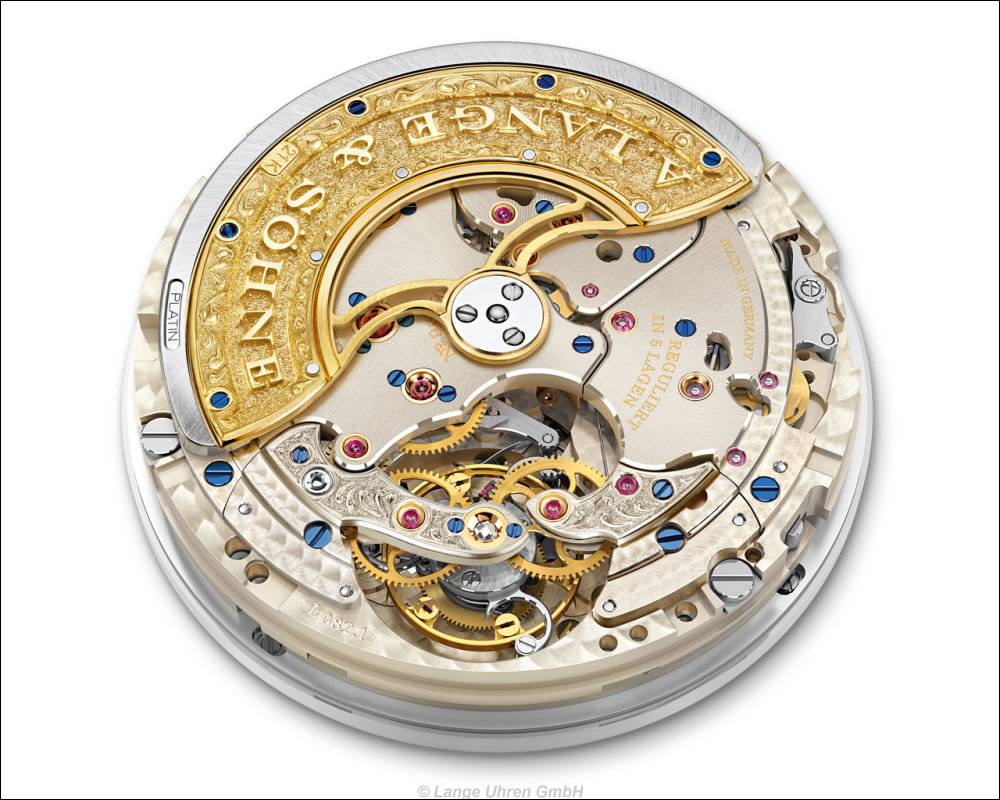 Die Komposition edler Metalle findet ihren Höhepunkt in einem 41,9 Millimeter großen Platingehäuse. Der A. Lange & Söhne-Schriftzug sowie die Gehäuse- und Limitierungsnummer auf seiner Rückseite sind ebenfalls von Hand graviert. Das exklusive Sammlerobjekt wird anlässlich der Luxusuhren-Messe "Watches & Wonders" in Hong Kong im September 2013 vorgestellt.
Es ist auf 15 Exemplare limitiert und wird ausschließlich über die elf A. Lange & Söhne-Boutiquen vertrieben.
Über A. Lange & Söhne
Der Dresdner Uhrmacher Ferdinand A. Lange legte mit der Gründung seiner Uhrenmanufaktur 1845 den Grundstein für die sächsische Feinuhrmacherei. Seine hochwertigen Taschenuhren sind bei Sammlern in aller Welt noch immer heiß begehrt. Nach dem Zweiten Weltkrieg wurde das Unternehmen enteignet und der Name A. Lange & Söhne geriet beinahe in Vergessenheit. Im Jahr 1990 wagte Walter Lange, der Urenkel von Ferdinand A. Lange, den Neubeginn. Heute werden bei Lange pro Jahr nur wenige Tausend Armbanduhren aus Gold oder Platin hergestellt. In ihnen arbeiten ausschließlich selbstentwickelte und aufwendig von Hand dekorierte und montierte Uhrwerke. Mit über 40 Manufakturkalibern konnte A. Lange & Söhne sich in wenig mehr als 20 Jahren eine Spitzenposition unter den besten Uhrenmarken der Welt sichern. Zu den größten Erfolgen zählen innovative Zeitmesser wie die LANGE 1 mit dem ersten Großdatum in einer Serienarmbanduhr und die ZEITWERK mit einer exakt springenden Ziffernanzeige von beispielhafter Klarheit. Beide Modelle sind mittlerweile zu Ikonen der traditionsreichen Marke geworden.
Links:
***************************************************************************************************
A. Lange & Söhne: Lange 1 Tourbillon Perpetual Calendar  Handwerkskunst
The Lange 1 Tourbillon Perpetual Calendar Handwerkskunst combines two classic complications with the typical design of A. Lange & Söhne's most famous wristwatch: the Lange 1. Intelligently arranged around the time indications, the calendar displays with the patented peripheral month ring deliver a host of information at a single glance: date, day, month, leap year, and moon phase. A decisive asset: all perpetual calendar displays advance instantaneously. They are so harmoniously integrated in the dial architecture that it takes a second look to grasp the technical complexity of this horological masterpiece. To assure crisp legibility, the refined tourbillon mechanism with the patented stop function can be observed only on the caseback side.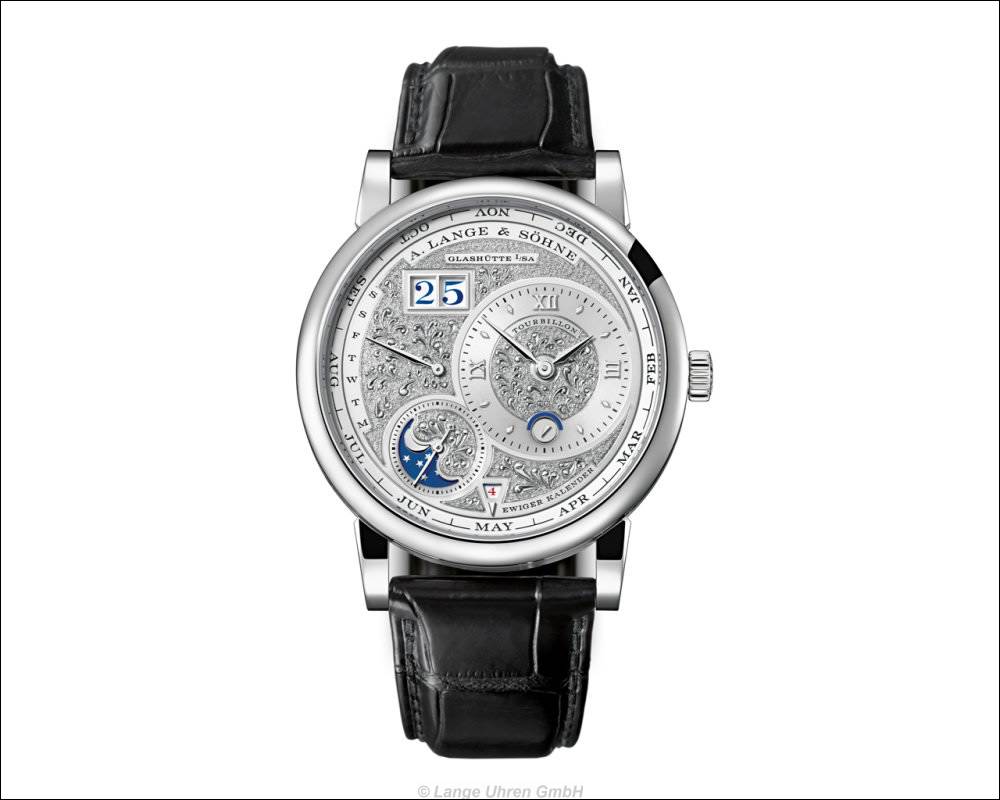 LANGE 1 TOURBILLON EWIGER KALENDER HANDWERKSKUNST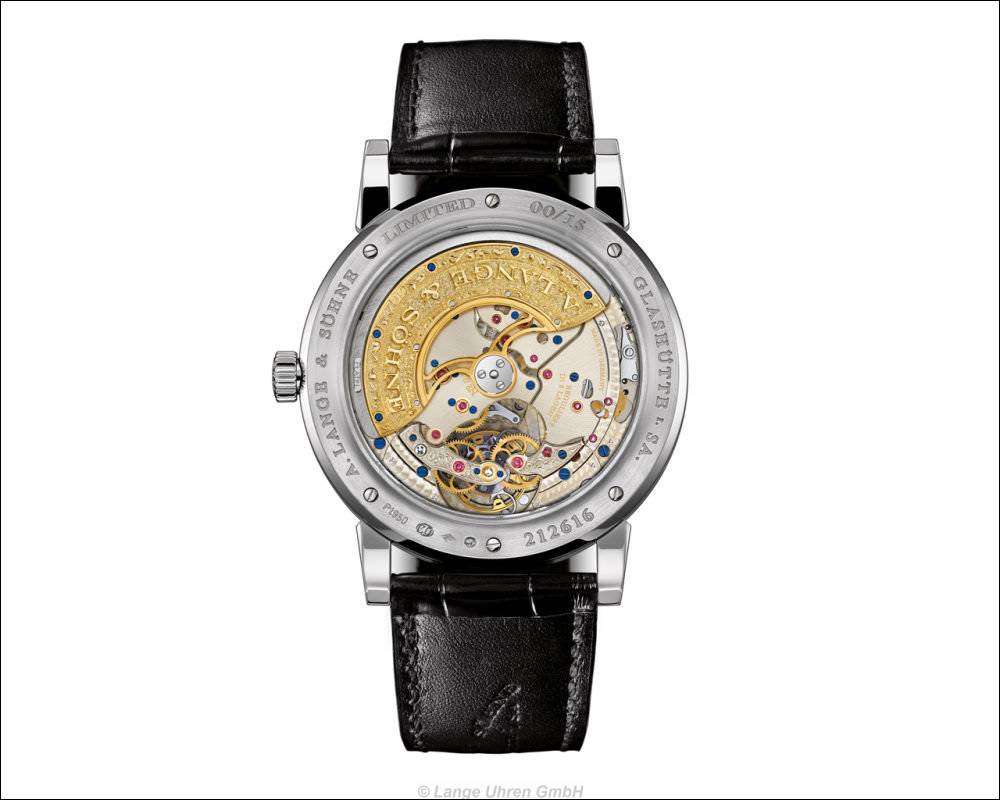 The dial is crafted from solid white gold and in this special edition is decorated with a rare combination of tremblage and relief engraving techniques. The manual work involved extends into the realm of the smallest details: For the first time in a Lange timepiece, the blue numerals of the outsize date display are hand-painted.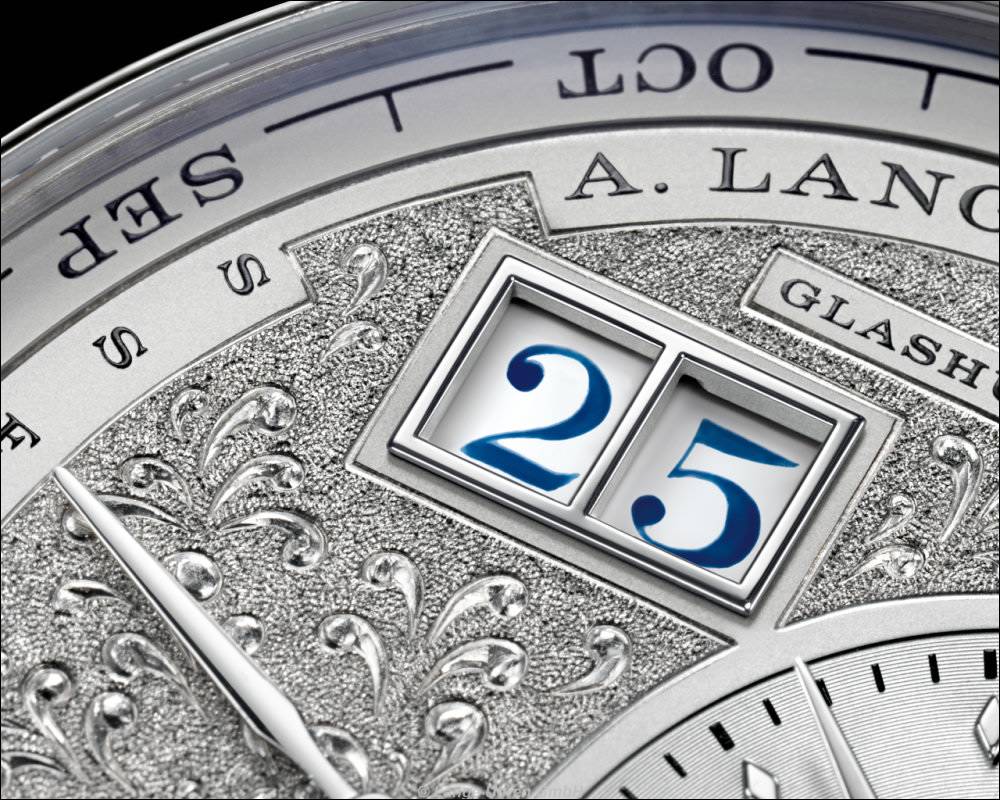 The epithet Handwerkskunst also applies to the decorations of the manufacture calibre L082.1 without reservation. They are the traditional counterpoints to the avant-garde calibre design innovations. The relief-engraved tourbillon and intermediate-wheel cocks frame the tourbillon ensemble with the patented stop-seconds feature. The same free-hand engraving technique is used to decorate the large central rotor in 21-carat gold with a platinum centrifugal mass. Each of the three train bridges is embellished with solarisation. The specular polish on the upper side of the tourbillon cage is also a typical Lange quality hallmark. Four screwed gold chatons and a diamond endstone bearing for the tourbillion are the grand finale of Lange's "Handwerkskunst" extravaganza.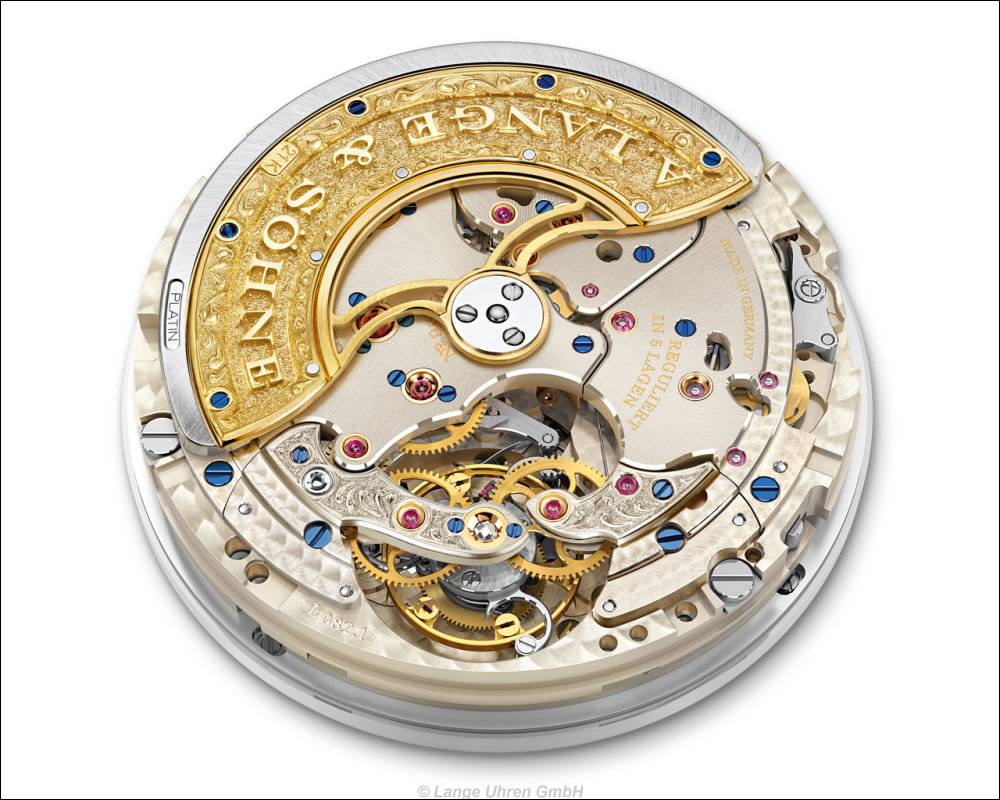 A 41.9-millimetre platinum case is the fitting highlight of this composition of precious metals. The A. Lange & Söhne signature and the case and edition serial numbers on the caseback are hand-engraved. This exclusive collectors' item will be presented in September 2013 at the "Watches & Wonders" Haute Horlogerie Exhibition in Hong Kong. It comes in a limited edition of 15 watches that will be available exclusively through the eleven international A. Lange & Söhne Boutiques.
About A. Lange & Söhne
When Ferdinand A. Lange, a Dresden watchmaker, established his watch manufactory in 1845, he laid the cornerstone of Saxony's precision watchmaking. His precious pocket watches remain highly coveted among collectors all over the world. The company was expropriated after World War II, and the name A. Lange & Söhne nearly fell into oblivion. In 1990, Ferdinand A. Lange's great-grandson Walter Lange had the courage to relaunch the brand. Today, Lange crafts only a few thousand wristwatches in gold or platinum per year. They are endowed exclusively with proprietary movements that are lavishly decorated and assembled by hand. In a period of little more than 20 years, A. Lange & Söhne developed over 40 manufacture calibres and secured a top-tier position among the world's finest watch brands. Its greatest successes include innovative timekeeping instruments such as the LANGE 1 with the first outsize date in a series produced wristwatch as well as the ZEITWERK with its supremely legible, precisely jumping numerals. Meanwhile, both models have become icons of a brand rich in tradition.
Links: