Mit starken inneren Werten bekennt sich die Saxonia Automatik Grossdatum zu den Traditionen sächsischer Uhrmacherkunst. Das zum Kennzeichen der Marke gewordene Großdatum im Doppelfenster prägt ihr markantes Gesicht. Bis ins kleinste Detail transportiert sie die überlieferten handwerklichen Werte sächsischer Feinuhrmacherei in die Gegenwart. Das Design folgt der eleganten Linienführung, die alle Mitglieder der Saxonia-Uhrenfamilie auszeichnet.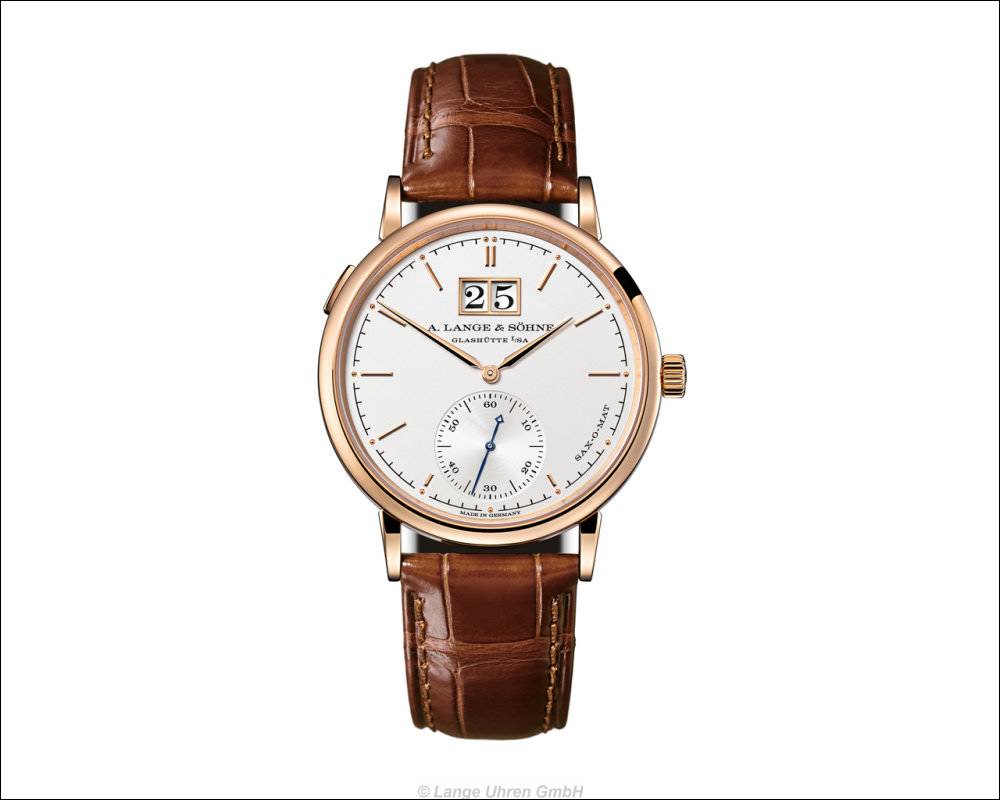 Im massiven Rotgoldgehäuse der Saxonia Automatik Grossdatum arbeitet ein außergewöhnliches Uhrwerk: Langes berühmtes Manufakturkaliber Sax-0-Mat. Der Name leitet sich aus dem lateinischen Wort für Sachsen, "Saxonia", "Null" und "Automatik" ab. Die Null steht dabei für den raffinierten Zero-Reset-Mechanismus. Er bewirkt, dass beim Ziehen der Krone der Sekundenzeiger augenblicklich auf die Nullposition springt. Eine äußerst praktische Erfindung, die das Synchronisieren der Uhr denkbar einfach macht.
Eine weitere technische Besonderheit ist der automatische Aufzug: Der fein geprägte Rotor aus 21-karätigem Gold mit einer Platin-Schwungmasse zieht die Uhr über ein Reduktionsgetriebe effizient in beide Richtungen auf. Vier Kugellager sorgen dafür, dass sich selbst an einem ruhigen Büro- oder Urlaubstag innerhalb kürzester Zeit eine ausreichend große Gangreserve aufbaut. Durch den Saphirglasboden lässt sich das handwerklich vollendete Werk in allen Einzelheiten bewundern. Der Dreiviertelrotor gibt den Blick frei auf die Gangpartie mit klassischer Schraubenunruh, handgraviertem Unruhkloben und Schwanenhals-Feinregulierung.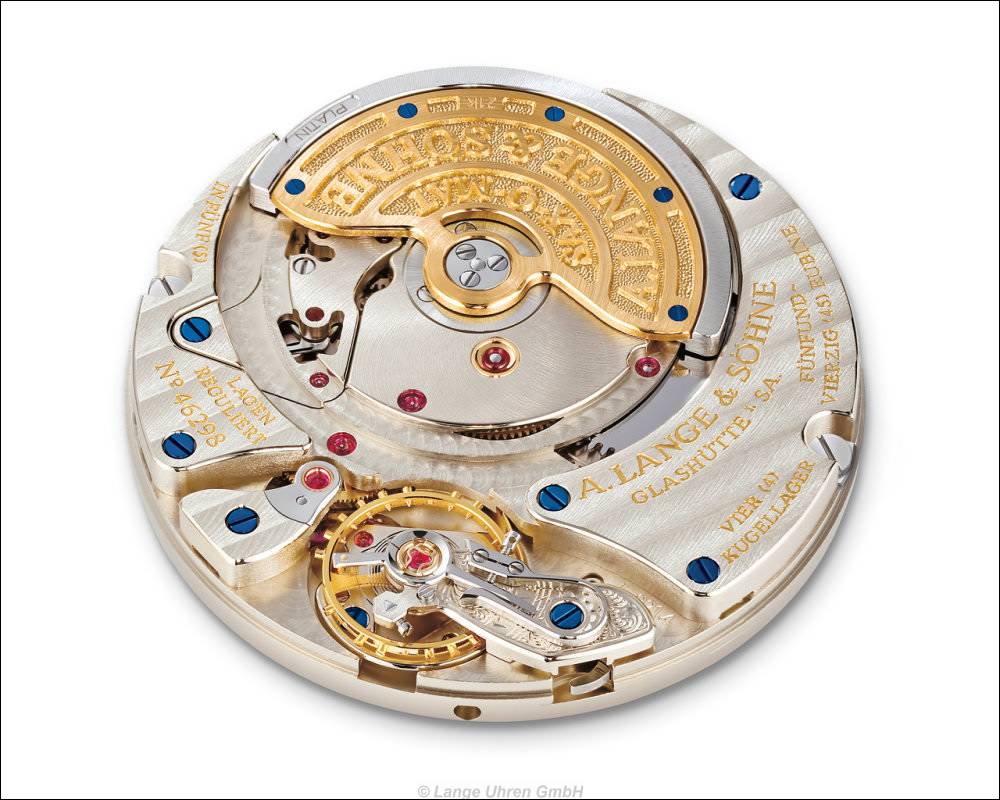 Das Lange-Manufakturkaliber L921.4 "SAX-0-MAT" der Saxonia Automatik Grossdatum.
Die Sonderserie der Saxonia Automatik Grossdatum ist auf 25 Exemplare limitiert.
Sie bleiben den Kunden der elf A. Lange & Söhne-Boutiquen vorbehalten.
Der außergewöhnliche Zeitmesser wird anlässlich der Luxusuhren-Messe "Watches & Wonders" in Hong Kong im September 2013 vorgestellt.
Über A. Lange & Söhne
Der Dresdner Uhrmacher Ferdinand A. Lange legte mit der Gründung seiner Uhrenmanufaktur 1845 den Grundstein für die sächsische Feinuhrmacherei. Seine hochwertigen Taschenuhren sind bei Sammlern in aller Welt noch immer heiß begehrt. Nach dem Zweiten Weltkrieg wurde das Unternehmen enteignet und der Name A. Lange & Söhne geriet beinahe in Vergessenheit. Im Jahr 1990 wagte Walter Lange, der Urenkel von Ferdinand A. Lange, den Neubeginn. Heute werden bei Lange pro Jahr nur wenige Tausend Armbanduhren aus Gold oder Platin hergestellt. In ihnen arbeiten ausschließlich selbstentwickelte und aufwendig von Hand dekorierte und montierte Uhrwerke. Mit über 40 Manufakturkalibern konnte A. Lange & Söhne sich in wenig mehr als 20 Jahren eine Spitzenposition unter den besten Uhrenmarken der Welt sichern. Zu den größten Erfolgen zählen innovative Zeitmesser wie die LANGE 1 mit dem ersten Großdatum in einer Serienarmbanduhr und die ZEITWERK mit einer exakt springenden Ziffernanzeige von beispielhafter Klarheit. Beide Modelle sind mittlerweile zu Ikonen der traditionsreichen Marke geworden.
Links:
**************************************************************************************************
A. Lange & Söhne: Saxonia Automatic Outsize Date
Endowed with persuasive intrinsic values, the Saxonia Automatic Outsize Date pays tribute to the traditions of Saxon watchmaking artistry. The double-aperture outsize date, a widely recognised brand metaphor, graces its eye-catching dial. Down to the very last detail, this timepiece transports the values of Saxony's watchmaking heritage to the present day. Its design reflects the elegant sleekness that characterises all members of the Saxonia watch family.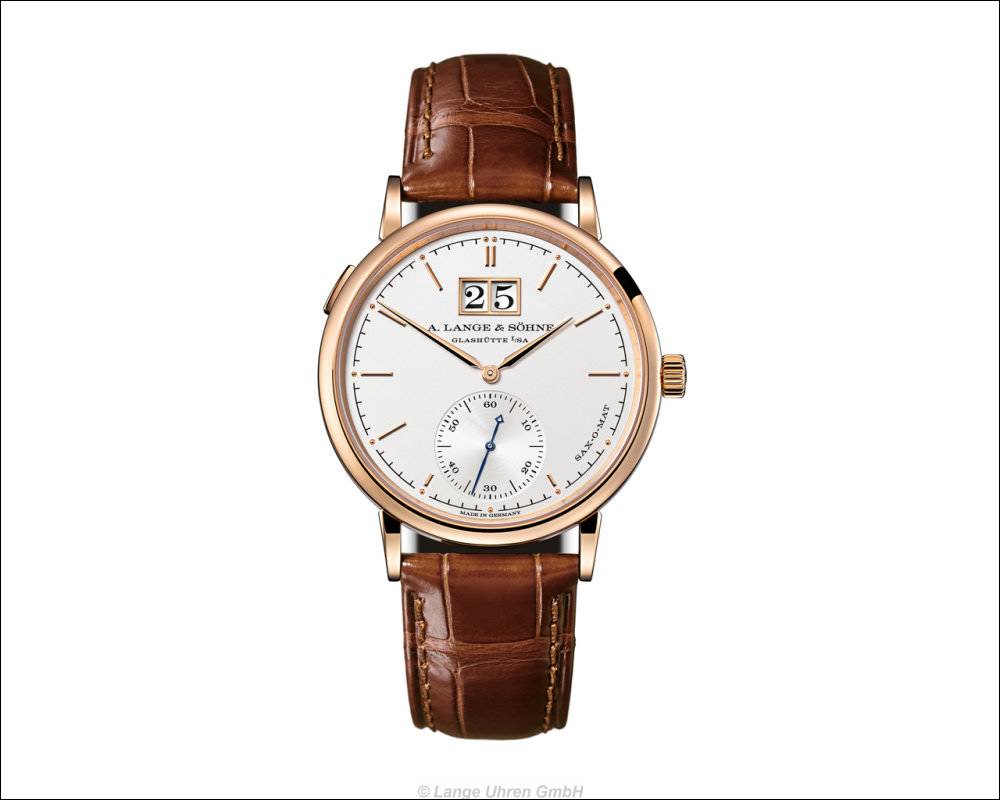 An extraordinary movement is accommodated in the pink-gold case of the Saxonia Automatic Outsize Date: Lange's famous Sax-0-Mat manufacture calibre. The name is composed of "Saxonia" (the Latin word for Saxony), "zero", and "automatic". The zero stands for the ingenious Zero-Reset mechanism. It causes the seconds hand to instantaneously jump to the 12 o'clock position when the crown is pulled. This very useful function makes synchronising the watch extremely easy.
The automatic winder is another noteworthy feature: The delicately embossed rotor in 21-carat gold with a platinum centrifugal mass efficiently winds the watch in both directions thanks to a reduction gear. Four ball bearings assure that a sufficient amount of mainspring power is quickly built up even on a quiet day at the office or on a leisurely holiday. All of the details of the meticulously finished movement can be admired through the sapphire-crystal caseback. The three-quarter rotor reveals the escapement with the classic screw balance, the hand-engraved balance cock, and the whiplash precision index adjuster.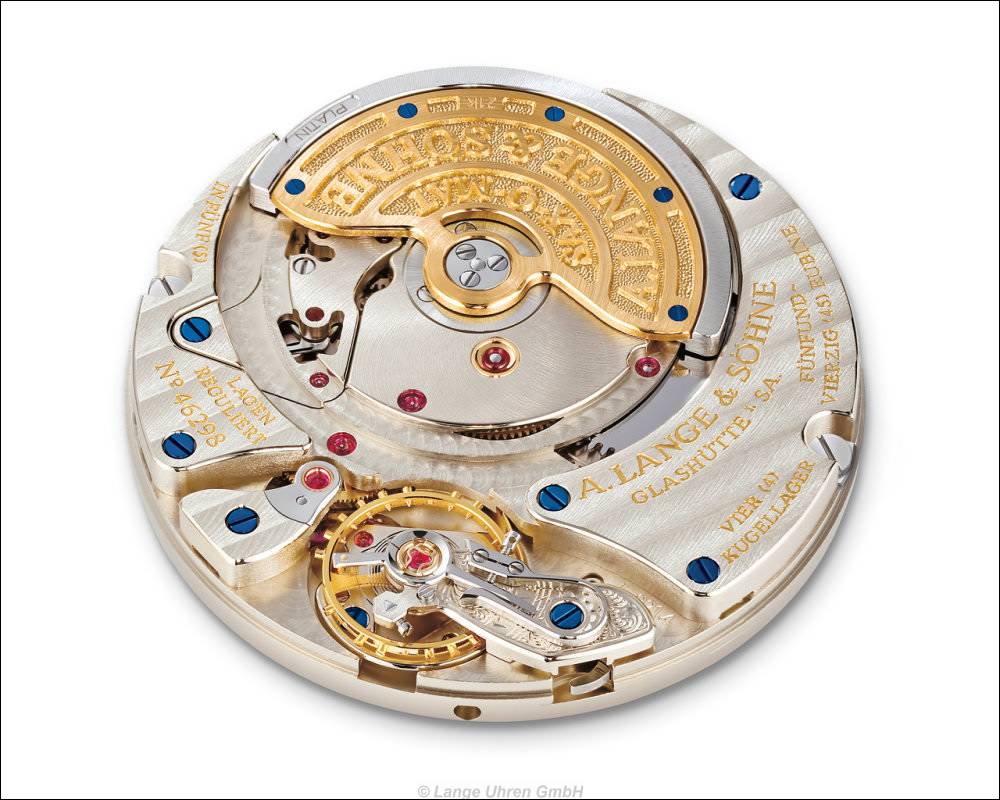 The Lange manufacture calibre L921.4 "SAX-0-MAT" of the Saxonia Automatic Outsize Date.
The special edition of the Saxonia Automatic Outsize Date is limited to 25 watches. They are reserved for customers of the eleven A. Lange & Söhne Boutiques around the world. The exceptional timepiece will debut at the "Watches & Wonders" luxury watch show in Hong Kong scheduled to take place in September 2013.
About A. Lange & Söhne
When Ferdinand A. Lange, a Dresden watchmaker, established his watch manufactory in 1845, he laid the cornerstone of Saxony's precision watchmaking. His precious pocket watches remain highly coveted among collectors all over the world. The company was expropriated after World War II, and the name A. Lange & Söhne nearly fell into oblivion. In 1990, Ferdinand A. Lange's great-grandson Walter Lange had the courage to relaunch the brand. Today, Lange crafts only a few thousand wristwatches in gold or platinum per year. They are endowed exclusively with proprietary movements that are lavishly decorated and assembled by hand. In a period of little more than 20 years, A. Lange & Söhne developed over 40 manufacture calibres and secured a top-tier position among the world's finest watch brands. Its greatest successes include innovative timekeeping instruments such as the LANGE 1 with the first outsize date in a series produced wristwatch as well as the ZEITWERK with its supremely legible, precisely jumping numerals. Meanwhile, both models have become icons of a brand rich in tradition.
Links: