Die Rue du Rhône ist die exklusivste Einkaufsmeile Genfs. Auf der eleganten Straße unterhalb der verträumten Altstadt, in Ufernähe zum Genfer See reihen sich erlesene Cafés an die edlen Boutiquen internationaler Luxusmarken.
Seit Mittwochabend, den 27. November 2013, sind hier auch die Marken der Swatch Group Glashütte Original und Jaquet Droz mit einer gemeinsamen Boutique vertreten. In unmittelbarer Nachbarschaft zu den Schwestermarken Breguet und Blancpain präsentiert sich das neue Geschäft inmitten weltberühmter Marken der Haute Horlogerie.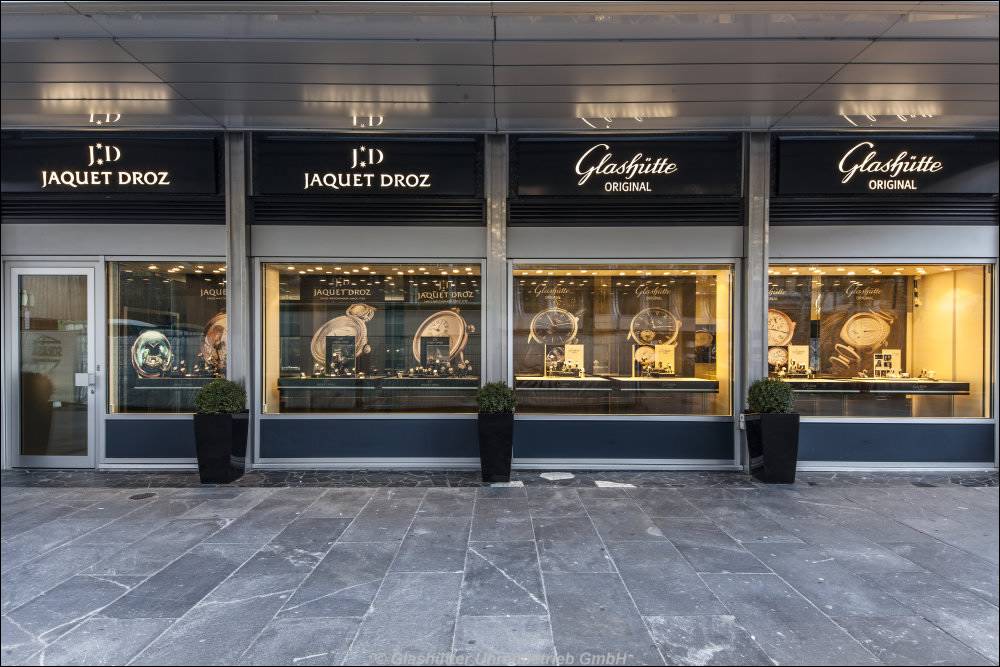 Ausgewählte Uhrenliebhaber waren der Einladung der beiden Häuser gefolgt und
freuten sich zur Eröffnung am Mittwochabend über die Tour durch die perfekt designte Boutique.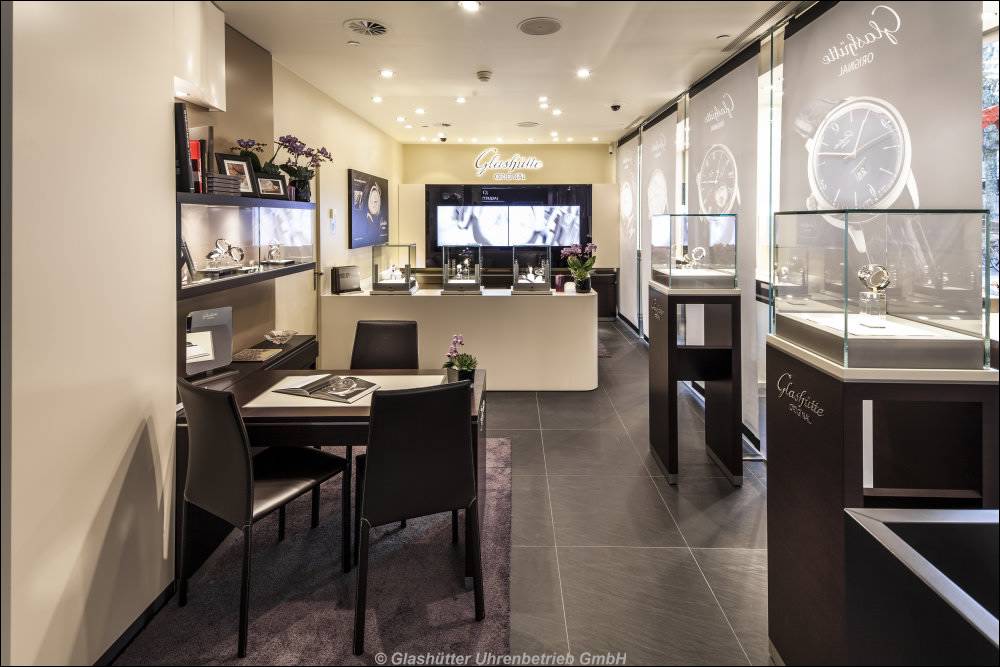 Die Boutique präsentiert eine harmonische Verbindung beider Markenwelten: Im linken Bereich begrüßt Jaquet Droz seine Gäste in einer eleganten Farbkombination aus Schwarz, Grau und Silber während Glashütte Original sich rechts mit einem gelungenen Materialmix aus dunkler Mooreiche, beigefarbenen Lackoberflächen und hellem Leder präsentiert. Beide Marken kreieren mit ihrem edlen und minimalistischem Stil eine komfortable und zugleich einladende Atmosphäre.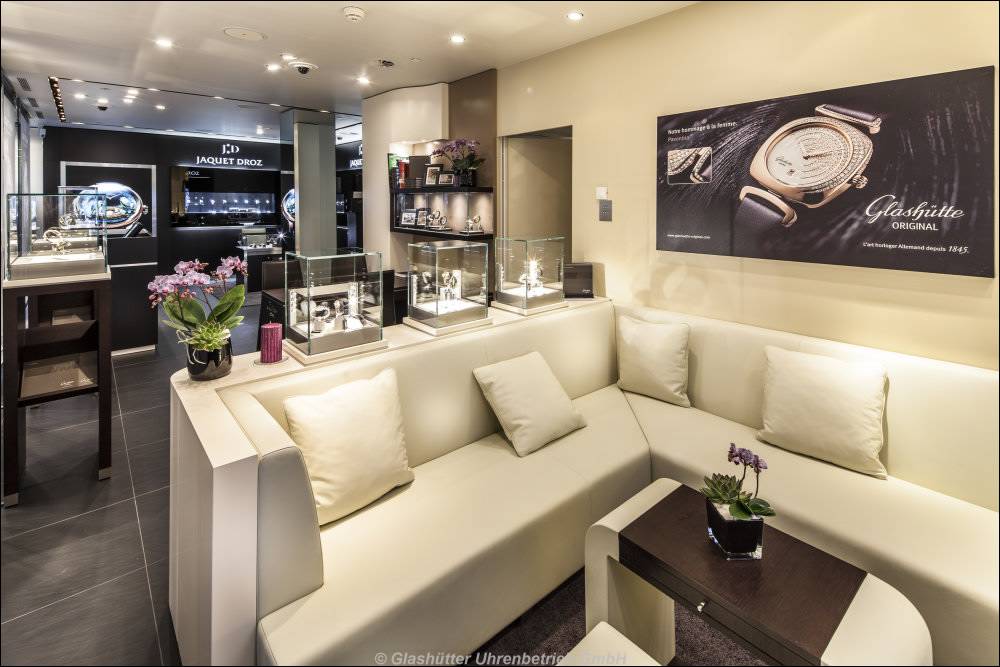 Auf den sechzig Quadratmetern der ehemaligen Tourbillon Boutique können Besucher ab sofort die exklusiven Kollektionen beider Prestigeuhrenmarken entdecken. Darüber hinaus präsentieren in den ersten Wochen sowohl Glashütte Original als auch Jaquet Droz außergewöhnliche Schätze der Uhrmacherkunst anlässlich der Eröffnung ihrer neuen Boutique.
Der sächsische Uhrenhersteller zeigt hier die komplizierteste und teuerste Uhr, die je in der Manufaktur entwickelt wurde: die Grande Cosmopolite Tourbillon. Dieser faszinierende
Zeitmesser legt dem Reisenden die Welt und 37 Zeitzonen ans Handgelenk.
Das komplizierte und exquisit gearbeitete mechanische Wunderwerk erlaubt es dem Weltreisenden, die Tages- oder Nachtzeit daheim und unterwegs in zwei beliebigen Zeitzonen der derzeit offiziellen 37 Weltzeitzonen simultan im Auge zu behalten.
Die geniale "Zeitmaschine" kann auch den Sprung rückwärts vom 1. März auf den
29. Februar bzw. 28. Februar berücksichtigen, ohne dass ein zusätzlicher manueller Eingriff von Nöten ist. Dies ist eine absolut außergewöhnliche Kombination verschiedener Komplikationen – eine verblüffende Leistung im Bereich mechanischer Zeitmessung. Die Grande Cosmopolite Tourbillon ist weltweit auf 25 Exemplare limitiert.
Adresse der Boutique:
Rue du Rhône 40
CH – 1204 Genf
Boutique Manager: Juliana Kadiyska
Tel: +41 22 319 23 49
Öffnungszeiten:
Montag – Freitag 10:00 – 18:30 Uhr
Samstag 10:00 – 17:30 Uhr
Links: 
*************************************************************************************************
Glashütte Original and Jaquet Droz open shared boutique
The Rue du Rhône is the most exclusive shopping district in Geneva. The elegant street, close by the shores of Lake Geneva below the enchanting historic city centre, hosts sophisticated cafes and exclusive boutiques run by international luxury brands. Since Wednesday November 27, 2013, Swatch Group brands Glashütte Original and Jaquet Droz are represented here by a single shared boutique. In close proximity to sister brands Breguet and Blancpain, the new store is located amid world-famous Haute Horlogerie brands. A great number of watch enthusiasts and connoisseurs had accepted invitations from the two firms and enjoyed a tour of the new boutique's well thought out and superbly designed interiors at the official opening on Wednesday evening.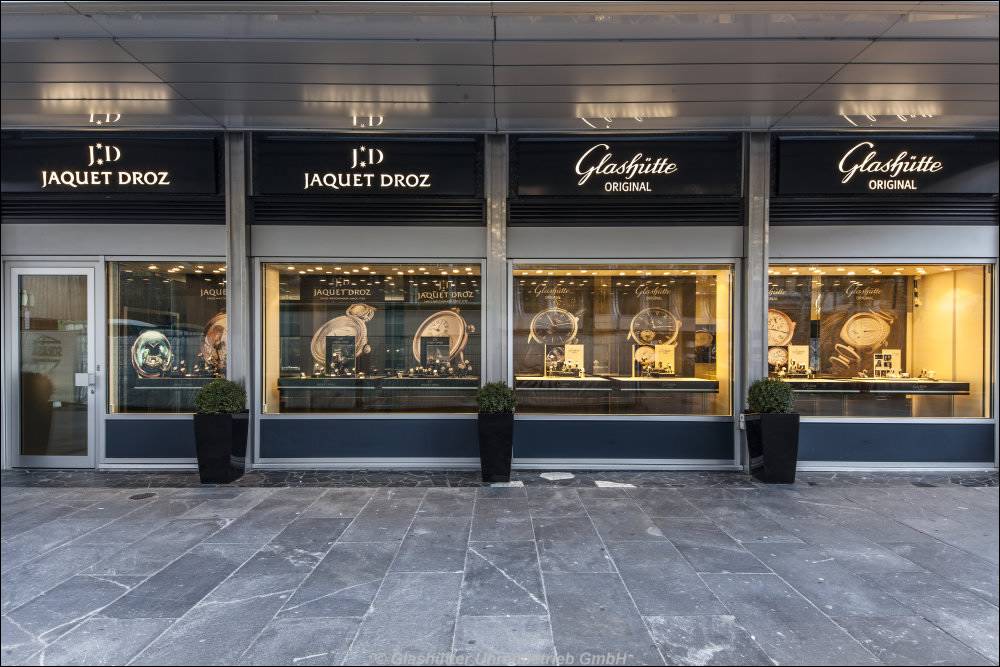 The boutique links the two brand worlds in a harmonious manner: on the left in the new boutique Jaquet Droz welcomes its guests with an elegant combination of colours in back, grey and silver, while Glashütte Original on the right presents a successful mix of materials in dark moor oak, beige enamel surfaces and light-coloured leather. Both brands are thus able to create, with their elegant and minimalist style, an atmosphere that is comfortable and welcoming at once.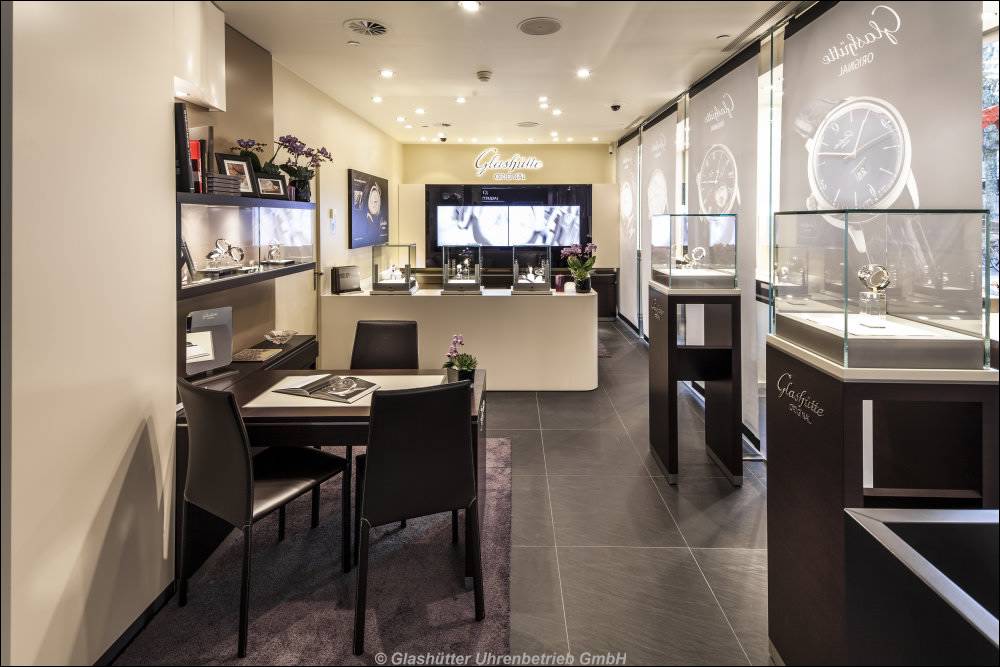 From today, visitors to the 60 square metre former Tourbillon Boutique are invited to explore the exclusive collections of the two prestige brands. In addition, during the first few weeks, exceptional treasures of both Glashütte Original and Jaquet Droz are on display for illustrating the art of watchmaking and to mark the opening of their shared boutique.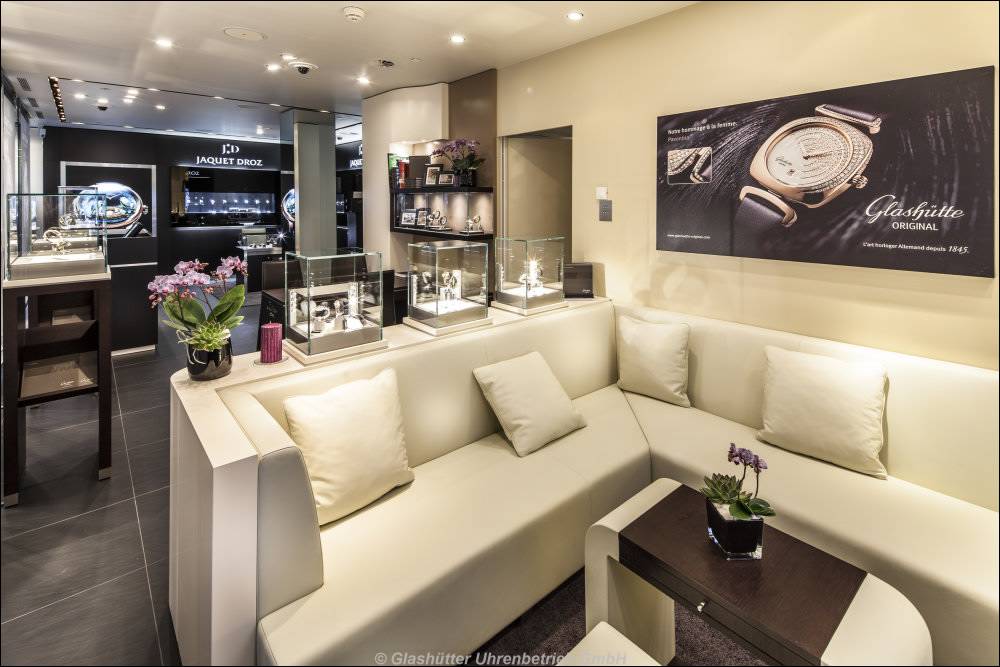 The Saxon watchmaker will show the most complicated and expensive watch that the manufactory ever developed: the Grande Cosmopolite Tourbillon. This fascinating timepiece straps the world and its 37 time zones onto the traveller's wrist.
This exquisitely complicated wonder enables the world traveller to track the time of day or night at home and on the road simultaneously, in any two of the official 37 world time zones. The ingenious time machine can handle even a change from March 1st to February 29th or 28th, with no additional manual intervention required. It is an absolutely extraordinary combination of hand-crafted complications – an astonishing achievement, and a world first for mechanical watches. This exclusive masterpiece is limited to 25 pieces worldwide.
Boutique address
Rue du Rhône 40
CH – 1204 Geneva
Boutique Manager: Juliana Kadiyska
Tel: +41 22 319 23 49
Opening hours
Monday – Friday 10:00 – 18:30
Saturday 10:00 – 17:30
Links: